B
U
I
L
D
E
R
Passing
Failing
Pending
Unknown / Exempted
Community Package Repository Notification
Your use of the packages on this site means you understand they are not supported or guaranteed in any way. Due to the nature of a public repository and unreliability due to distribution rights, these packages should not be used as is for organizational purposes either. Learn more.
Search for "tag:com" Returned 152 Packages
Displaying Results 31 - 60 of 152
---
silentcmd is a program for running commands such as batch files or command-line executables without the command prompt window showing.

---

Free, real-time strategy game engine supporting early Westwood classics

---

Integrate Beyond Compare as the default file comparison tool

---

commandline tool to search IIS sites and bindings

---

Nim is a statically typed compiled systems programming language. It combines successful concepts from mature languages like Python, Ada an... Keep Reading

---

nteract is a desktop application that allows you to develop rich documents that contain prose, executable code (in almost any language!), ... Keep Reading

---

Windows hooker - intercepts system calls to make win32 programs running in a window, to support a better compatibility, to enhance video m... Keep Reading

---

A command-line interface for Hetzner Cloud.

---

A command-line interface for Hetzner Cloud.

---

Regshot is a small, free and open-source registry compare utility that allows you to quickly take a snapshot of your registry and then com... Keep Reading

---

Accurately measure program execution time

---

Microsoft Sync Framework is a comprehensive synchronization platform enabling collaboration and offline for applications, services and dev... Keep Reading

---

Run elevevated shell commands from the command line.

---

---

A PNG image optimization tool

---

Free music composition & notation software

---

Create Tanzu clusters and deploy packages

---

Emscripten: An LLVM-to-WebAssembly Compiler

---

Scientific Programming Language

---

Jami is a free and universal communication platform which preserves the user's privacy and freedoms.

---

Softros LAN Messenger is an easy-to-use LAN essaging application for safe, secure and effective intra-office communication.

---

A compressor plugin for VST2/3 and AAX compatible hosts by Voxengo.

---

ViPER4Windows is an "APO". APO stands for "Audio Processing Object". APO is designed by Microsoft. It is an audio processing framework tha... Keep Reading

---

Uses FileOptimizerFull to compress/otpimize Images

---

---

FireAlpaca is the free paint tool that is compatible with both Mac and Windows. Simple tools and controls let you draw an illustration eas... Keep Reading

---

cheat allows you to create and view interactive cheatsheets on the commandline.

---

Terminal user interface for SSH.

---

This package installs the continuous integration server without a build agent. Windows 32 and 64 bit. Default install location: `C:\TeamCi... Keep Reading

---

A simple, yet versatile comic book library and reader."

---
Resources
Watch videos, read documentation, and hear Chocolatey success stories from companies you trust.
View Resources
Events
Find past and upcoming webinars, workshops, and conferences. New events have recently been added!
View Events
Courses
Step-by-step guides for all things Chocolatey! Earn badges as you learn through interactive digital courses.
View Courses
---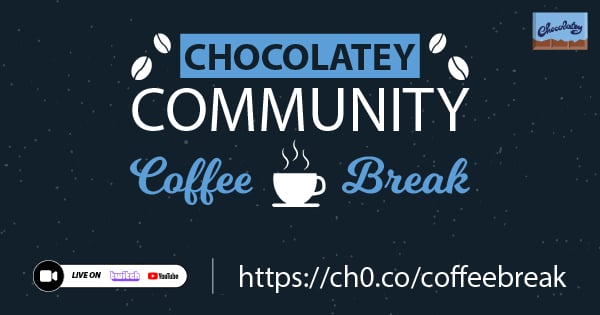 Join the Chocolatey Team on our regular monthly stream where we discuss all things Community, what we do, how you can get involved and answer your Chocolatey questions.
---