B
U
I
L
D
E
R
Passing
Failing
Pending
Unknown / Exempted
Community Package Repository Notification
Your use of the packages on this site means you understand they are not supported or guaranteed in any way. Due to the nature of a public repository and unreliability due to distribution rights, these packages should not be used as is for organizational purposes either. Learn more.
Search for "tag:cross" Returned 408 Packages
Displaying Results 31 - 60 of 408
---
---

Open source cross-platform Java Visual Networking tool

---

"Tux, of Math Command" is a math drill game starring Tux, the Linux Penguin.

---

Tux Typing is an educational typing program for children starring Tux, the Linux Penguin.

---

iimiolek eduActiv8 (formerly pySioGame) is a free cross-platform Open Source educational program for children.

---

---

---

Urban Terror is a free 3D shooter game.

---

Cloud music integration for your desktop.

---

A cross-platform, virtual KVM

---

The user-friendly, lightweight, and fast email client

---

Real-time Popup Notifications for RSS and Atom Feeds on Windows and Mac OS X

---

An open source implementation of the Microsoft XNA Framework.

---

JHipster is a development platform to generate, develop and deploy Spring Boot + Angular Web applications and Spring microservices.

---

LAN Speed Test is a LAN speed benchmarking utility.

---

GTKWave is a fully featured GTK+ based wave viewer

---

VisualKernel integrates Linux kernel debugging into Visual Studio.

---

A cross-platform command-line tool for executing jobs in parallel.

---

A cross-platform command-line tool for safely batch renaming files/directories via regular expression.

---

A cross-platform command-line tool for summarizing size of directories and files in directories.

---

A TiVo HME application for streaming videos

---

---

Create landscapes and cities ... then blow them up!

---

---

mStream is a suite of open source software that lets you sync and stream your music between all your devices.

---

Dukto is an easy file transfer tool designed for LAN use

---

A Spotify client for the terminal written in Rust.

---

Warzone 2100 - RTS game with the theme of Strategy by Design

---

The open-source database for the realtime web

---

A cross-platform shadowsocks GUI client.

---
Resources
Watch videos, read documentation, and hear Chocolatey success stories from companies you trust.
View Resources
Events
Find past and upcoming webinars, workshops, and conferences. New events have recently been added!
View Events
Courses
Step-by-step guides for all things Chocolatey! Earn badges as you learn through interactive digital courses.
View Courses
---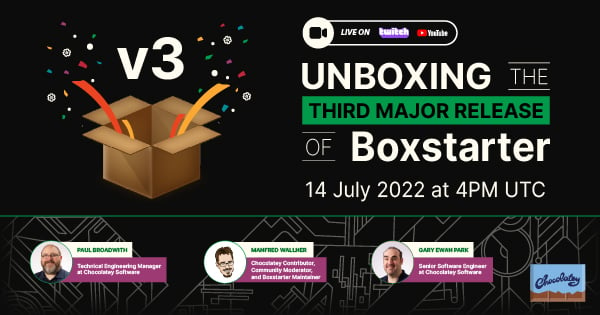 Boxstarter version 3.0 marks the beginning of a new era of Boxstarter and Chocolatey. Join Gary, Paul, and Manfred as they unbox the best features of Boxstarter live.
---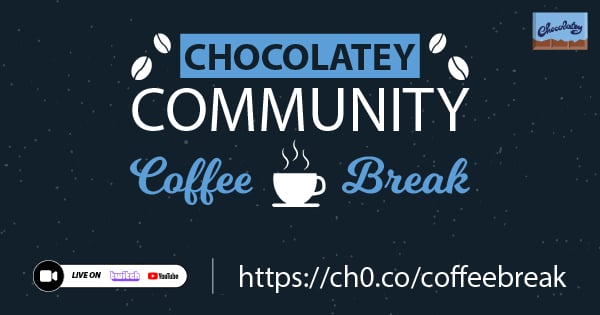 The Chocolatey Community is close to the hearts of the Chocolatey Team. Join us on Discord and meet the Chocolatey Team, find out more about the Chocolatey Community, what we do, and how you can get involved.
---