B
U
I
L
D
E
R
Passing
Failing
Pending
Unknown / Exempted
Community Package Repository Notification
Your use of the packages on this site means you understand they are not supported or guaranteed in any way. Due to the nature of a public repository and unreliability due to distribution rights, these packages should not be used as is for organizational purposes either. Learn more.
Search for "tag:em" Returned 251 Packages
Displaying Results 61 - 90 of 251
---
Yabause is a Sega Saturn emulator and took over as Yaba Sanshiro

---

SameBoy - A Friendly and Powerful Game Boy Emulator

---

mairix is a program for indexing and searching email messages stored in Maildir, MH, MMDF or mbox folders.

---

A simple text editor for writers

---

A writing application that lets you focus on your words

---

Zephyr based IDE from multiple components

---

Installs the Voobly gaming network launcher.

---

Display unit test outcomes as diagnostics in the Visual Studio Code Problems panel

---

---

A portable and cycle-accurate NES/Famicom emulator written in C++

---

CoolTerm is an easy-to-use terminal for communication with hardware connected to serial ports.

---

Lightweight, fast, simple, yet powerful image optimization

---

eDecoder is a plugin for the popular archiver 7-Zip. It enables 7-Zip to handle many different types of mailboxes

---

An unassumingly cool programming font

---

Head-movement as mouse replacment via webcam

---

Create and print CD, DVD, blueray, etc covers from an image

---

---

A tiny and completely free application for datetime conversion.

---

View, search, and print any MARC21, UNIMARC, or MARCXML records

---

RecycleNOW is a small utility that, when triggered, immediately empties the Recycle Bin.

---

Convert a .DXF file into an .ELMT file

---

Simple, free PS/EPS viewer

---

Closely aproximated typefaces used on highway signs in various countries

---

POP3 Downloader is a high performance, scalable, real-time POP/IMAP Connector for your mailserver.

---

Engine for 3D adventure games.

---

A ROM-management tool for NES Mini

---

Free QR code generator for private users

---

Restores desktop icon positions

---

A group-policy enabled utility for logging off idle windows user sessions

---

---
Resources
Watch videos, read documentation, and hear Chocolatey success stories from companies you trust.
View Resources
Events
Find past and upcoming webinars, workshops, and conferences. New events have recently been added!
View Events
Courses
Step-by-step guides for all things Chocolatey! Earn badges as you learn through interactive digital courses.
View Courses
---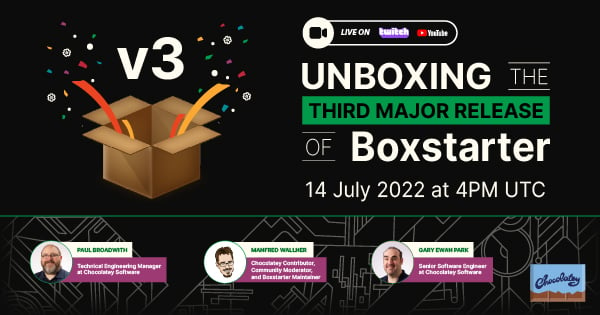 Boxstarter version 3.0 marks the beginning of a new era of Boxstarter and Chocolatey. Join Gary, Paul, and Manfred as they unbox the best features of Boxstarter live.
---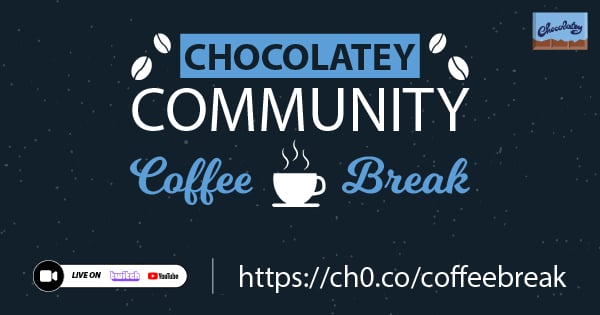 The Chocolatey Community is close to the hearts of the Chocolatey Team. Join us on Discord and meet the Chocolatey Team, find out more about the Chocolatey Community, what we do, and how you can get involved.
---