Community Package Repository Notification
Your use of the packages on this site means you understand they are not supported or guaranteed in any way. Due to the nature of a public repository and unreliability due to distribution rights, these packages should not be used as is for organizational purposes either. Learn more.
Search for "tag:foss" Returned 562 Packages
Displaying Results 31 - 60 of 562
---
Passing
Failing
Pending
Unknown / Exempted
A cross platform software modular synth python

---

DJV Imaging provides professional movie playback software for film production, VFX, and computer animation.

---

---

---

Visual Studio Code C# Extensions Extension

---

Visual Studio Code Auto Update Deactivation

---

Visual Studio Code Ember CLI Extension

---

Visual Studio Code Ember Colorizer and Theme Extension

---

a 3D sculpting application

---

Aptana Studio is an open source integrated development environment (IDE) for building Ajax web applications.

---

OpenPHT is a community driven fork of Plex Home Theater

---

Cantata is a graphical client for music player daemon (mpd)

---

Redshift adjusts the color temperature of your screen according to your surroundings. This may help your eyes hurt less if you are working... Keep Reading

---

xPSDesiredStateConfiguration Module allows to keep Windows machine in a defined state

---

Cmdow is a Win32 commandline utility for NT4/2000/XP/2003/2008/7 that allows windows to be listed, moved, resized, renamed, hidden/unhidde... Keep Reading

---

Subversion® source control management client implemented as File Explorer shell extension

---

Fast Picture Viewer with compact UI that can be hidden. Features image effects, galleries, EXIF and more. The application can automaticall... Keep Reading

---

The Transifex Command-line Tool enables you to manage your translations within a project without the need of an elaborate UI system.

---

Open source cross-platform Java Visual Networking tool

---

This packages installs Kali GNU/Linux Rolling for Windows Subsystem for Linux.

---

"Tux, of Math Command" is a math drill game starring Tux, the Linux Penguin.

---

Tux Typing is an educational typing program for children starring Tux, the Linux Penguin.

---

iimiolek eduActiv8 (formerly pySioGame) is a free cross-platform Open Source educational program for children.

---

Plugin for KeePass 2.x to quickly unlock an open database

---

Cryptool 1 is an open-source cryptography and cryptanalysis application.

---

Language Server implementation for Terraform.

---

A simple app for setting Spotlight Lock Screen image as your desktop wallpaper

---

__GNU PSPP__ is a program for statistical analysis of sampled data. It is a Free replacement for the proprietary program __SPSS__.

---

Visual Docker Container Manager

---

YUMI – Multiboot USB Creator for Windows

---
Resources
Watch videos, read documentation, and hear Chocolatey success stories from companies you trust.
View Resources
Events
Find past and upcoming webinars, workshops, and conferences. New events have recently been added!
View Events
Courses
Step-by-step guides for all things Chocolatey! Earn badges as you learn through interactive digital courses.
View Courses
---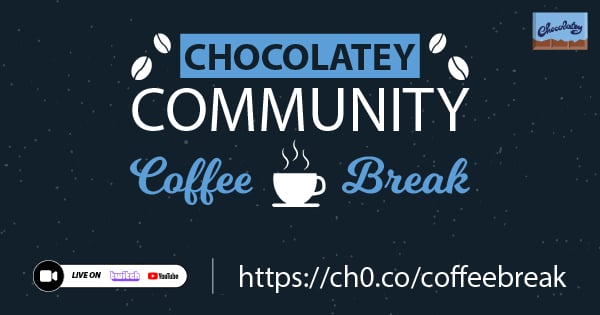 Join the Chocolatey Team on our regular monthly stream where we discuss all things Community, what we do, how you can get involved and answer your Chocolatey questions.
---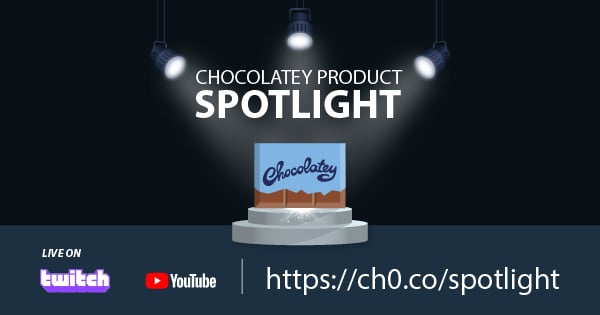 Join the Chocolatey Team on our regular monthly stream where we put a spotlight on the most recent Chocolatey product releases. You'll have a chance to have your questions answered in a live Ask Me Anything format.
---