B
U
I
L
D
E
R
Passing
Failing
Pending
Unknown / Exempted
Community Package Repository Notification
Your use of the packages on this site means you understand they are not supported or guaranteed in any way. Due to the nature of a public repository and unreliability due to distribution rights, these packages should not be used as is for organizational purposes either. Learn more.
Search for "tag:markdown" Returned 63 Packages
Displaying Results 1 - 30 of 63
---
A language service for editing Markdown files.

---

SiYuan is a local-first personal knowledge management system, support fine-grained block-level reference and Markdown instant-render editi... Keep Reading

---

8,040 Downloads

Unknown Status

A Markdown editor for Windows

---

1,572 Downloads

Unknown Status

A Markdown live-preview tool

---

Documentation tool that creates HTML output that can be easily published on the Web or via CHM, PDF or MS Word files.

---

---

The markdown-based note-taking app that doesn't suck.

---

5,288 Downloads

Unknown Status

A WPF Markdown editor inspired by Downmarker.

---

---

1,508 Downloads

Unknown Status

Prepros: a web design & development tool which vastly simplifies your workflow. Includes preprocessing for LESS, Sass, Jade, Coffeescript,... Keep Reading

---

This tool is an executable that tries to solve common problems for people who write with markdown documents.

---

Lepton is a lean GitHub Gist Desktop Client based on Electron.

---

Generate Release Notes from a GitHub project.

---

EditorServicesCommandSuite is a PowerShell module of editor commands to assist with editing PowerShell scripts in VSCode.

---

---

NoteExplorer is a tool to help organizing your stack of (wiki-)linked Markdown notes.

---

---

The Writing App. Plain text. Full ownership. Total focus. The original iA Writer.

---

MarkdownPad is a full-featured Markdown editor for Windows.

---

Simple keyboard-driven note taking

---

Visual Studio Code Markdown All in One Extension

---

---

A full-featured Markdown editor for Windows with an emphasis on content and keyboard shortcuts

---

Doxygen XML to Markdown (or JSON).

---

A tool to help turn minimally marked-up plain text into well formatted documents

---

---

A Windows application to manage markdown notes

---

---

Live Preview Markdown Editor

---

Glow is a terminal based markdown reader designed from the ground up to bring out the beauty—and power—of the CLI.

---
Resources
Watch videos, read documentation, and hear Chocolatey success stories from companies you trust.
View Resources
Events
Find past and upcoming webinars, workshops, and conferences. New events have recently been added!
View Events
Courses
Step-by-step guides for all things Chocolatey! Earn badges as you learn through interactive digital courses.
View Courses
---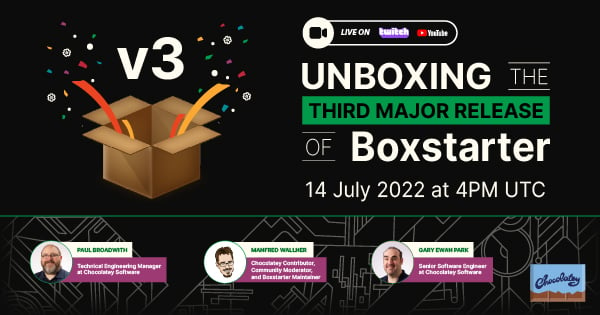 Boxstarter version 3.0 marks the beginning of a new era of Boxstarter and Chocolatey. Join Gary, Paul, and Manfred as they unbox the best features of Boxstarter live.
---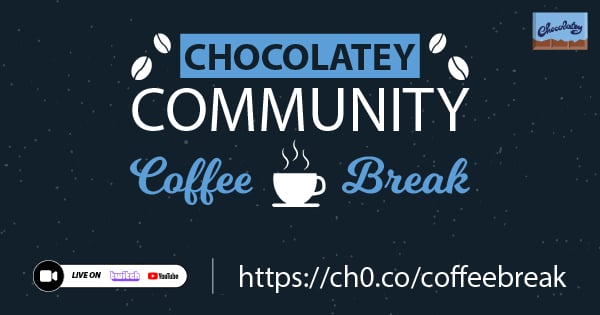 The Chocolatey Community is close to the hearts of the Chocolatey Team. Join us on Discord and meet the Chocolatey Team, find out more about the Chocolatey Community, what we do, and how you can get involved.
---