B
U
I
L
D
E
R
Passing
Failing
Pending
Unknown / Exempted
Community Package Repository Notification
Your use of the packages on this site means you understand they are not supported or guaranteed in any way. Due to the nature of a public repository and unreliability due to distribution rights, these packages should not be used as is for organizational purposes either. Learn more.
Search for "tag:plugin" Returned 62 Packages
Displaying Results 31 - 60 of 62
---
KeePassRPC plugin that needs to be installed inside KeePass in order for KeeFox to be able to connect your browser to your passwords

---

CCEnhancer is a small tool which adds support for over 1,000 new programs into the popular program CCleaner.

---

A generic framework written in C# for making IRC Bots.

---

Plugin for KeePass 2.x to to add support for cloud storage providers

---

Plugin for KeePass 2.x to provide an on-screen keyboard

---

KeePass Plugin to perform bulk operations on fields

---

KeePass plugin to unlock database via Windows Hello

---

Plugin for KeePass 2.x to add support for loading/saving files from/to servers

---

Plugin for KeePass 2.x to support One Time Passwords (RFC 6238)

---

Total Commander file system plugin that can manage system startups that are located in the Registry or Start Menu

---

Plugin changes the appearance of KeePass, to make it look better at night

---

Total Commander content and lister plugin to retrieve an info from the video and audio files.

---

CDB (Microsoft Console Debugger) extension for Qt Creator.

---

Simple Database Backup for KeePass 2.x

---

Plugin for configuring browser for digital signature generation on Fintender.ru

---

A Calibre plugin to remove DRM from eBooks

---

Rutoken Plugin is an browser add-in for using Rutoken in various in-browser applications

---

Total Commander lister plugin that can view CSV files

---

Total Commander file system plugin for accessing cloud services

---

---

If you want to use the AWS Command Line Interface (AWS CLI) to start and end sessions that connect you to your managed instances, you must... Keep Reading

---

Total Commander plugin that extends Quick search funtionality

---

CertKeyProvider is a plugin for KeePass 2.x.

---

BowPad is a small and fast text editor with a ribbon user interface and syntax highlighting.

---

Shell extension for IrfanView

---

Krew is the package manager for kubectl plugins

---

Additional plugins for IrFanView

---

Plugin for KeePass 2.x to highlight entries based on their password quality

---

Allow SSH keys stored in a KeePass database to be used for SSH authentication by other programs

---

Adobe Flash Player Plugin for other browsers

---
Resources
Watch videos, read documentation, and hear Chocolatey success stories from companies you trust.
View Resources
Events
Find past and upcoming webinars, workshops, and conferences. New events have recently been added!
View Events
Courses
Step-by-step guides for all things Chocolatey! Earn badges as you learn through interactive digital courses.
View Courses
---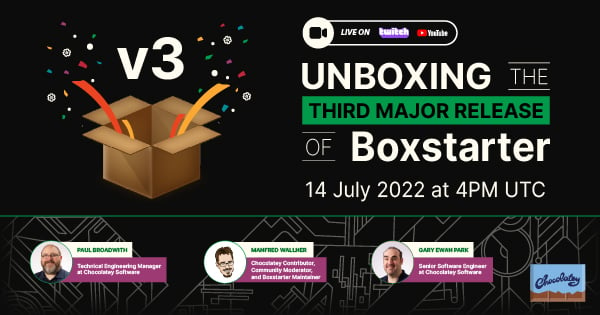 Boxstarter version 3.0 marks the beginning of a new era of Boxstarter and Chocolatey. Join Gary, Paul, and Manfred as they unbox the best features of Boxstarter live.
---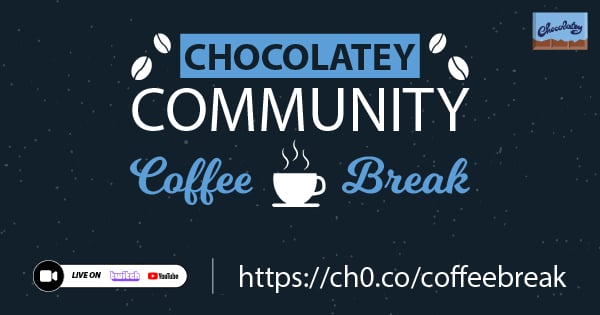 The Chocolatey Community is close to the hearts of the Chocolatey Team. Join us on Discord and meet the Chocolatey Team, find out more about the Chocolatey Community, what we do, and how you can get involved.
---