B
U
I
L
D
E
R
Passing
Failing
Pending
Unknown / Exempted
Community Package Repository Notification
Your use of the packages on this site means you understand they are not supported or guaranteed in any way. Due to the nature of a public repository and unreliability due to distribution rights, these packages should not be used as is for organizational purposes either. Learn more.
Search for "tag:web" Returned 248 Packages
Displaying Results 31 - 60 of 248
---
3,012 Downloads

Unknown Status

Simple chocolatey nuget packager for web projects

---

---

Deprecated package, use go-ipfs instead

---

4,501 Downloads

Unknown Status

SkyDrive is a file hosting service that allows users to upload and sync files to a cloud storage and then access them from a Web browser o... Keep Reading

---

One app to rule them all. Station is the first smart browser for busy people. A single place for all of your web applications.

---

Charles Web Debugging Proxy Application

---

1,508 Downloads

Unknown Status

Prepros: a web design & development tool which vastly simplifies your workflow. Includes preprocessing for LESS, Sass, Jade, Coffeescript,... Keep Reading

---

---

The most flexible, secure, extensible and feature-rich web conferencing product on the market.

---

CLI tool for running Yeoman generators

---

Rapid Web Development w/ Go

---

Vlc web plugin based on FireBreath.

---

Zoom unifies cloud video conferencing, simple online meetings, group messaging, and a software-defined conference room solution into one e... Keep Reading

---

A lightweight, fast, and free web browser.

---

Enables you to view blazing 3D content created with Unity directly in your browser, and autoupdates as necessary.

---

Windows Service for persisting and triggering scheduled web callbacks.

---

Directshow Filters for Ogg Vorbis, Speex, Theora, FLAC, and WebM

---

Microsoft WebDriver is a WebDriver implementation that enables programmatic automation of Microsoft Egde products for desktop platforms.

---

---

---

Cyberfox is designed by 8pecxstudios, Taking over where Mozilla left off, Working to make a fast and reliable, x64-bit web browser accessi... Keep Reading

---

Qt5 image viewer. Fast, configurable, easy to use. Optional video support.

---

Qt5 image viewer. Fast, configurable, easy to use. Optional video support.

---

Qt5 image viewer. Fast, configurable, easy to use. Optional video support.

---

Minimalist WEB-server for data transfer via HTTP

---

View the Flash cookies (Local Shared Object /.sol files) stored in your computer

---

Fast Network Drive for Cloud Storage

---

Aptana Studio is an open source integrated development environment (IDE) for building Ajax web applications.

---

NCollector Studio is the easy way to download content from the web to your computer.

---

obs-studio plugin to simulate a directshow webcam

---
Resources
Watch videos, read documentation, and hear Chocolatey success stories from companies you trust.
View Resources
Events
Find past and upcoming webinars, workshops, and conferences. New events have recently been added!
View Events
Courses
Step-by-step guides for all things Chocolatey! Earn badges as you learn through interactive digital courses.
View Courses
---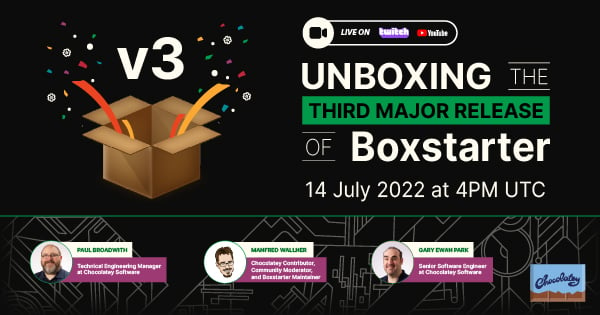 Boxstarter version 3.0 marks the beginning of a new era of Boxstarter and Chocolatey. Join Gary, Paul, and Manfred as they unbox the best features of Boxstarter live.
---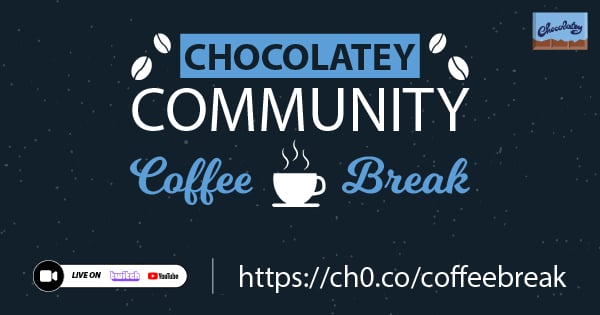 The Chocolatey Community is close to the hearts of the Chocolatey Team. Join us on Discord and meet the Chocolatey Team, find out more about the Chocolatey Community, what we do, and how you can get involved.
---