Cobian Backup 11 (Gravity) (Install)
11.2.0.582001 | Updated: 22 Feb 2019
Downloads of v 11.2.0.582001:
4,610
Software Author(s):
Cobian Backup 11 (Gravity) (Install) 11.2.0.582001
Some Checks Have Failed or Are Not Yet Complete
Not All Tests Have Passed
---
Validation Testing Passed
---
Verification Testing Passed
Details
---
Scan Testing Resulted in Flagged:
This package was submitted (and approved) prior to automated virus scanning integration into the package moderation processs.
We recommend clicking the "Details" link to make your own decision on installing this package.
Details
---
Deployment Method: Individual Install, Upgrade, & Uninstall
To install Cobian Backup 11 (Gravity) (Install), run the following command from the command line or from PowerShell:
To upgrade Cobian Backup 11 (Gravity) (Install), run the following command from the command line or from PowerShell:
To uninstall Cobian Backup 11 (Gravity) (Install), run the following command from the command line or from PowerShell:
Deployment Method:
NOTE
This applies to both open source and commercial editions of Chocolatey.
1. Enter Your Internal Repository Url
(this should look similar to https://community.chocolatey.org/api/v2/)
---
2. Setup Your Environment
---
3. Copy Your Script
---
4. If applicable - Chocolatey configuration/installation
See infrastructure management matrix for Chocolatey configuration elements and examples.
Package Approved
This package was approved by moderator mkevenaar on 23 Feb 2019.
Description
---
---
choco://cobian-backup
To use choco:// protocol URLs, install (unofficial) choco:// Protocol support
---
(Program version 11.2.0.582, Chocolatey package version 11.2.0.582001)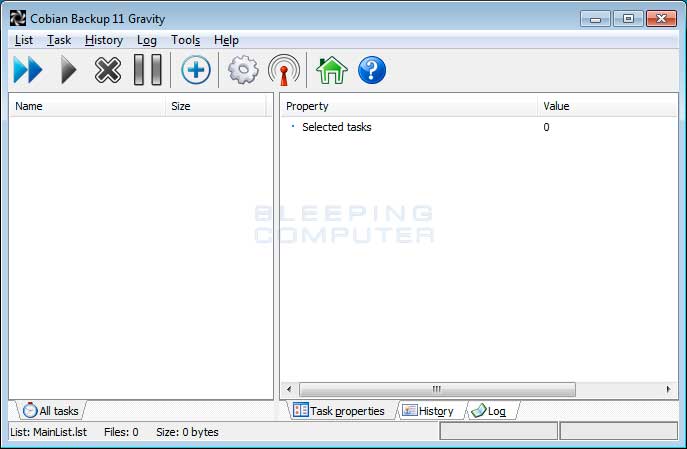 Cobian Backup is a multi-threaded program that can be used to schedule and backup your files and directories from their original location to other directories/drives in the same computer or other computer in your network. FTP backup is also supported in both directions (download and upload).
Cobian Backup exists in two different versions: application and service. The program uses very few resources and can be running on the background on your system, checking your backup schedule and executing your backups when necessary.
Cobian Backup is not an usual backup application: it only copies your files and folders in original or compressed mode to other destination, creating a security copy as a result. So Cobian Backup can be better described as a "Scheduler for security copies". Cobian Backup supports several methods of compression and strong encryption.
---
Click here to Patreon-ize the package maintainer.
---
Files
---
tools\VERIFICATION.txt
==================== Cobian Backup ====================

BCURRAN3 downloaded and packaged the installer for this program from the author's site at:
https://files.cobiansoft.com/programs/cbSetup.exe
(formerly https://files.cobiansoft.com/programz/cbSetup.exe)

cbSetup.exe SHA256 = 9EC08D76E4B810DE2C3CBC7BD90787CC462DEB0ACCC6996CAB2394AB261C7154

==================== Cobian Backup ====================

tools\LICENSE.txt
==================== Cobian Backup ====================

(From the installer)

Please, read carefully the following license agreement.
If you don't accept the terms of the agreement, please delete 
immediately the software from your computer.

Cobian Backup, all it's files and documentation (the software)
is copyrighted by Luis Cobian (The author). The following terms 
apply to all files associated with the software unless explicitly 
disclaimed.

The author hereby grants permission to use, copy and distribute, 
(but NOT sell or modify) this software and its documentation, provided
that all the original files are retained unchanged in all copies 
and that this notice is included verbatim in any distributions.
No written agreement, license, or royalty fee is required to use or
distribute this software.

IN NO EVENT SHALL THE AUTHOR BE LIABLE FOR ANY SPECIAL, INDIRECT OR 
CONSEQUENTIAL DAMAGES OR ANY DAMAGES WHATSOEVER RESULTING FROM LOSS 
OF USE, DATA OR PROFITS, WHETHER IN AN ACTION OF CONTRACT, NEGLIGENCE 
OR OTHER TORTIOUS ACTION, ARISING OUT OF OR IN CONNECTION WITH THE USE 
OR PERFORMANCE OF THIS SOFTWARE 

THE AUTHOR SPECIFICALLY DISCLAIMS ANY WARRANTIES, INCLUDING, BUT NOT
LIMITED TO, THE IMPLIED WARRANTIES OF MERCHANTABILITY, FITNESS FOR A 
PARTICULAR PURPOSE, AND NON-INFRINGEMENT. THIS SOFTWARE AND ITS 
DOCUMENTATION ARE PROVIDED ON AN "AS IS" BASIS, AND THE AUTHOR
HAVE NO OBLIGATION TO PROVIDE MAINTENANCE, SUPPORT, UPDATES,
ENHANCEMENTS, OR MODIFICATIONS.

==================== Cobian Backup ====================
tools\chocolateyuninstall.ps1
$ErrorActionPreference = 'Stop'
$packageName= 'cobian-backup' 

&"$ENV:ProgramFiles\Cobian Backup 11\cbUninstall.exe" -update

tools\chocolateyInstall.ps1
tools\cbSetup.txt
Cobian Backup 11 Gravity
License accepted=true
Installation directory=C:\Program Files\Cobian Backup 11
Create start menu icons=true
Install VSC=true
Installation type=0
Service account=0
User name=
Password=eABzAGcAfABjAHYAcQBnAHsAdAAzAH4ABwADAAkAcwBnAHUAewAdAB0AcgB9AHIAegAEABQAAAB3AB0AaAAJAH0AdwBoACwAEgABAGEAGgBlAAYAeQBkAH0AYAAIAD8AewA0AA==
Autostart UI=false

tools\cbSetup.exe
md5: D2EE7A77CB0CA70C873CE55687F85DF4 | sha1: 75D570FCCDCAD3CF8A3C12C223068077A8CDBE9F | sha256: 9EC08D76E4B810DE2C3CBC7BD90787CC462DEB0ACCC6996CAB2394AB261C7154 | sha512: 0FC476155A4F7B0C2CFF202BDA1EC96779B91203A69B3F33BC81943406D568FBF3908A5172AE056D9A583ED64D948D7AB4D980D95B3D69F66595C6866AB768DE
Virus Scan Results
---
Log in or click on link to see number of positives.
In cases where actual malware is found, the packages are subject to removal. Software sometimes has false positives. Moderators do not necessarily validate the safety of the underlying software, only that a package retrieves software from the official distribution point and/or validate embedded software against official distribution point (where distribution rights allow redistribution).
Chocolatey Pro provides runtime protection from possible malware.
Discussion for the Cobian Backup 11 (Gravity) (Install) Package
---
Ground Rules:
This discussion is only about Cobian Backup 11 (Gravity) (Install) and the Cobian Backup 11 (Gravity) (Install) package. If you have feedback for Chocolatey, please contact the Google Group.
This discussion will carry over multiple versions. If you have a comment about a particular version, please note that in your comments.
The maintainers of this Chocolatey Package will be notified about new comments that are posted to this Disqus thread, however, it is NOT a guarantee that you will get a response. If you do not hear back from the maintainers after posting a message below, please follow up by using the link on the left side of this page or follow this link to contact maintainers. If you still hear nothing back, please follow the package triage process.
Tell us what you love about the package or Cobian Backup 11 (Gravity) (Install), or tell us what needs improvement.
Share your experiences with the package, or extra configuration or gotchas that you've found.
If you use a url, the comment will be flagged for moderation until you've been whitelisted. Disqus moderated comments are approved on a weekly schedule if not sooner. It could take between 1-5 days for your comment to show up.
comments powered by

Disqus