2.0.0.0 | Updated: 12 Apr 2018
Software Specific:
Package Specific:
Downloads of v 2.0.0.0:
685
Software Author(s):
Handy Image Mapper 2.0.0.0
Some Checks Have Failed or Are Not Yet Complete
Not All Tests Have Passed
---
Validation Testing Passed
---
Verification Testing Passed
Details
---
Scan Testing Resulted in Flagged:
This package was submitted (and approved) prior to automated virus scanning integration into the package moderation processs.
We recommend clicking the "Details" link to make your own decision on installing this package.
Details
---
Deployment Method: Individual Install, Upgrade, & Uninstall
To install Handy Image Mapper, run the following command from the command line or from PowerShell:
To upgrade Handy Image Mapper, run the following command from the command line or from PowerShell:
To uninstall Handy Image Mapper, run the following command from the command line or from PowerShell:
Deployment Method:
NOTE
This applies to both open source and commercial editions of Chocolatey.
1. Enter Your Internal Repository Url
(this should look similar to https://community.chocolatey.org/api/v2/)
---
2. Setup Your Environment
---
3. Copy Your Script
---
4. If applicable - Chocolatey configuration/installation
See infrastructure management matrix for Chocolatey configuration elements and examples.
Package Approved
This package was approved by moderator gep13 on 16 Apr 2018.
Description
---
Handy Image Mapper will help you easily create hot-spot areas for images and generate AREA and MAP tags on the Clipboard. Different parts of an image can use different links to many HTML pages. Handy Image Mapper can map GIF, JPG, PNG and BMP images and can work with any HTML editor.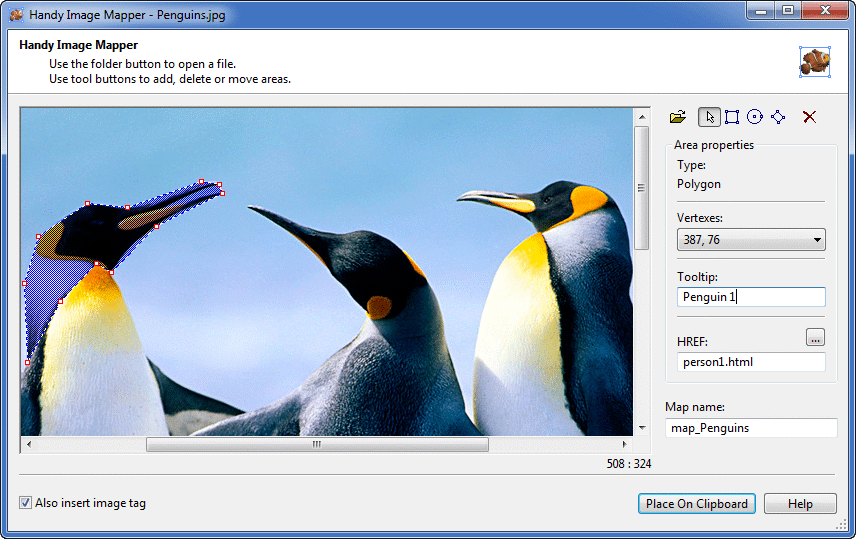 Friendly user interface.
Ability to add an unlimited number of image map elements.
Rectangular, circular and polygonal region types of map elements.
Files
---
tools\chocolateyinstall.ps1
tools\HandyImageMapperSetup.exe
md5: 991E7856161C6A9EF1928F3D3598E452 | sha1: A42694B5CA90C5BA685F0F35888DE93FA4C29533 | sha256: 485410E581629ADC5A48972B2494A0B5CAE0BA9AB2D62860D1801D630E5547B4 | sha512: FCD9AE84493CC194905D600B2CF0BC90C8FF66165A8CB7C0F92439F04856AB5F52AB5EA239C9FE537EADACD612434DC15D67B394942A58D3035D8C046EB02727
tools\LICENSE.txt
From: <insert applicable license url here>

LICENSE

Handy Image Mapper
Copyright © 2001-2013 SilverAge Software
Check latest version at:	http://www.silveragesoftware.com
E-mail:	[email protected] 

LICENSE AGREEMENT
You should carefully read the following terms and conditions before 
installing and/or using the software. By installing and/or using this 
software you indicate that you accept the license agreement.

LICENSE
SilverAge Software grants you a non-exclusive, non-transferable license 
to copy the software  for your personal or commercial use and for 
shareware distribution. 

THIS SOFTWARE CAN BE FREELY INCLUDED ON CD-ROM ACCOMPANYING ANY 
MAGAZINE, BOOK OR OTHER PUBLICATION.

COPYRIGHT
The software is protected by international copyright laws and 
international treaty provisions. Any use of the software name is 
strictly prohibited without the written permission of SilverAge 
Software.
The software, including its code, appearance, structure, design and 
documentation is an exclusive product of SilverAge Software, who 
permanently preserves all property rights to the software product or 
its copies, modifications or merged parts.

RESTRICTIONS
You may not modify, decompile, disassemble or reverse engineer the 
software.
You may not rent, lease or lend the software.
For registered users, it is strictly prohibited to give their 
registration number to third parties.

NO WARRANTIES
SOFTWARE IS "AS IS" AND WITHOUT ANY WARRANTY AS TO MERCHANTABILITY OR 
FITNESS FOR A PARTICULAR PURPOSE OR ANY OTHER WARRANTIES EITHER 
EXPRESSED OR IMPLIED. THE SilverAge Software, Inc. WILL NOT BE 
LIABLE FOR DATA LOSS, DAMAGES, LOSS OF PROFITS OR ANY OTHER KIND OF 
LOSS WHILE USING OR MISUSING THIS SOFTWARE.

tools\VERIFICATION.txt
VERIFICATION
Verification is intended to assist the Chocolatey moderators and community
in verifying that this package's contents are trustworthy.
 
Handy Image Mapper is effectively abandoned.  The website for the 
publisher, Siver Age Software, is (usually) offline.  The installer in 
this package was the newest archive from the Internet Archive Wayback 
Machine for May 30, 2016:

https://web.archive.org/web/20160501000000/http://www.silveragesoftware.com/files/HandyImageMapperSetup.exe

and checksum-matches the oldest archived installer from July 30, 2014:

https://web.archive.org/web/20140730190359/http://www.silveragesoftware.com/files/HandyImageMapperSetup.exe

Version:  2.0.0.0
Checksum:  485410e581629adc5a48972b2494a0b5cae0ba9ab2d62860d1801d630e5547b4

Virus Scan Results
---
Log in or click on link to see number of positives.
In cases where actual malware is found, the packages are subject to removal. Software sometimes has false positives. Moderators do not necessarily validate the safety of the underlying software, only that a package retrieves software from the official distribution point and/or validate embedded software against official distribution point (where distribution rights allow redistribution).
Chocolatey Pro provides runtime protection from possible malware.
Copyright
---
Copyright © 2001-2013 SilverAge Software
Discussion for the Handy Image Mapper Package
---
Ground Rules:
This discussion is only about Handy Image Mapper and the Handy Image Mapper package. If you have feedback for Chocolatey, please contact the Google Group.
This discussion will carry over multiple versions. If you have a comment about a particular version, please note that in your comments.
The maintainers of this Chocolatey Package will be notified about new comments that are posted to this Disqus thread, however, it is NOT a guarantee that you will get a response. If you do not hear back from the maintainers after posting a message below, please follow up by using the link on the left side of this page or follow this link to contact maintainers. If you still hear nothing back, please follow the package triage process.
Tell us what you love about the package or Handy Image Mapper, or tell us what needs improvement.
Share your experiences with the package, or extra configuration or gotchas that you've found.
If you use a url, the comment will be flagged for moderation until you've been whitelisted. Disqus moderated comments are approved on a weekly schedule if not sooner. It could take between 1-5 days for your comment to show up.
comments powered by

Disqus