OST2PST Wizard (Trial) (Install)
4.2 | Updated: 14 Nov 2016
Software Specific:
Package Specific:
Software Author(s):
OST2PST Wizard (Trial) (Install) 4.2
Some Checks Have Failed or Are Not Yet Complete
Not All Tests Have Passed
---
Deployment Method: Individual Install, Upgrade, & Uninstall
To install OST2PST Wizard (Trial) (Install), run the following command from the command line or from PowerShell:
To upgrade OST2PST Wizard (Trial) (Install), run the following command from the command line or from PowerShell:
To uninstall OST2PST Wizard (Trial) (Install), run the following command from the command line or from PowerShell:
Deployment Method:
NOTE
This applies to both open source and commercial editions of Chocolatey.
1. Enter Your Internal Repository Url
(this should look similar to https://community.chocolatey.org/api/v2/)
---
2. Setup Your Environment
---
3. Copy Your Script
---
4. If applicable - Chocolatey configuration/installation
See infrastructure management matrix for Chocolatey configuration elements and examples.
NOTE
Private CDN cached downloads available for licensed customers. Never experience 404 breakages again! Learn more...
Package Approved
This package was approved by moderator flcdrg on 22 Nov 2016.
Description
---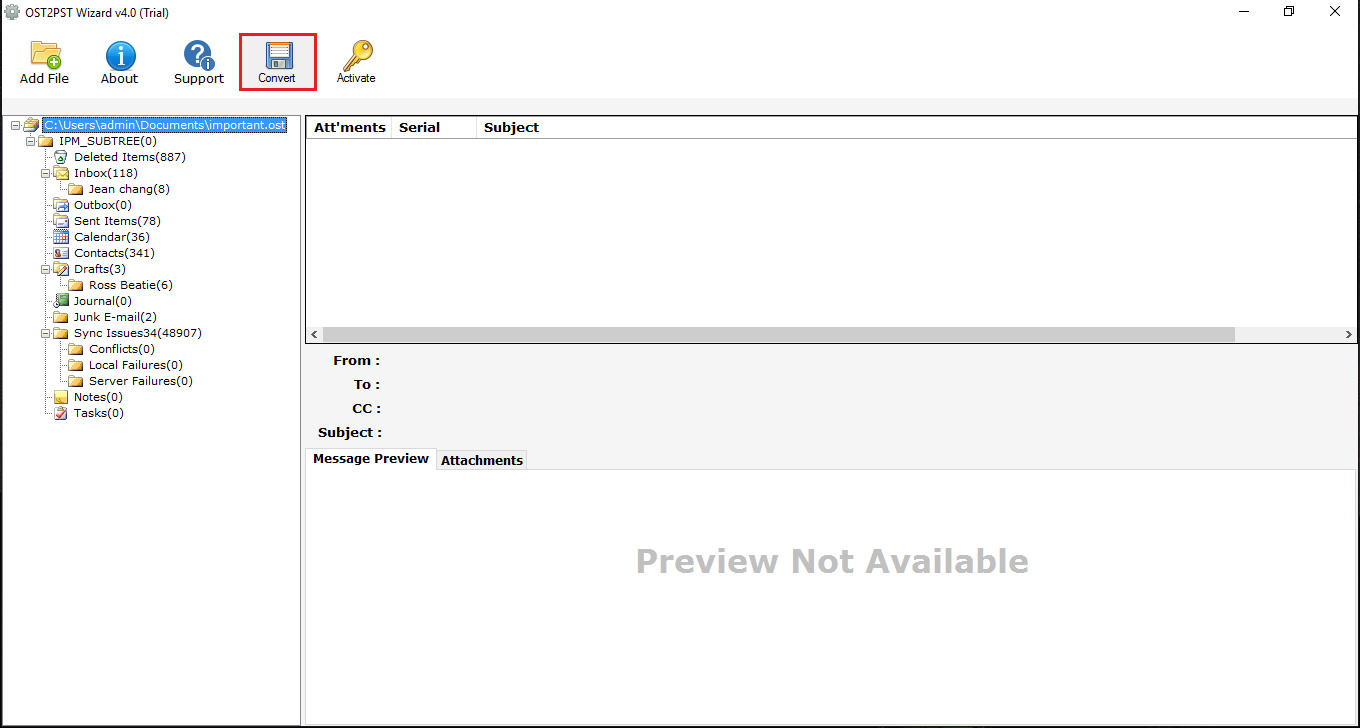 The Key features of this software are listed below:
Migrate OST to other formats such as PSTformatshtml formatsetc.
Provides preview of OST data files
User can specify storage location of resultant file
Recovers highly corrupted OST file by transforming OST to PST or to other formats.
Apply naming convention to save the Output file
Restoration of permanently deleted OST Mailbox data.
Convert OST file
OST2PST is a specialised program to migrate OST data files into PST files. It provides you an option to add OST file and then migrate OST to PST in just one click. The result generated can be saved at preferred location.
Restore deleted OST data
This multitasker tool also manages your deleted files. OST2PST Converter, can easily restore all your permanently deleted items or files. Both soft and hard deleted items can be re-obtained by converting OST to Outlook PST or other file formats.
Change OST to Other formats
This software has multiple features, it can convert OST to PST, formatshtml formats format. This one tool can perform conversion of OST files in more than 2 file formats. You can select any of these format to recover and migrate OST data to required file format.
Maintains folder structure
OST2PST Converter software migrate OST to PST,formatshtml formats etc., retaining the data consistency. This means it maintains all hierarchical folder structure in the resultant output file. It create PST file with the same sequence of folder and sub folder as it was in source corrupted OST file
Recover Corrupt OST
Using OST2PST tool you can easily recover your OST files. It converts highly corrupted outlook offline folder data (.OST files) into healthy state PST files. Thus it safeguards and recovers your important information stored in corrupted OST files
Supports all Outlook Version
This software is designed to work efficiently with all version of Outlook. It can easily convert OST to PST file of updated version of Outlook. It will generate error free output and gives satisfactory result to end user
Preview Option
You can view your OST file before starting the conversion process. After adding the required file, you can select any of the item or folder to get a preview of it. You can see the preview of ost mails along with attachments.
Saving Options
It offers you multiple saving options. You can specify location to save resultant file as desirable, you can also apply naming convention while converting ost to other format except pst. It's a all in one converter.
Standard License
$49
Suitable for Personal use only
Valid for 2 Machines
Save OST to PST, EML, EMLX
Pro License
$99
Multiple Saving Options
Save OST to PST, EML, EMLX, MSG, PDF, HTML, MBOX, MHT
Files
---
tools\chocolateyinstall.ps1
Virus Scan Results
---
Log in or click on link to see number of positives.
In cases where actual malware is found, the packages are subject to removal. Software sometimes has false positives. Moderators do not necessarily validate the safety of the underlying software, only that a package retrieves software from the official distribution point and/or validate embedded software against official distribution point (where distribution rights allow redistribution).
Chocolatey Pro provides runtime protection from possible malware.
Copyright
---
Copyright (C) 2014 - 2016, OST2PSTware.com
Discussion for the OST2PST Wizard (Trial) (Install) Package
---
Ground Rules:
This discussion is only about OST2PST Wizard (Trial) (Install) and the OST2PST Wizard (Trial) (Install) package. If you have feedback for Chocolatey, please contact the Google Group.
This discussion will carry over multiple versions. If you have a comment about a particular version, please note that in your comments.
The maintainers of this Chocolatey Package will be notified about new comments that are posted to this Disqus thread, however, it is NOT a guarantee that you will get a response. If you do not hear back from the maintainers after posting a message below, please follow up by using the link on the left side of this page or follow this link to contact maintainers. If you still hear nothing back, please follow the package triage process.
Tell us what you love about the package or OST2PST Wizard (Trial) (Install), or tell us what needs improvement.
Share your experiences with the package, or extra configuration or gotchas that you've found.
If you use a url, the comment will be flagged for moderation until you've been whitelisted. Disqus moderated comments are approved on a weekly schedule if not sooner. It could take between 1-5 days for your comment to show up.
comments powered by

Disqus