Welcome to the Chocolatey Community Package Repository! The packages found in this section of the site are provided, maintained, and moderated by the community.
Moderation
Every version of each package undergoes a rigorous moderation process before it goes live that typically includes:
More detail at Security and Moderation.
Organizational Use
If you are an organization using Chocolatey, we want your experience to be fully reliable. Due to the nature of this publicly offered repository, reliability cannot be guaranteed. Packages offered here are subject to distribution rights, which means they may need to reach out further to the internet to the official locations to download files at runtime.
Fortunately, distribution rights do not apply for internal use. With any edition of Chocolatey (including the free open source edition), you can host your own packages and cache or internalize existing community packages.
Disclaimer
Your use of the packages on this site means you understand they are not supported or guaranteed in any way. Learn more...
Passing
Failing
Pending
Unknown / Exempted

Downloads:
1,046
Downloads of v 1.0.1:
1,046
Last Update:
05 Jul 2016
Package Maintainer(s):
Software Author(s):
Tags:
png
pngquant
compress
frontend
Software Specific:
Package Specific:

Pngyu
1.0.1 | Updated: 05 Jul 2016
Software Specific:
Package Specific:
Downloads of v 1.0.1:
1,046
Software Author(s):
Edit Package
To edit the metadata for a package, please upload an updated version of the package.
Chocolatey's Community Package Repository currently does not allow updating package metadata on the website. This helps ensure that the package itself (and the source used to build the package) remains the one true source of package metadata.
This does require that you increment the package version.
All Checks are Passing
3 Passing Tests
To install Pngyu, run the following command from the command line or from PowerShell:
To upgrade Pngyu, run the following command from the command line or from PowerShell:
To uninstall Pngyu, run the following command from the command line or from PowerShell:
Private CDN cached downloads available for licensed customers. Never experience 404 breakages again! Learn more...
This package was approved by moderator ferventcoder on 08 Jul 2016.
Description
---
Pngyu is a simple GUI front-end for pngquant, a PNG lossy compressor, supporting palleted alpha transparency.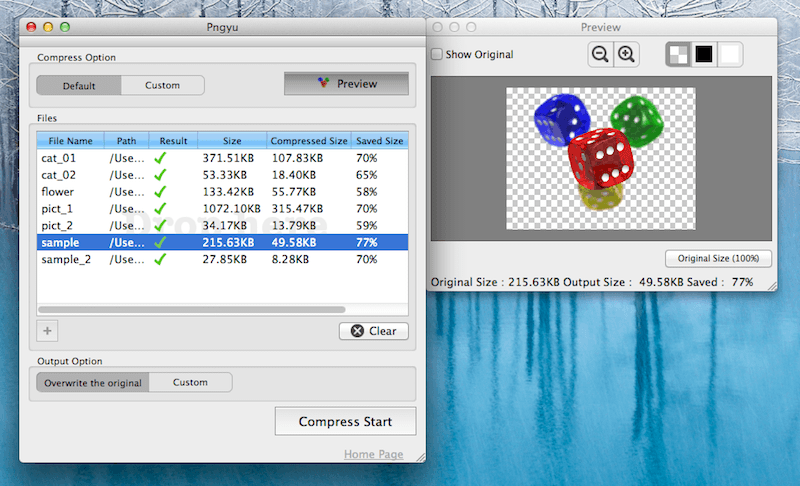 Files
---
tools\chocolateyInstall.ps1
$packageName = 'pngyu'
$url = 'http://nukesaq88.github.io/Pngyu//download/Pngyu_win_101.zip'
$checksum = 'd8cf13e6f18d997a89fa5bb835ae13eeefaa92935b0558a58ea579b6f972882e'
$checksumType = 'sha256'
$toolsDir = Split-Path -Parent $MyInvocation.MyCommand.Definition

Install-ChocolateyZipPackage -PackageName $packageName `
                             -Url $url `
                             -UnzipLocation $toolsDir `
                             -Checksum $checksum `
                             -ChecksumType $checksumType

Write-Verbose "Creating .gui sidecar for shimgen.exe"
$file = Get-ChildItem $toolsDir -Include "PNGoo.exe" -Recurse
New-Item "$file.gui" -ItemType file -Force | Out-Null
Virus Scan Results
---
Log in or click on link to see number of positives.
In cases where actual malware is found, the packages are subject to removal. Software sometimes has false positives. Moderators do not necessarily validate the safety of the underlying software, only that a package retrieves software from the official distribution point and/or validate embedded software against official distribution point (where distribution rights allow redistribution).
Chocolatey Pro provides runtime protection from possible malware.
Version History
| Version | Downloads | Last Updated | Status |
| --- | --- | --- | --- |
| Pngyu 1.0.1 | 1046 | Tuesday, July 5, 2016 | Approved |
Discussion for the Pngyu Package
---
Ground Rules:
This discussion is only about Pngyu and the Pngyu package. If you have feedback for Chocolatey, please contact the Google Group.
This discussion will carry over multiple versions. If you have a comment about a particular version, please note that in your comments.
The maintainers of this Chocolatey Package will be notified about new comments that are posted to this Disqus thread, however, it is NOT a guarantee that you will get a response. If you do not hear back from the maintainers after posting a message below, please follow up by using the link on the left side of this page or follow this link to contact maintainers. If you still hear nothing back, please follow the package triage process.
Tell us what you love about the package or Pngyu, or tell us what needs improvement.
Share your experiences with the package, or extra configuration or gotchas that you've found.
If you use a url, the comment will be flagged for moderation until you've been whitelisted. Disqus moderated comments are approved on a weekly schedule if not sooner. It could take between 1-5 days for your comment to show up.
comments powered by

Disqus