Welcome to the Chocolatey Community Package Repository! The packages found in this section of the site are provided, maintained, and moderated by the community.
Moderation
Every version of each package undergoes a rigorous moderation process before it goes live that typically includes:
More detail at Security and Moderation.
Organizational Use
If you are an organization using Chocolatey, we want your experience to be fully reliable. Due to the nature of this publicly offered repository, reliability cannot be guaranteed. Packages offered here are subject to distribution rights, which means they may need to reach out further to the internet to the official locations to download files at runtime.
Fortunately, distribution rights do not apply for internal use. With any edition of Chocolatey (including the free open source edition), you can host your own packages and cache or internalize existing community packages.
Disclaimer
Your use of the packages on this site means you understand they are not supported or guaranteed in any way. Learn more...
B
U
I
L
D
E
R
There is already a version of this package in your Script Builder
| Current Version | New Version |
| --- | --- |
| | |
Passing
Failing
Pending
Unknown / Exempted

Downloads:
1,721
Downloads of v 1.0.7:
223
Last Update:
17 Jun 2022
Package Maintainer(s):
Software Author(s):
Tags:
totalcmd
doublecmd
plugin
tcplugin
tcpcontent
tcplister
multimedia
audio
vide
mp3
freeware
Software Specific:
Package Specific:

TC Plugin: TCMediaInfo
1.0.7 | Updated: 17 Jun 2022
Software Specific:
Package Specific:
Downloads of v 1.0.7:
223
Software Author(s):
Edit Package
To edit the metadata for a package, please upload an updated version of the package.
Chocolatey's Community Package Repository currently does not allow updating package metadata on the website. This helps ensure that the package itself (and the source used to build the package) remains the one true source of package metadata.
This does require that you increment the package version.
TC Plugin: TCMediaInfo
1.0.7
Some Checks Have Failed or Are Not Yet Complete
Not All Tests Have Passed
---
Deployment Method: Individual Install, Upgrade, & Uninstall
To install TC Plugin: TCMediaInfo, run the following command from the command line or from PowerShell:
To upgrade TC Plugin: TCMediaInfo, run the following command from the command line or from PowerShell:
To uninstall TC Plugin: TCMediaInfo, run the following command from the command line or from PowerShell:
Deployment Method:
📝 NOTE: This applies to both open source and commercial editions of Chocolatey.
1. Enter Your Internal Repository Url
(this should look similar to https://community.chocolatey.org/api/v2/)
---
2. Setup Your Environment
---
3. Copy Your Script
---
4. If applicable - Chocolatey configuration/installation
See infrastructure management matrix for Chocolatey configuration elements and examples.
Description
---
Total Commander content and lister plugins to retrieve an info from the video and audio files.
See TCP Scripts for package parameters and other notes.
Plugin uses MediaInfo library and support all formats that library support.
Since MediaInfo library can retreive a LOT information from file, plugin is fully customizable and allow to wrap any MediaInfo library's field. By default some most useful fields are already configured and you can instantly start to use plugin.
Features
Content plugin supports data caching using the SQLite database that dramatically increases the retrieval speed in the future
Provides scripting interpreter to fully customize the output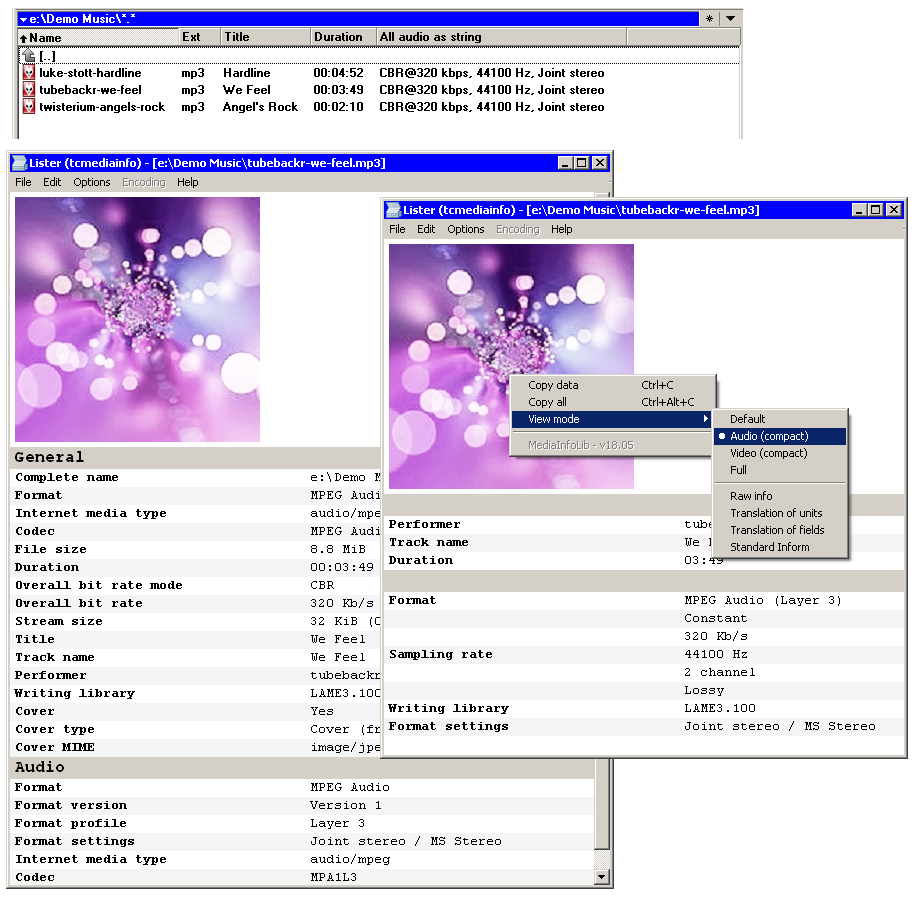 Files
---
legal\License.txt
Copyrights
Copyright 2009-2019, Dmitry Yudin 

This plugin is freeware. 

Allowed inclusion of this plugin in any Total Commander packs, personal or publc, in case of information in this section will remain intact. 

legal\VERIFICATION.txt
VERIFICATION

Verification is intended to assist the Chocolatey moderators and community
in verifying that this package's contents are trustworthy.

Package can be verified like this:

1. Go to https://totalcmd.net/plugring/tcmediainfo.html to download plugin

   plugin: https://totalcmd.net/download.php?id=tcmediainfo

2. You can use one of the following methods to obtain the SHA256 checksum:
   - Use powershell function 'Get-FileHash'
   - Use Chocolatey utility 'checksum.exe'

   plugin: 91B8124DE37537114CF719A31B974D364C0A878FA24F50431083394A1CE170B1

File 'license.txt' is extracted from the Readme.txt from the archive.

tools\chocolateyInstall.ps1
$ErrorActionPreference = 'Stop'

$toolsPath = Split-Path $MyInvocation.MyCommand.Definition
. $Env:ChocolateyInstall\lib\tcps\tools\tcps.ps1

Write-Host "Content plugin:"
Install-TCPlugin TCMediaInfo -DetectString "MULTIMEDIA | FORCE"
Write-Host "Lister plugin:"
Install-TCPlugin TCMediaInfo -DetectString "MULTIMEDIA | FORCE" -ForceType Wlx -NoExpand

tools\chocolateyUninstall.ps1
$ErrorActionPreference = 'Stop'

. $Env:ChocolateyInstall\lib\tcps\tools\tcps.ps1

Uninstall-TCPlugin TCMediaInfo -NoRemove
Uninstall-TCPlugin TCMediaInfo -ForceType Wlx

tools\wdx_wlx_tcmediainfo_1.0.7.zip
md5: D8D032DCE56992DD65F51D905FAD6903 | sha1: 0F6888B4DA5AE026CBAE0A5A7392867D54EB1CA6 | sha256: 11FB05321282B3E3661EECFF941A634925F673DA40E07FF05CBDDE8FCBE25D8B | sha512: 1EACC494DD9B8806E00F7892359A8AEFE0FC65D65EBE0FDE1C8C7C5356DCCCEA6DF00DA1605C51B2EB37479D2AD549B6CF2262247C64341051997B15A6F4895D
Virus Scan Results
---
Log in or click on link to see number of positives.
In cases where actual malware is found, the packages are subject to removal. Software sometimes has false positives. Moderators do not necessarily validate the safety of the underlying software, only that a package retrieves software from the official distribution point and/or validate embedded software against official distribution point (where distribution rights allow redistribution).
Chocolatey Pro provides runtime protection from possible malware.
Discussion for the TC Plugin: TCMediaInfo Package
---
Ground Rules:
This discussion is only about TC Plugin: TCMediaInfo and the TC Plugin: TCMediaInfo package. If you have feedback for Chocolatey, please contact the Google Group.
This discussion will carry over multiple versions. If you have a comment about a particular version, please note that in your comments.
The maintainers of this Chocolatey Package will be notified about new comments that are posted to this Disqus thread, however, it is NOT a guarantee that you will get a response. If you do not hear back from the maintainers after posting a message below, please follow up by using the link on the left side of this page or follow this link to contact maintainers. If you still hear nothing back, please follow the package triage process.
Tell us what you love about the package or TC Plugin: TCMediaInfo, or tell us what needs improvement.
Share your experiences with the package, or extra configuration or gotchas that you've found.
If you use a url, the comment will be flagged for moderation until you've been whitelisted. Disqus moderated comments are approved on a weekly schedule if not sooner. It could take between 1-5 days for your comment to show up.
comments powered by

Disqus