1.0.1.20191007 | Updated: 07 Oct 2019
Software Specific:
Package Specific:
Downloads of v 1.0.1.20191007:
1,692
Software Author(s):
TC Plugin: Uninstaller64 1.0.1.20191007
Some Checks Have Failed or Are Not Yet Complete
Not All Tests Have Passed
---
Validation Testing Passed
---
Verification Testing Passed
Details
---
Scan Testing Resulted in Flagged:
This package was submitted (and approved) prior to automated virus scanning integration into the package moderation processs.
We recommend clicking the "Details" link to make your own decision on installing this package.
Details
---
Deployment Method: Individual Install, Upgrade, & Uninstall
To install TC Plugin: Uninstaller64, run the following command from the command line or from PowerShell:
To upgrade TC Plugin: Uninstaller64, run the following command from the command line or from PowerShell:
To uninstall TC Plugin: Uninstaller64, run the following command from the command line or from PowerShell:
Deployment Method:
NOTE
This applies to both open source and commercial editions of Chocolatey.
1. Enter Your Internal Repository Url
(this should look similar to https://community.chocolatey.org/api/v2/)
---
2. Setup Your Environment
---
3. Copy Your Script
---
4. If applicable - Chocolatey configuration/installation
See infrastructure management matrix for Chocolatey configuration elements and examples.
Description
---
This plugin allows to view the list of installed applications, view detailed information about each uninstallation entry, launch deinstallation and forcibly delete invalid entries.
See TCP Scripts for package parameters and other notes.
Features
Full Unicode support
Listing of both 32- and 64-bit uninstallation entries (no matter which TC version is used)
Options to confirm uninstallation
Support background operations
Content data fields with basic information about uninstallation entries
Option where to store plugin settings
When deleting a key, auxiliary keys are also deleted from the registry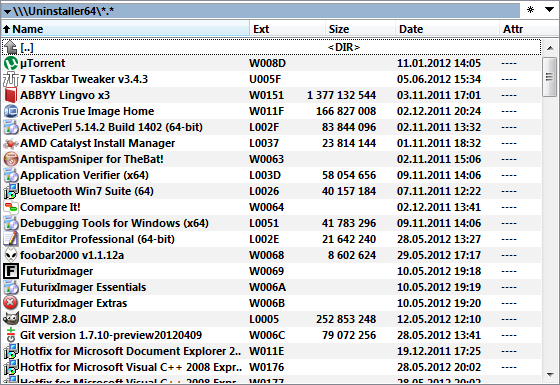 Files
---
legal\License.txt

  Artistic License 2.0

Copyright (c) 2000-2006, The Perl Foundation.

Everyone is permitted to copy and distribute verbatim copies of this
license document, but changing it is not allowed.


      Preamble

This license establishes the terms under which a given free software
Package may be copied, modified, distributed, and/or redistributed. The
intent is that the Copyright Holder maintains some artistic control over
the development of that Package while still keeping the Package
available as open source and free software.

You are always permitted to make arrangements wholly outside of this
license directly with the Copyright Holder of a given Package. If the
terms of this license do not permit the full use that you propose to
make of the Package, you should contact the Copyright Holder and seek a
different licensing arrangement.


      Definitions

"Copyright Holder" means the individual(s) or organization(s) named in
the copyright notice for the entire Package.

"Contributor" means any party that has contributed code or other
material to the Package, in accordance with the Copyright Holder's
procedures.

"You" and "your" means any person who would like to copy, distribute, or
modify the Package.

"Package" means the collection of files distributed by the Copyright
Holder, and derivatives of that collection and/or of those files. A
given Package may consist of either the Standard Version, or a Modified
Version.

"Distribute" means providing a copy of the Package or making it
accessible to anyone else, or in the case of a company or organization,
to others outside of your company or organization.

"Distributor Fee" means any fee that you charge for Distributing this
Package or providing support for this Package to another party. It does
not mean licensing fees.

"Standard Version" refers to the Package if it has not been modified, or
has been modified only in ways explicitly requested by the Copyright Holder.

"Modified Version" means the Package, if it has been changed, and such
changes were not explicitly requested by the Copyright Holder.

"Original License" means this Artistic License as Distributed with the
Standard Version of the Package, in its current version or as it may be
modified by The Perl Foundation in the future.

"Source" form means the source code, documentation source, and
configuration files for the Package.

"Compiled" form means the compiled bytecode, object code, binary, or any
other form resulting from mechanical transformation or translation of
the Source form.


      Permission for Use and Modification Without Distribution

(1) You are permitted to use the Standard Version and create and use
Modified Versions for any purpose without restriction, provided that you
do not Distribute the Modified Version.


      Permissions for Redistribution of the Standard Version

(2) You may Distribute verbatim copies of the Source form of the
Standard Version of this Package in any medium without restriction,
either gratis or for a Distributor Fee, provided that you duplicate all
of the original copyright notices and associated disclaimers. At your
discretion, such verbatim copies may or may not include a Compiled form
of the Package.

(3) You may apply any bug fixes, portability changes, and other
modifications made available from the Copyright Holder. The resulting
Package will still be considered the Standard Version, and as such will
be subject to the Original License.


      Distribution of Modified Versions of the Package as Source

(4) You may Distribute your Modified Version as Source (either gratis or
for a Distributor Fee, and with or without a Compiled form of the
Modified Version) provided that you clearly document how it differs from
the Standard Version, including, but not limited to, documenting any
non-standard features, executables, or modules, and provided that you do
at least ONE of the following:

(a) make the Modified Version available to the Copyright Holder of the
Standard Version, under the Original License, so that the Copyright
Holder may include your modifications in the Standard Version.
(b) ensure that installation of your Modified Version does not prevent
the user installing or running the Standard Version. In addition, the
Modified Version must bear a name that is different from the name of the
Standard Version.
(c) allow anyone who receives a copy of the Modified Version to make the
Source form of the Modified Version available to others under
(i) the Original License or
(ii) a license that permits the licensee to freely copy, modify and
redistribute the Modified Version using the same licensing terms that
apply to the copy that the licensee received, and requires that the
Source form of the Modified Version, and of any works derived from it,
be made freely available in that license fees are prohibited but
Distributor Fees are allowed.


      Distribution of Compiled Forms of the Standard Version or Modified
      Versions without the Source

(5) You may Distribute Compiled forms of the Standard Version without
the Source, provided that you include complete instructions on how to
get the Source of the Standard Version. Such instructions must be valid
at the time of your distribution. If these instructions, at any time
while you are carrying out such distribution, become invalid, you must
provide new instructions on demand or cease further distribution. If you
provide valid instructions or cease distribution within thirty days
after you become aware that the instructions are invalid, then you do
not forfeit any of your rights under this license.

(6) You may Distribute a Modified Version in Compiled form without the
Source, provided that you comply with Section 4 with respect to the
Source of the Modified Version.


      Aggregating or Linking the Package

(7) You may aggregate the Package (either the Standard Version or
Modified Version) with other packages and Distribute the resulting
aggregation provided that you do not charge a licensing fee for the
Package. Distributor Fees are permitted, and licensing fees for other
components in the aggregation are permitted. The terms of this license
apply to the use and Distribution of the Standard or Modified Versions
as included in the aggregation.

(8) You are permitted to link Modified and Standard Versions with other
works, to embed the Package in a larger work of your own, or to build
stand-alone binary or bytecode versions of applications that include the
Package, and Distribute the result without restriction, provided the
result does not expose a direct interface to the Package.


      Items That are Not Considered Part of a Modified Version

(9) Works (including, but not limited to, modules and scripts) that
merely extend or make use of the Package, do not, by themselves, cause
the Package to be a Modified Version. In addition, such works are not
considered parts of the Package itself, and are not subject to the terms
of this license.


      General Provisions

(10) Any use, modification, and distribution of the Standard or Modified
Versions is governed by this Artistic License. By using, modifying or
distributing the Package, you accept this license. Do not use, modify,
or distribute the Package, if you do not accept this license.

(11) If your Modified Version has been derived from a Modified Version
made by someone other than you, you are nevertheless required to ensure
that your Modified Version complies with the requirements of this license.

(12) This license does not grant you the right to use any trademark,
service mark, tradename, or logo of the Copyright Holder.

(13) This license includes the non-exclusive, worldwide, free-of-charge
patent license to make, have made, use, offer to sell, sell, import and
otherwise transfer the Package with respect to any patent claims
licensable by the Copyright Holder that are necessarily infringed by the
Package. If you institute patent litigation (including a cross-claim or
counterclaim) against any party alleging that the Package constitutes
direct or contributory patent infringement, then this Artistic License
to you shall terminate on the date that such litigation is filed.

(14) Disclaimer of Warranty: THE PACKAGE IS PROVIDED BY THE COPYRIGHT
HOLDER AND CONTRIBUTORS "AS IS' AND WITHOUT ANY EXPRESS OR IMPLIED
WARRANTIES. THE IMPLIED WARRANTIES OF MERCHANTABILITY, FITNESS FOR A
PARTICULAR PURPOSE, OR NON-INFRINGEMENT ARE DISCLAIMED TO THE EXTENT
PERMITTED BY YOUR LOCAL LAW. UNLESS REQUIRED BY LAW, NO COPYRIGHT HOLDER
OR CONTRIBUTOR WILL BE LIABLE FOR ANY DIRECT, INDIRECT, INCIDENTAL, OR
CONSEQUENTIAL DAMAGES ARISING IN ANY WAY OUT OF THE USE OF THE PACKAGE,
EVEN IF ADVISED OF THE POSSIBILITY OF SUCH DAMAGE.

Capture
Drag to outliner or Upload
Close

legal\VERIFICATION.txt
VERIFICATION

Verification is intended to assist the Chocolatey moderators and community
in verifying that this package's contents are trustworthy.

Package can be verified like this:

1. Go to

   plugin: http://flint-inc.ru/files/mlang/uninstaller64_1.0.1.rar
   src: http://flint-inc.ru/files/mlang/uninstaller64_1.0.1.src.rar

   to download the plugin.

2. You can use one of the following methods to obtain the SHA256 checksum:
   - Use powershell function 'Get-FileHash'
   - Use Chocolatey utility 'checksum.exe'

   plugin: 774247a236576ba4a651ff37cb9ee797b6298d59aafe64930580e7902c5a3c28
   src: 727a33e059655a7b8ccb1af697ca99041ff96281ac1b8eed2e0ec73fcefd7a0c

File 'license.txt' is obtained from the archive:
   uninstaller64_1.0.1.rar/Descripts/Artistic License 2.0.html
tools\chocolateyInstall.ps1
tools\chocolateyUninstall.ps1
$ErrorActionPreference = 'Stop'
. $Env:ChocolateyInstall\lib\tcps\tools\tcps.ps1

Uninstall-TCPlugin Uninstaller64
tools\uninstaller64_1.0.1.rar
md5: E454C6124BBB9411ECAA5A98F39448CB | sha1: E2D3078A16262B35163ADA097A747CBB523CBA4C | sha256: 774247A236576BA4A651FF37CB9EE797B6298D59AAFE64930580E7902C5A3C28 | sha512: 81476DA48AF7649009A1204148AD6CB1213CA5DE69062696F9D78E8D8341A89FB6A51D556BCB8C80A5CB1FCD8687020FB5DD158A33863CC388D10F0BC04935AC
tools\src\uninstaller64_1.0.1.src.rar
md5: BB79E409557B4AB9E4E0109A711E31DA | sha1: 149A71775ECC10B25BA0DFA084B3400D366A3E8A | sha256: 727A33E059655A7B8CCB1AF697CA99041FF96281AC1B8EED2E0EC73FCEFD7A0C | sha512: B92FFA5D2F4CA4A6FD9FCC22CFFF369A270D1124DF397D0B2C543BFBDFE3C135F32AE3AAC9A9402C28DF6F1C9B43AA066E5E5859A7297B0FA258B5C09AE43C38
Virus Scan Results
---
Log in or click on link to see number of positives.
In cases where actual malware is found, the packages are subject to removal. Software sometimes has false positives. Moderators do not necessarily validate the safety of the underlying software, only that a package retrieves software from the official distribution point and/or validate embedded software against official distribution point (where distribution rights allow redistribution).
Chocolatey Pro provides runtime protection from possible malware.
Discussion for the TC Plugin: Uninstaller64 Package
---
Ground Rules:
This discussion is only about TC Plugin: Uninstaller64 and the TC Plugin: Uninstaller64 package. If you have feedback for Chocolatey, please contact the Google Group.
This discussion will carry over multiple versions. If you have a comment about a particular version, please note that in your comments.
The maintainers of this Chocolatey Package will be notified about new comments that are posted to this Disqus thread, however, it is NOT a guarantee that you will get a response. If you do not hear back from the maintainers after posting a message below, please follow up by using the link on the left side of this page or follow this link to contact maintainers. If you still hear nothing back, please follow the package triage process.
Tell us what you love about the package or TC Plugin: Uninstaller64, or tell us what needs improvement.
Share your experiences with the package, or extra configuration or gotchas that you've found.
If you use a url, the comment will be flagged for moderation until you've been whitelisted. Disqus moderated comments are approved on a weekly schedule if not sooner. It could take between 1-5 days for your comment to show up.
comments powered by

Disqus