TMPGEnc KARMA.. (Install)
0.0.7.72 | Updated: 27 Oct 2018
Software Specific:
Package Specific:
Downloads of v 0.0.7.72:
645
Software Author(s):
TMPGEnc KARMA.. (Install) 0.0.7.72
All Checks are Passing
3 Passing Tests
---
Deployment Method: Individual Install, Upgrade, & Uninstall
To install TMPGEnc KARMA.. (Install), run the following command from the command line or from PowerShell:
To upgrade TMPGEnc KARMA.. (Install), run the following command from the command line or from PowerShell:
To uninstall TMPGEnc KARMA.. (Install), run the following command from the command line or from PowerShell:
Deployment Method:
NOTE
This applies to both open source and commercial editions of Chocolatey.
1. Enter Your Internal Repository Url
(this should look similar to https://community.chocolatey.org/api/v2/)
---
2. Setup Your Environment
---
3. Copy Your Script
---
4. If applicable - Chocolatey configuration/installation
See infrastructure management matrix for Chocolatey configuration elements and examples.
NOTE
Private CDN cached downloads available for licensed customers. Never experience 404 breakages again! Learn more...
Package Approved
This package was approved by moderator gep13 on 29 Oct 2018.
Description
---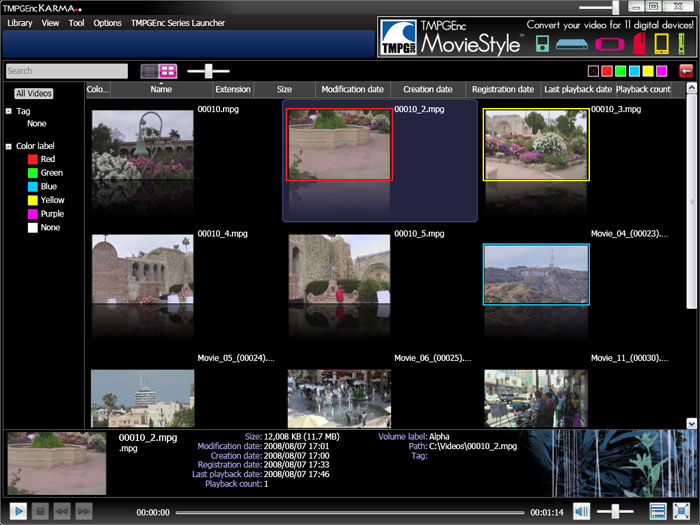 What is TMPGEnc KARMA..?
Looking for a better way to find and organize all of the videos on your computer? TMPGEnc KARMA.. lets you easily scan folders and add videos, creating a library listing of them on your computer. Organize your videos easily by using the sorting options, and even create your own custom description tags. View your videos in any of the multiple preview screens, and use the included TileShot CREATOR tool to create images from your videos! Add some good karma to your life and download TMPGEnc KARMA.. today!
View Up To 4 Videos At Once
View your video with the main TMPGEnc KARMA.. preview screen, or watch up to three more videos with the sub-preview screens! It's a great way to compare your clips!
Sync Play Feature
You can load up to three videos in the sub-preview screens and use the Sync button to play or pause them all at the same time.
Resume Play Feature
Start your video where you left off with the Resume Play feature. TMPGEnc KARMA.. automatically remembers where you stopped during video playback so the next time you select that video, it will play from that point.
Set Your Own Preview Thumbnail
When you view your video library in thumbnail list mode, the preview thumbnails are automatically obtained from the first frame of your video. However, you can set your own preview thumbnail from any frame in the video by playing it in one of the sub-menus and right-clicking on the frame you'd like to use as the preview thumbnail.
Color Labels
TMPGEnc KARMA.. lets you quickly color-code your videos with the Color Label buttons. Simply select your video(s) and click one of the color buttons to asign a color! You can then sort your videos by color to help you find the video you're looking for even faster!
Window Transparency
Easily customize the opacity of the TMPGEnc KARMA.. window by using the slider in the upper right corner. Make your window fully opaque, fully transparent, or anything inbetween!
TMPGEnc TileShot CREATOR
Create a tiled image composed of frames from your video with the included TMPGEnc TileShot CREATOR tool! It's a fast and easy way to create digital contact sheets from your video footage. You can even create an animated .gif image! Great for archiving purposes or used as a preview image on your website or blog!
---
Click here to Patreon-ize the package maintainer.
---
Files
---
tools\ChocolateyInstall.ps1
Virus Scan Results
---
Log in or click on link to see number of positives.
In cases where actual malware is found, the packages are subject to removal. Software sometimes has false positives. Moderators do not necessarily validate the safety of the underlying software, only that a package retrieves software from the official distribution point and/or validate embedded software against official distribution point (where distribution rights allow redistribution).
Chocolatey Pro provides runtime protection from possible malware.
Copyright
---
© Copyright (c) Pegasys Inc. , All Rights Reserved.
Discussion for the TMPGEnc KARMA.. (Install) Package
---
Ground Rules:
This discussion is only about TMPGEnc KARMA.. (Install) and the TMPGEnc KARMA.. (Install) package. If you have feedback for Chocolatey, please contact the Google Group.
This discussion will carry over multiple versions. If you have a comment about a particular version, please note that in your comments.
The maintainers of this Chocolatey Package will be notified about new comments that are posted to this Disqus thread, however, it is NOT a guarantee that you will get a response. If you do not hear back from the maintainers after posting a message below, please follow up by using the link on the left side of this page or follow this link to contact maintainers. If you still hear nothing back, please follow the package triage process.
Tell us what you love about the package or TMPGEnc KARMA.. (Install), or tell us what needs improvement.
Share your experiences with the package, or extra configuration or gotchas that you've found.
If you use a url, the comment will be flagged for moderation until you've been whitelisted. Disqus moderated comments are approved on a weekly schedule if not sooner. It could take between 1-5 days for your comment to show up.
comments powered by

Disqus