B
U
I
L
D
E
R
Passing
Failing
Pending
Unknown / Exempted
Community Package Repository Notification
Your use of the packages on this site means you understand they are not supported or guaranteed in any way. Due to the nature of a public repository and unreliability due to distribution rights, these packages should not be used as is for organizational purposes either. Learn more.
Search for "tag:Admin" Returned 1547 Packages
Displaying Results 1 - 30 of 1547
---
1,704 Downloads

Unknown Status

This project fills the absence of stdint.h and inttypes.h in Microsoft Visual Studio.

---

BatteryBar is a small but powerful battery meter for Windows. Very similar to Lenovo's battery gauge application.

---

Run files as other freeware user

---

Brings Chrome-Style Tabs to Windows Explorer.

---

PerfMonitor2 (PM2) is a processor performance and monitoring tool.

---

Client libraries and tools like Sybase central for SQL Anywhere

---

---

Cura LE is a Free Software program for LulzBot 3D printers.

---

A PDF editor to insert or remove pages and to modify metadata through GUI.

---

Copy text content from dialog boxes.

---

TeXstudio is an integrated writing environment for creating LaTeX documents.

---

Automise Run-time provides the command line runner for [Automise](https://chocolatey.org/packages/automise).

---

48,461 Downloads

Unknown Status

Microsoft Silverlight software development kit

---

CryptoPro Browser Plugin is a add-in for using GOST cryptographic functions in Office

---

The free video codec that's strong in compression and quality. Number one choice of millions worldwide.

---

The virt-viewer application is a lightweight interface for interacting with the graphical display of virtualized guest OS.

---

The SDK includes the runtime and command line tools for creating .NET Core applications.

---

Windows kernel-mode driver emulating well-known USB game controllers.

---

Decentralized, peer-to-peer (P2P) transactional system which achieves consensus via distributed computing

---

Domain name search tool (Whois) for Windows

---

AudioShell - ID3 tag editor shell extension

---

Installs United States Department of Defense certificates to allow access to DoD web sites, including on personally-owned computers.

---

SecurityGateway filters emails for spam and viruses. It provides a temporary archive of inbound and outbound email and custom SIEVE filter... Keep Reading

---

The Yubico PIV tool is used for interacting with the Personal Identity Verification (PIV) application on a YubiKey.

---

One-click-solution for setting up your personal webserver.

---

Automise provides a graphical IDE to create, debug, and run Windows administrative tasks. Automise packages hundreds of pre-written script... Keep Reading

---

---

Unlock features and performance on your MSI GAMING graphics cards!

---

CellProfiler Analyst allows interactive exploration and analysis of data, particularly from high-throughput, image-based experiments. Incl... Keep Reading

---

JTrim is a photo retouching software.

---
Resources
Watch videos, read documentation, and hear Chocolatey success stories from companies you trust.
View Resources
Events
Find past and upcoming webinars, workshops, and conferences. New events have recently been added!
View Events
Courses
Step-by-step guides for all things Chocolatey! Earn badges as you learn through interactive digital courses.
View Courses
---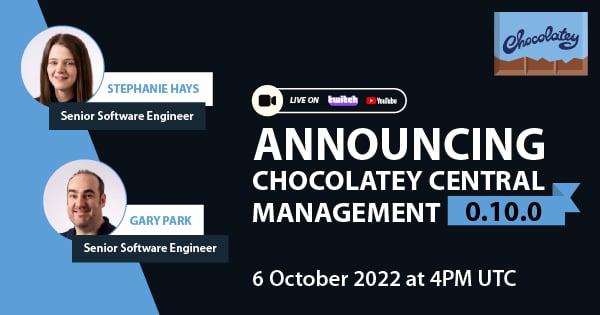 We recently released our largest update to Chocolatey Central Management so far. Join Gary and Steph to find out more about Chocolatey Central Management and the new features and fixes we've added to this release..
---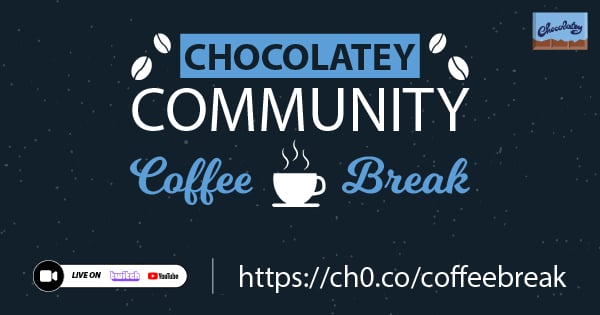 Join the Chocolatey Team on our regular monthly stream where we discuss all things Community, what we do, how you can get involved and answer your Chocolatey questions.
---