B
U
I
L
D
E
R
Passing
Failing
Pending
Unknown / Exempted
Community Package Repository Notification
Your use of the packages on this site means you understand they are not supported or guaranteed in any way. Due to the nature of a public repository and unreliability due to distribution rights, these packages should not be used as is for organizational purposes either. Learn more.
Search for "tag:BIN" Returned 90 Packages
Displaying Results 31 - 60 of 90
---
Snort is an open source network intrusion prevention system.

---

dokany is a ser mode file system library for windows with FUSE Wrapper

---

Tautulli - Monitor your Plex Media Server

---

TCC Windows Command Prompt : Upgrading the CMD Shell

---

7-Zip with Iso7z can quickly extract files from a disc image without mounting it

---

eDecoder is a plugin for the popular archiver 7-Zip. It enables 7-Zip to handle many different types of mailboxes

---

GCompris is a high quality educational software suite, including a large number of activities for children aged 2 to 10.

---

Mr.Boom is an 8 players Bomberman clone for RetroArch/Libretro

---

HBBatchBeast for HandBrake and FFmpeg/FFprobe

---

RecycleNOW is a small utility that, when triggered, immediately empties the Recycle Bin.

---

010 Editor is a hex and process editor that allows exploration of data using binary templates and interaction with data via scripts

---

openHAB - a vendor and technology agnostic open source automation software for your home

---

SIV (System Information Viewer) - is a general Windows utility for displaying lots of useful Windows, Network and hardware info.

---

TaskSchedulerView lets you easily view and edit Windows Scheduled Tasks in a GUI.

---

A modern alternative to the Microsoft Assembly Binding Log Viewer (FUSLOGVW.exe)

---

OSFMount - Mount dd image files in Windows

---

---

XMedia Recode is a free All-In-One video converter and audio converter tool

---

13,124 Downloads

Unknown Status

Devbox-Common

---

Sets your desktop wallpaper to the Bing iamge of the day

---

---

MetaFox is a simple to use MKV video file converter

---

RocketDock is a smoothly animated, alpha blended application launcher.

---

---

Font Awesome - The iconic font and CSS framework

---

InstChoco - The ULTIMATE Chocolatey and Chocolatey packages (re)installer!

---

Free Hex Editor Neo is a large files optimized freeware editor for everyone who works with ASCII, hex, decimal, float, double and binary d... Keep Reading

---

Multiple Monitors Made Easy!

---

Chrometana lets your redirect Bing to the search engine of your choice.

---

Advanced BAT to EXE Converter is the best choice to compile your Batch Files to .EXE for distributing commercially.

---
Resources
Watch videos, read documentation, and hear Chocolatey success stories from companies you trust.
View Resources
Events
Find past and upcoming webinars, workshops, and conferences. New events have recently been added!
View Events
Courses
Step-by-step guides for all things Chocolatey! Earn badges as you learn through interactive digital courses.
View Courses
---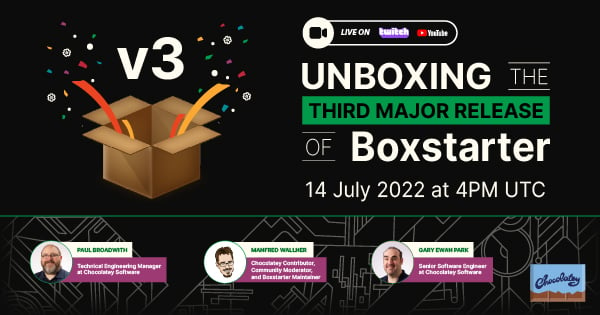 Boxstarter version 3.0 marks the beginning of a new era of Boxstarter and Chocolatey. Join Gary, Paul, and Manfred as they unbox the best features of Boxstarter live.
---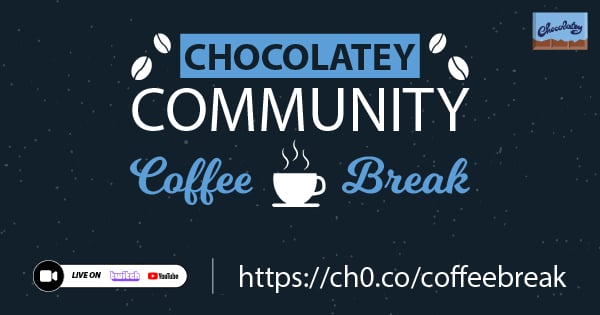 The Chocolatey Community is close to the hearts of the Chocolatey Team. Join us on Discord and meet the Chocolatey Team, find out more about the Chocolatey Community, what we do, and how you can get involved.
---