B
U
I
L
D
E
R
Passing
Failing
Pending
Unknown / Exempted
Community Package Repository Notification
Your use of the packages on this site means you understand they are not supported or guaranteed in any way. Due to the nature of a public repository and unreliability due to distribution rights, these packages should not be used as is for organizational purposes either. Learn more.
Search for "tag:Bi" Returned 124 Packages
Displaying Results 1 - 30 of 124
---
RocketDock is a smoothly animated, alpha blended application launcher.

---

Free Hex Editor Neo is a large files optimized freeware editor for everyone who works with ASCII, hex, decimal, float, double and binary d... Keep Reading

---

Personal messages, notifications, and incoming tasks are visible through the Desktop App on your computer. The Desktop App provides users ... Keep Reading

---

---

Apache Server for Windows.

---

Lightweight Bitcoin client

---

A free and open source web server stack, consisting of Apache, MySQL, PHP and Perl.

---

---

Azure templates to migrate BizTalk applications to Microsoft Azure Integration Services.

---

---

Binance crypto trading app

---

Tribler is an open source anonymous decentralized BitTorrent client.

---

Outlook Google Calendar Sync offers calendar synchronisation between Outlook and Google, including attendees and reminders.

---

KeePass plugin to unlock database via Windows Hello

---

A software-based online payment system

---

iimiolek eduActiv8 (formerly pySioGame) is a free cross-platform Open Source educational program for children.

---

This packages installs Ubuntu 18.04.1 LTS (Bionic Beaver) for Windows Subsystem for Linux.

---

Chrometana lets your redirect Bing to the search engine of your choice.

---

Streaming torrent app for Mac, Windows, and Linux.

---

Czkawka (tch•kav•ka, hiccup) is a simple, fast and free app to remove unnecessary files from your computer.

---

Open, free and uncensorable websites, using Bitcoin cryptography and BitTorrent network

---

PGCLI is a PrettyGoodCommandLIne interface for component control and management. You can use it to install, manage and run postgres server... Keep Reading

---

Serva is an Automated PXE Server Solution Accelerator based on an all-in-one portable multi-server engine.

---

Tux Paint - Open Source Drawing Software for Children

---

This is a collection of 'rubber stamp' images for Tux Paint.

---

OSFMount - Mount dd image files in Windows

---

Software-based online payment system

---

---

Considerable time and effort can be spent building and organizing your reference library, finding your references and notes when you need ... Keep Reading

---

The Chrome OS core fonts, also known as the Croscore fonts, are a collection of three TrueType font families: Arimo (sans-serif), Tinos (s... Keep Reading

---
Resources
Watch videos, read documentation, and hear Chocolatey success stories from companies you trust.
View Resources
Events
Find past and upcoming webinars, workshops, and conferences. New events have recently been added!
View Events
Courses
Step-by-step guides for all things Chocolatey! Earn badges as you learn through interactive digital courses.
View Courses
---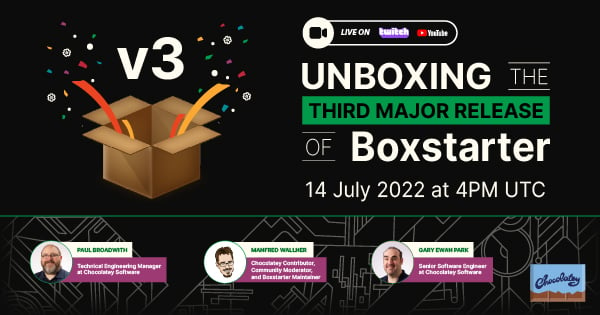 Boxstarter version 3.0 marks the beginning of a new era of Boxstarter and Chocolatey. Join Gary, Paul, and Manfred as they unbox the best features of Boxstarter live.
---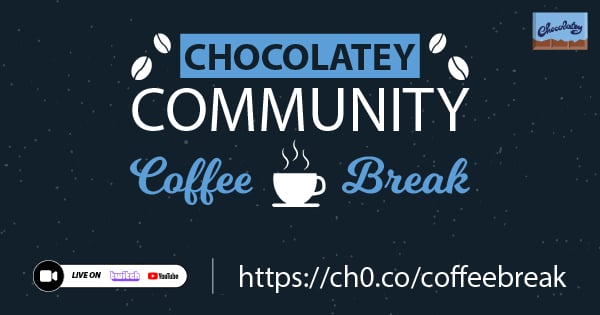 The Chocolatey Community is close to the hearts of the Chocolatey Team. Join us on Discord and meet the Chocolatey Team, find out more about the Chocolatey Community, what we do, and how you can get involved.
---