Community Package Repository Notification
Your use of the packages on this site means you understand they are not supported or guaranteed in any way. Due to the nature of a public repository and unreliability due to distribution rights, these packages should not be used as is for organizational purposes either. Learn more.
Search for "tag:Code" Returned 145 Packages
Displaying Results 1 - 30 of 145
---
Passing
Failing
Pending
Unknown / Exempted
Display unit test outcomes as diagnostics in the Visual Studio Code Problems panel

---

6,391 Downloads

Unknown Status

Cheetah is an open source template engine and code generation tool, written in Python. It can be used standalone or combined with other to... Keep Reading

---

PreCode - Code Snippet With Syntaxhighlighter Support for Windows Live Writer

---

The EditorConfig project defines a simple file format for configuring common text-editor options such as indentation sizes.

---

1,442 Downloads

Unknown Status

Trim source code trees

---

---

1,863 Downloads

Unknown Status

Adds a series of preview handlers to Windows Vista, Windows 7, Outlook 2007 and Outlook 2010 that are useful for software developers. The... Keep Reading

---

Git-TF is a set of cross-platform, command line tools that facilitate sharing of changes between TFS and Git.

---

3,186 Downloads

Unknown Status

Source Insight

---

---

8,337 Downloads

Unknown Status

The all-in-one codec solution

---

Command line audio AAC encoder/decoder utility

---

Vlc web plugin based on FireBreath.

---

Directshow Filters for Ogg Vorbis, Speex, Theora, FLAC, and WebM

---

QuickTime codecs for Ogg Vorbis, Speex, Theora, FLAC, and WebM

---

Counts lines of code in *.cs files in current directory and all subdirectories.

---

Source Han Code JP is intended to be used as a UI font for mixed Latin and Japanese text on displays, for programming, editing HTML/CSS, v... Keep Reading

---

Disable/enable codec drivers and DirectShow filters installed on your system

---

ANSICON provides ANSI escape sequences for Windows console programs

---

Plugin for KeePass 2.x to import TXT files that were exported by CodeWallet 3

---

Intelligent productivity and collaboration, from anywhere, powered by the cloud

---

Code alignment helps you present your code beautifully, enhancing clarity and readability.

---

Patent-free audio compression format designed for speech

---

A program that allows you to count your code, quickly

---

A simple code snippet and gist manager for developers built with Electron and Vue.js

---

bstrings is a better strings utility

---

Checkstyle is a development tool to help programmers write Java code that adheres to a coding standard.

---

Plugin for KeePass 2.x to support QR code generation

---

Code Contracts provide a language-agnostic way to express coding assumptions in .NET programs.

---

Displays a preview of the selected source file in Windows Explorer, Outlook, and SmartFTP.

---
Resources
Watch videos, read documentation, and hear Chocolatey success stories from companies you trust.
View Resources
Events
Find past and upcoming webinars, workshops, and conferences. New events have recently been added!
View Events
Courses
Step-by-step guides for all things Chocolatey! Earn badges as you learn through interactive digital courses.
View Courses
---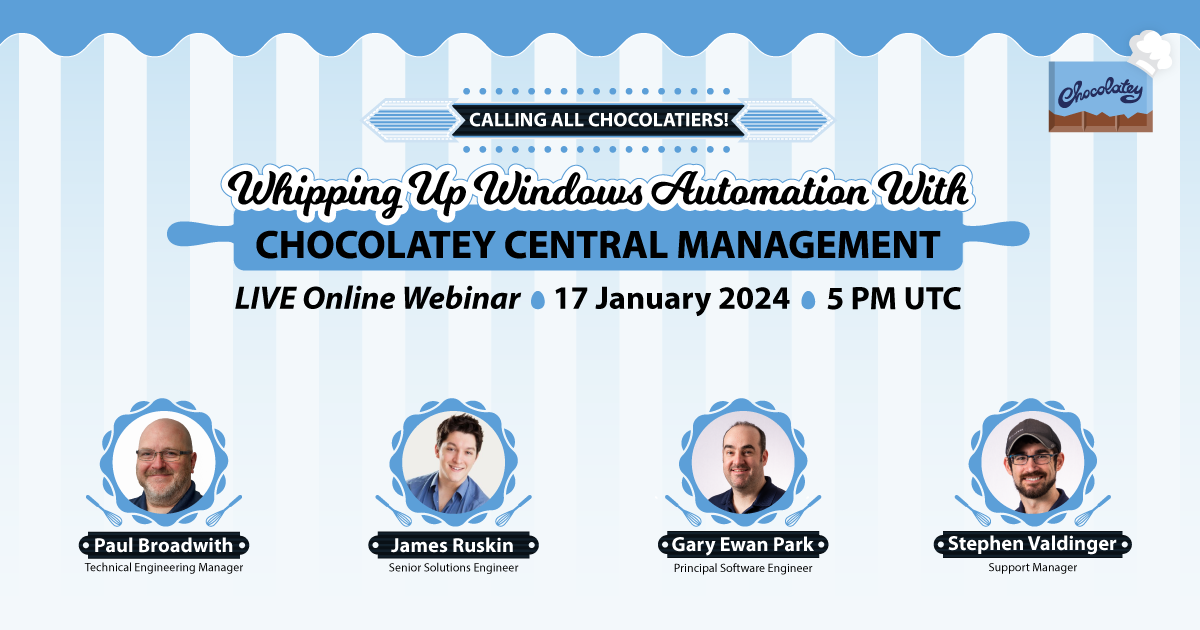 We are delighted to announce the release of Chocolatey Central Management v0.12.0, featuring seamless Deployment Plan creation, time-saving duplications, insightful Group Details, an upgraded Dashboard, bug fixes, user interface polishing, and refined documentation. As an added bonus we'll have members of our Solutions Engineering team on-hand to dive into some interesting ways you can leverage the new features available!
Learn More
Register Now
---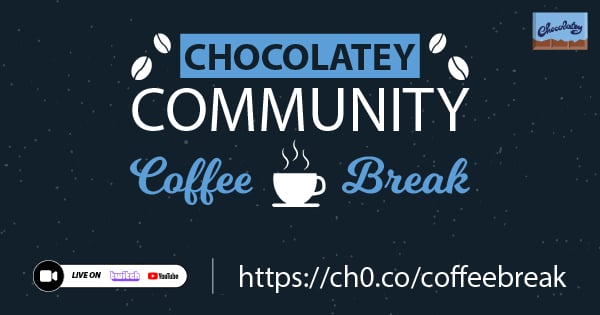 Join the Chocolatey Team on our regular monthly stream where we discuss all things Community, what we do, how you can get involved and answer your Chocolatey questions.
---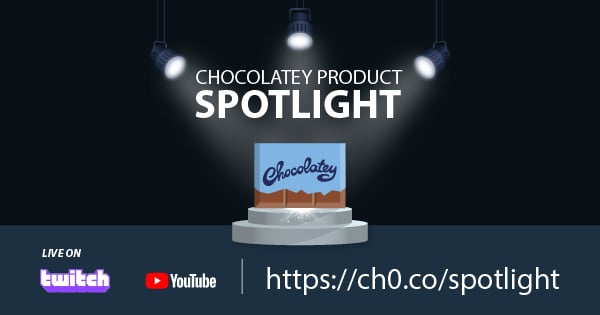 Join the Chocolatey Team on our regular monthly stream where we put a spotlight on the most recent Chocolatey product releases. You'll have a chance to have your questions answered in a live Ask Me Anything format.
---