B
U
I
L
D
E
R
Passing
Failing
Pending
Unknown / Exempted
Community Package Repository Notification
Your use of the packages on this site means you understand they are not supported or guaranteed in any way. Due to the nature of a public repository and unreliability due to distribution rights, these packages should not be used as is for organizational purposes either. Learn more.
Search for "tag:Process" Returned 64 Packages
Displaying Results 1 - 30 of 64
---
SIW - System Information for Windows

---

1,585 Downloads

Unknown Status

Arduino is an open-source electronics prototyping platform based on flexible, easy-to-use hardware and software.

---

3,195 Downloads

Unknown Status

processing2

---

1,423 Downloads

Unknown Status

Bowery code sync and process management server.

---

4,501 Downloads

Unknown Status

Get more speed, less crashing, longer battery life and more disk space, whether you choose automatic maintenance or want to take a more ha... Keep Reading

---

Displays the list of DLLs that are automatically injected on every process in your system

---

Run a Windows program with a user of another process

---

Basic numeric,textual and statistical operations on input textual data files

---

Starter is yet another startup manager for Microsoft Windows

---

---

View process threads information On Windows

---

List all the DLLs that are currently loaded, including where they are loaded and their version numbers

---

TaskInfo is a poweful utility that combines and improves features of Task Manager and System Information tools

---

Svchost Process Analyzer lists all svchost instances and checks the services they contain.

---

A .NET 5 based Clash GUI Proxy For Windows

---

Program to terminate Windows processes.

---

Perform all bulk file processing operations

---

Edit 1000s of text documents in bulk

---

Edit 1000s of Word text documents in bulk

---

Free astronomical image processing software

---

Multifunctional process memory editor for general use.

---

A user interface for the VIPS image processing library.

---

Commandline tool to silently launch a process.

---

Obtain information about a system

---

Show information about processes and threads

---

See what files are opened remotely

---

A software-based power usage monitoring tool enabled for Intel® Core™ processors

---

VMMap is a process virtual and physical memory analysis utility

---

Open-source hardware initiative that makes electronics accessible as a creative material for anyone

---

HollowsHunter scans all the running processes, detects potentially malicious code implants.

---
Resources
Watch videos, read documentation, and hear Chocolatey success stories from companies you trust.
View Resources
Events
Find past and upcoming webinars, workshops, and conferences. New events have recently been added!
View Events
Courses
Step-by-step guides for all things Chocolatey! Earn badges as you learn through interactive digital courses.
View Courses
---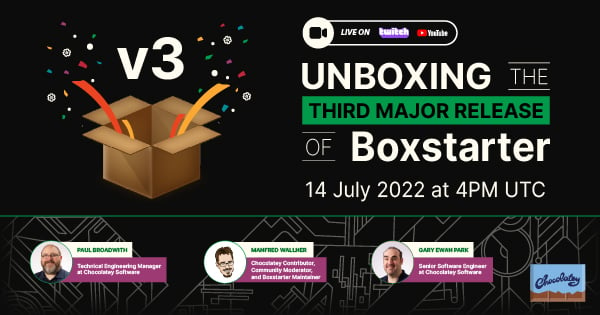 Boxstarter version 3.0 marks the beginning of a new era of Boxstarter and Chocolatey. Join Gary, Paul, and Manfred as they unbox the best features of Boxstarter live.
---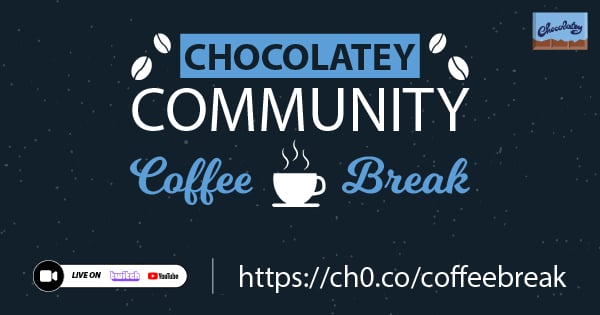 The Chocolatey Community is close to the hearts of the Chocolatey Team. Join us on Discord and meet the Chocolatey Team, find out more about the Chocolatey Community, what we do, and how you can get involved.
---