B
U
I
L
D
E
R
Passing
Failing
Pending
Unknown / Exempted
Community Package Repository Notification
Your use of the packages on this site means you understand they are not supported or guaranteed in any way. Due to the nature of a public repository and unreliability due to distribution rights, these packages should not be used as is for organizational purposes either. Learn more.
Search for "tag:Source" Returned 53 Packages
Displaying Results 1 - 30 of 53
---
1,277 Downloads

Unknown Status

Trim source code trees

---

1,810 Downloads

Unknown Status

Veracity is an open source version control and bug tracking system that offers a complete DVCS solution that offers great extras like scru... Keep Reading

---

2,100 Downloads

Unknown Status

VisualHG

---

2,928 Downloads

Unknown Status

Source Insight

---

Artistic Style is a source code indenter, formatter, and beautifier for the C, C++, C++/CLI, Objective-C, C# and Java programming language... Keep Reading

---

List of all event log sources installed on your system

---

---

Command line echo server and client for Windows.

---

Generate documentation from source code

---

A tool to handle importing/exporting of database data to XML files for use in source control

---

Displays a preview of the selected source file in Windows Explorer, Outlook, and SmartFTP.

---

Firge is a composite font of Fira Mono and GenShin-Gothic. プログラミングフォント Firge

---

SourceTree Auto Update Deactivation

---

Source Han Serif is a set of OpenType/CFF Pan-CJK fonts.

---

Source Han Sans is a set of OpenType/CFF Pan-CJK fonts.

---

Source Han Serif is a set of OpenType/CFF Pan-CJK fonts.

---

dbForge Source Control for SQL Server

---

Lean is an open source theorem prover and programming language being developed at Microsoft Research.

---

Dissenter is an open source web browser built for The People, not advertisers.

---

Freeware fun shooter developed by ENTE and his team.

---

Source Han Code JP is intended to be used as a UI font for mixed Latin and Japanese text on displays, for programming, editing HTML/CSS, v... Keep Reading

---

GitHub Notifications & Activities on the desktop.

---

Utility to render high-quality, smooth Source Engine movies using a customized userspace filesystem that catches the frames before they ar... Keep Reading

---

Open source programming language for everyone.

---

Checkstyle is a development tool to help programmers write Java code that adheres to a coding standard.

---

A collection of Open Source tools for performing Administritive tasks in VSTS

---

Sourcetrail is a free and open-source cross-platform source explorer that helps you get productive on unfamiliar source code.

---

Meson is an open source build system meant to be both extremely fast, and, even more importantly, as user friendly as possible.

---

StyleCop analyzes C# source code to enforce a set of style and consistency rules.

---

Source Code Beautifier for C, C++, C#, ObjectiveC, D, Java, Pawn and VALA

---
Resources
Watch videos, read documentation, and hear Chocolatey success stories from companies you trust.
View Resources
Events
Find past and upcoming webinars, workshops, and conferences. New events have recently been added!
View Events
Courses
Step-by-step guides for all things Chocolatey! Earn badges as you learn through interactive digital courses.
View Courses
---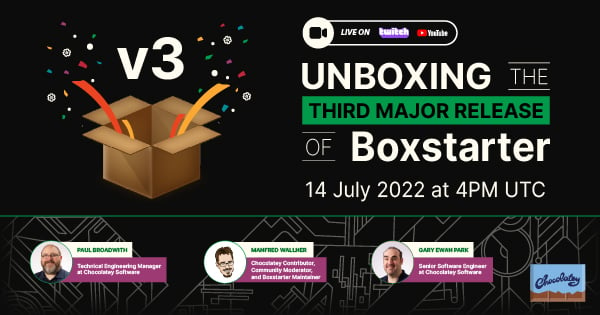 Boxstarter version 3.0 marks the beginning of a new era of Boxstarter and Chocolatey. Join Gary, Paul, and Manfred as they unbox the best features of Boxstarter live.
---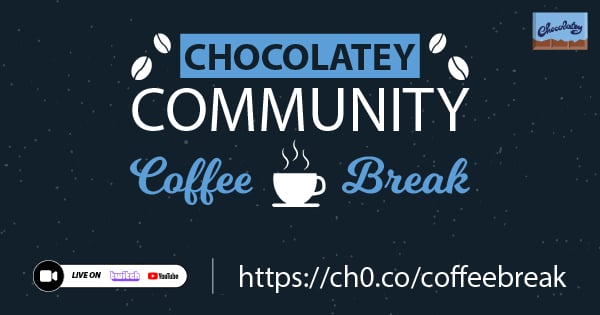 The Chocolatey Community is close to the hearts of the Chocolatey Team. Join us on Discord and meet the Chocolatey Team, find out more about the Chocolatey Community, what we do, and how you can get involved.
---