B
U
I
L
D
E
R
Passing
Failing
Pending
Unknown / Exempted
Community Package Repository Notification
Your use of the packages on this site means you understand they are not supported or guaranteed in any way. Due to the nature of a public repository and unreliability due to distribution rights, these packages should not be used as is for organizational purposes either. Learn more.
Search for "tag:arch" Returned 24 Packages
Displaying Results 1 - 24 of 24
---
BigStash - archive your stuff.

---

---

---

Virtual Engine Zip Archive compression PowerShell cmdlets.

---

gzip (GNU zip) is a compression utility designed to be a replacement for compress. Its main advantages over compress are much better compr... Keep Reading

---

---

Archivo is a grotesque sans serif typeface family

---

7-Zip with Iso7z can quickly extract files from a disc image without mounting it

---

Decompress and extract files from installers or archives

---

Easily create and extract .zip, .tar, .tar.gz, .tar.bz2, .tar.xz, .tar.lz4, .tar.sz, and .rar (extract-only) files with Go.

---

7-Zip with support for Zstandard, Brotli, Lz4, Lz5 and Lizard Compression

---

Bandizip: All-inclusive compression/decompression/browsing/editing Archiver

---

7-Zip is a file archiver with a high compression ratio.

---

list, test and extract compressed files in a ZIP archive

---

A free and open source modelling tool to create ArchiMate models and sketches. Used by hundreds of Enterprise Architects throughout the wo... Keep Reading

---

Incremental, compressed and encrypted backups or archives

---

Free, portable, extendable, high-performance executable packer for several executable formats

---

package and compress (archive) files

---

7-Zip is a file archiver with a high compression ratio.

---

A powerful archive manager

---

A Cygwin-derived software distro for Windows using Arch Linux's Pacman

---

7-Zip is a file archiver with a high compression ratio.

---

7-Zip is a file archiver with a high compression ratio.

---

---
Resources
Watch videos, read documentation, and hear Chocolatey success stories from companies you trust.
View Resources
Events
Find past and upcoming webinars, workshops, and conferences. New events have recently been added!
View Events
Courses
Step-by-step guides for all things Chocolatey! Earn badges as you learn through interactive digital courses.
View Courses
---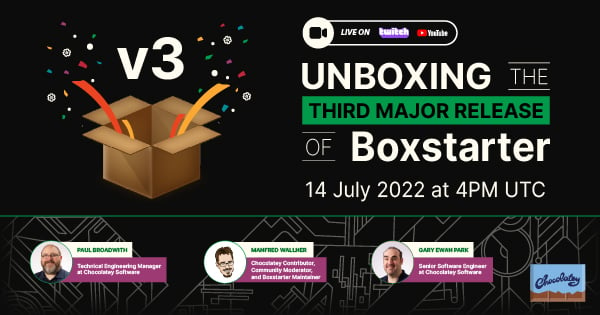 Boxstarter version 3.0 marks the beginning of a new era of Boxstarter and Chocolatey. Join Gary, Paul, and Manfred as they unbox the best features of Boxstarter live.
---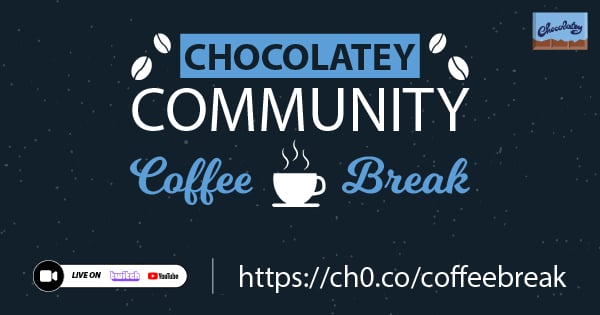 The Chocolatey Community is close to the hearts of the Chocolatey Team. Join us on Discord and meet the Chocolatey Team, find out more about the Chocolatey Community, what we do, and how you can get involved.
---