Community Package Repository Notification
Your use of the packages on this site means you understand they are not supported or guaranteed in any way. Due to the nature of a public repository and unreliability due to distribution rights, these packages should not be used as is for organizational purposes either. Learn more.
Search for "tag:arch" Returned 40 Packages
Displaying Results 1 - 30 of 40
---
Passing
Failing
Pending
Unknown / Exempted
---

---

---

This packages installs Arch Linux for Windows Subsystem for Linux.

---

7-Zip with Iso7z can quickly extract files from a disc image without mounting it

---

Exports Discord chat logs to a file

---

---

Virtual Engine Zip Archive compression PowerShell cmdlets.

---

BigStash - archive your stuff.

---

Paquet Builder is a mix between an installer software and an advanced Self-Extracting 7z (7zip archive) tool. Create compact and fully-cu... Keep Reading

---

Incremental, compressed and encrypted backups or archives

---

Hybrid lossless audio compression

---

Decompress and extract files from installers or archives

---

⬛️ CLI tool for saving complete web pages as a single HTML file

---

TarTool is a simple windows command line tool to uncompress and untar .tar.gz (.tgz) files.

---

Archivo is a grotesque sans serif typeface family

---

Mounts 7z/zip/rar files on Windows

---

Modern7z is a plugin for the popular 7-Zip archiver with zstd support

---

The 7-Zip derivative intended for the modern Windows experience.

---

Wayback – An archiving tool with an IM-style interface, integrated with various archival services

---

An open-source modeling environment.

---

Enterprise Architect Lite provides a free viewer for Enterprise Architect models.

---

---

The 7-Zip derivative intended for the modern Windows experience

---

A free and open source modelling tool to create ArchiMate models and sketches. Used by hundreds of Enterprise Architects throughout the wo... Keep Reading

---

Bandizip: All-inclusive compression/decompression/browsing/editing Archiver

---

Easily create and extract .zip, .tar, .tar.gz, .tar.bz2, .tar.xz, .tar.lz4, .tar.sz, and .rar (extract-only) files with Go.

---

27,903 Downloads

Unknown Status

Archiver

---

package and compress (archive) files

---

list, test and extract compressed files in a ZIP archive

---
Resources
Watch videos, read documentation, and hear Chocolatey success stories from companies you trust.
View Resources
Events
Find past and upcoming webinars, workshops, and conferences. New events have recently been added!
View Events
Courses
Step-by-step guides for all things Chocolatey! Earn badges as you learn through interactive digital courses.
View Courses
---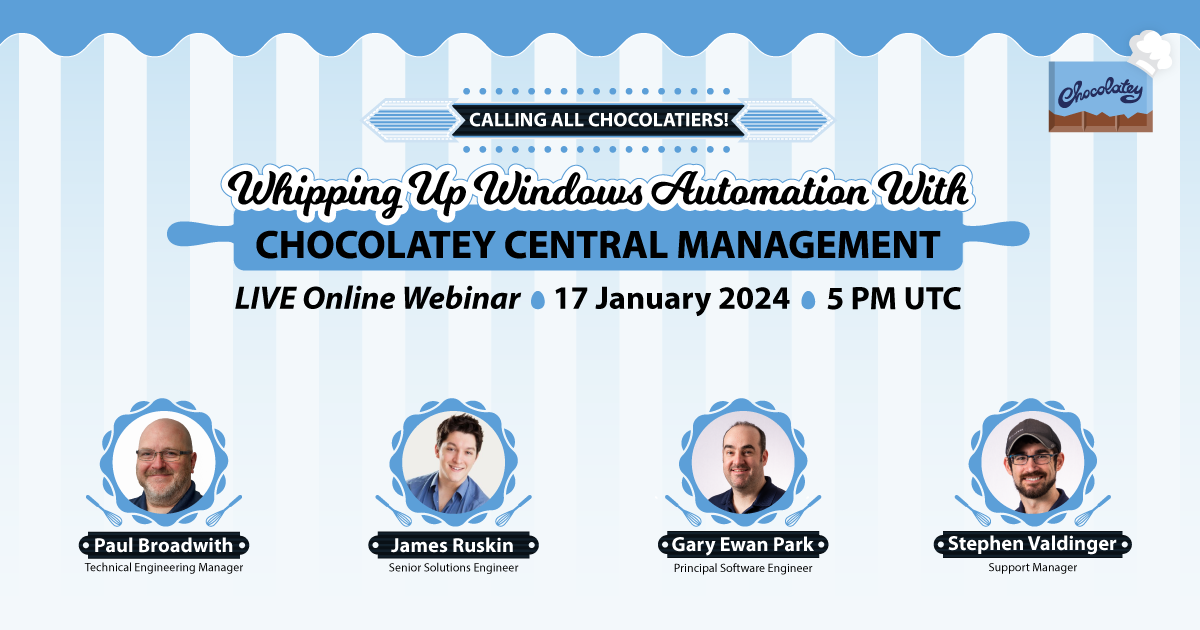 We are delighted to announce the release of Chocolatey Central Management v0.12.0, featuring seamless Deployment Plan creation, time-saving duplications, insightful Group Details, an upgraded Dashboard, bug fixes, user interface polishing, and refined documentation. As an added bonus we'll have members of our Solutions Engineering team on-hand to dive into some interesting ways you can leverage the new features available!
Learn More
Register Now
---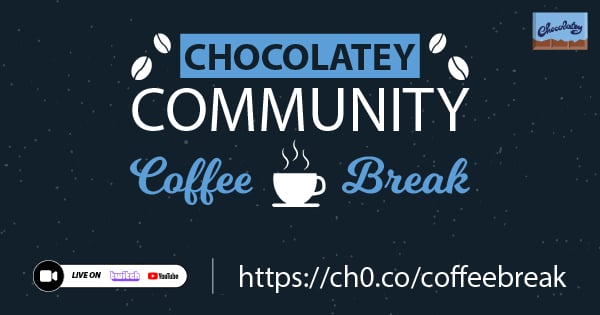 Join the Chocolatey Team on our regular monthly stream where we discuss all things Community, what we do, how you can get involved and answer your Chocolatey questions.
---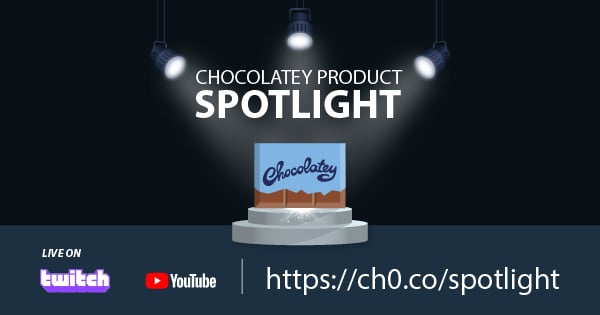 Join the Chocolatey Team on our regular monthly stream where we put a spotlight on the most recent Chocolatey product releases. You'll have a chance to have your questions answered in a live Ask Me Anything format.
---