B
U
I
L
D
E
R
Passing
Failing
Pending
Unknown / Exempted
Community Package Repository Notification
Your use of the packages on this site means you understand they are not supported or guaranteed in any way. Due to the nature of a public repository and unreliability due to distribution rights, these packages should not be used as is for organizational purposes either. Learn more.
Search for "tag:code" Returned 69 Packages
Displaying Results 1 - 30 of 69
---
QuickTime codecs for Ogg Vorbis, Speex, Theora, FLAC, and WebM

---

Generate documentation from source code

---

Run code snippets or files for multiple languages

---

Directshow Filters for Ogg Vorbis, Speex, Theora, FLAC, and WebM

---

Gazel is a back-end development framework for the .NET framework. This package contains Gazel command line interface to help you generate ... Keep Reading

---

A pipeline-based multimedia framework for recording, streaming, and editing.

---

Counts lines of code in *.cs files in current directory and all subdirectories.

---

---

Intelligent productivity and collaboration, from anywhere, powered by the cloud

---

PSCodeHealth allows you to measure the quality and maintainability of your PowerShell code, based on a variety of metrics.

---

A simple code snippet and gist manager for developers built with Electron and Vue.js

---

Ut Video Codec, a lossless video compression codec

---

Plugin for KeePass 2.x to import TXT files that were exported by CodeWallet 3

---

PSScriptAnalyzer is a static code checker for Windows PowerShell modules and scripts.

---

Sloc, Cloc and Code: scc is a very fast accurate code counter with complexity calculations and COCOMO estimates written in pure Go

---

bstrings is a better strings utility

---

An open source Visual Studio extension to cleanup and simplify code.

---

K-Lite Codec Pack Standard

---

Cross-platform code editor, with syntax highlight for 180+ languages. Has lite interface with tabs. Has JSON config files instead of optio... Keep Reading

---

2,955 Downloads

Unknown Status

Source Insight

---

The all-in-one codec solution

---

---

The EditorConfig project defines a simple file format for configuring common text-editor options such as indentation sizes.

---

Cross-Platform IDE for all your major languages.

---

Code::Blocks is a free C++ IDE.

---

---

---

---

Cascadia Code Italic font

---

Cascadia Code PL Italic font

---
Resources
Watch videos, read documentation, and hear Chocolatey success stories from companies you trust.
View Resources
Events
Find past and upcoming webinars, workshops, and conferences. New events have recently been added!
View Events
Courses
Step-by-step guides for all things Chocolatey! Earn badges as you learn through interactive digital courses.
View Courses
---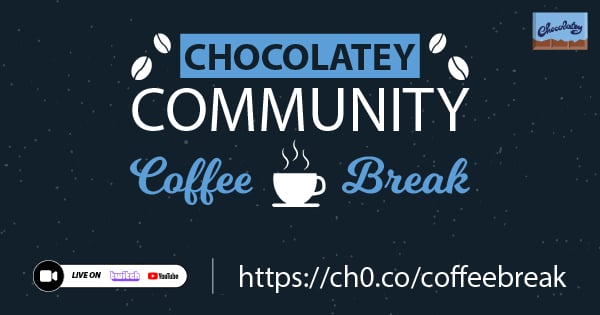 Join the Chocolatey Team on our regular monthly stream where we discuss all things Community, what we do, how you can get involved and answer your Chocolatey questions.
---