B
U
I
L
D
E
R
Passing
Failing
Pending
Unknown / Exempted
Community Package Repository Notification
Your use of the packages on this site means you understand they are not supported or guaranteed in any way. Due to the nature of a public repository and unreliability due to distribution rights, these packages should not be used as is for organizational purposes either. Learn more.
Search for "tag:com" Returned 380 Packages
Displaying Results 1 - 30 of 380
---
This utility observes change events of files or subdirectories in a folder and writes the event along with the file name to the console wi... Keep Reading

---

Merge PDF files, extract pages from PDF file and give security to PDF files.

---

At a command line, you can merge PDF files, extract pages from PDF file, split PDF file and give security to PDF files.

---

1,875 Downloads

Unknown Status

pViewer, a small and fast image viewer. Because less is more.

---

2,564 Downloads

Unknown Status

The Null-modem emulator (com0com) is a kernel-mode virtual serial port driver for Windows.

---

dbForge SQL Complete Standard (Trial)

---

dbForge Data Compare for PostgreSQL

---

PJ Crossley's remake of the classic Missle Command game.

---

2,243 Downloads

Unknown Status

Compare It! is a full-featured visual file comparison and merging tool that allows you to compare and work with different versions of the ... Keep Reading

---

Google from the terminal.

---

IsCommandLineApp is a little command-line tool that can be used to determine whether a specific executable is a command-line program.

---

3,199 Downloads

Unknown Status

Beyond Compare 2

---

976 Downloads

Unknown Status

Neocron Community Edition Client

---

1,252 Downloads

Unknown Status

CLI hash (checksum) utility.

---

The free video codec that's strong in compression and quality. Number one choice of millions worldwide.

---

2,146 Downloads

Unknown Status

Binaries for Apache Commons Daemon

---

1,840 Downloads

Unknown Status

Portable console emulator for Windows

---

Console2 is a Windows console window enhancement.

---

1,508 Downloads

Unknown Status

Prepros: a web design & development tool which vastly simplifies your workflow. Includes preprocessing for LESS, Sass, Jade, Coffeescript,... Keep Reading

---

2,027 Downloads

Unknown Status

Combine many PDF files into one in a few clicks via GUI or command line.

---

Dartium is a special build of Chromium that includes the Dart VM.

---

Artistic Style is a source code indenter, formatter, and beautifier for the C, C++, C++/CLI, Objective-C, C# and Java programming language... Keep Reading

---

A helpful utility for managing Visual Studio solutions.

---

frozenbytes.extras installs extra platforms, languages, frameworks, and tools. Installs node.js, ruby, mono and tools like compass and ro... Keep Reading

---

---

JivoSite is web chat and social networks, messengers and mobile apps communication service between clients and sales managers

---

The Honeywell Scanning & Mobility (HSM) Windows USB Serial Driver connects an HSM scanner through a virtual COM port

---

OpenVPN Community Software

---

Bringing Bash's powerful command line editing to Microsoft Windows' cmd.exe.

---

1C:Barcode scanner is a external component for 1C:Enterprise, introducing support of barcode scanners

---
Resources
Watch videos, read documentation, and hear Chocolatey success stories from companies you trust.
View Resources
Events
Find past and upcoming webinars, workshops, and conferences. New events have recently been added!
View Events
Courses
Step-by-step guides for all things Chocolatey! Earn badges as you learn through interactive digital courses.
View Courses
---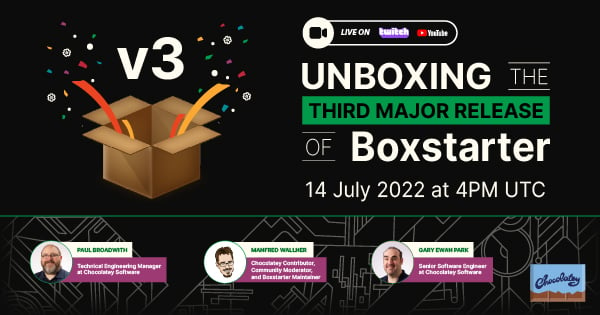 Boxstarter version 3.0 marks the beginning of a new era of Boxstarter and Chocolatey. Join Gary, Paul, and Manfred as they unbox the best features of Boxstarter live.
---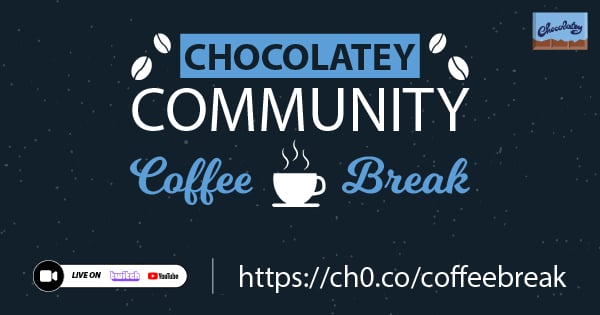 The Chocolatey Community is close to the hearts of the Chocolatey Team. Join us on Discord and meet the Chocolatey Team, find out more about the Chocolatey Community, what we do, and how you can get involved.
---