Community Package Repository Notification
Your use of the packages on this site means you understand they are not supported or guaranteed in any way. Due to the nature of a public repository and unreliability due to distribution rights, these packages should not be used as is for organizational purposes either. Learn more.
Search for "tag:com" Returned 415 Packages
Displaying Results 1 - 30 of 415
---
Passing
Failing
Pending
Unknown / Exempted
Task Factory offers essential, high-performance components and tasks for SSIS that eliminates the need for programming. Start with a 14-d... Keep Reading

---

Steghide is a steganography program that is able to hide data in various kinds of image and audio files.

---

Color quantizer is a simple-to-use software application that provides a friendly environment and intuitive options for adjusting all color... Keep Reading

---

2,142 Downloads

Unknown Status

pViewer, a small and fast image viewer. Because less is more.

---

"Fake" FT232RL (FTDI FT232RL analogs) detector and unbricker

---

2,709 Downloads

Unknown Status

Compare It! is a full-featured visual file comparison and merging tool that allows you to compare and work with different versions of the ... Keep Reading

---

IsCommandLineApp is a little command-line tool that can be used to determine whether a specific executable is a command-line program.

---

With CAMotics, you can simulate 3-axis GCode programs for CNCs and visualize the results in 3D.

---

PowerGUI is a comprehensive solution helping you get the most of Windows PowerShell.

---

3,553 Downloads

Unknown Status

Beyond Compare 2

---

Sandcastle Help File Builder (SHFB). A standalone GUI, Visual Studio integration package, and MSBuild tasks providing full configuration a... Keep Reading

---

1,075 Downloads

Unknown Status

Neocron Community Edition Client

---

---

1,531 Downloads

Unknown Status

CLI hash (checksum) utility.

---

2,333 Downloads

Unknown Status

Binaries for Apache Commons Daemon

---

2,034 Downloads

Unknown Status

Portable console emulator for Windows

---

Universal manga downloader (for your offline reading)

---

1,708 Downloads

Unknown Status

Prepros: a web design & development tool which vastly simplifies your workflow. Includes preprocessing for LESS, Sass, Jade, Coffeescript,... Keep Reading

---

---

frozenbytes.extras installs extra platforms, languages, frameworks, and tools. Installs node.js, ruby, mono and tools like compass and ro... Keep Reading

---

---

Full-featured free version of Visual Studio

---

OpenVPN Community Software

---

A process timing utility for windows.

---

Bringing Bash's powerful command line editing to Microsoft Windows' cmd.exe.

---

Cross platform checksum utility of 58 hashes

---

TinyCC (aka TCC) is a small but hyper fast C compiler

---

Fast and handy freeware command line utility for file integrity verification

---

---

---
Resources
Watch videos, read documentation, and hear Chocolatey success stories from companies you trust.
View Resources
Events
Find past and upcoming webinars, workshops, and conferences. New events have recently been added!
View Events
Courses
Step-by-step guides for all things Chocolatey! Earn badges as you learn through interactive digital courses.
View Courses
---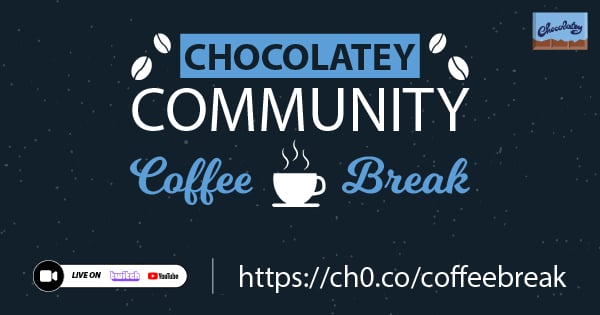 Join the Chocolatey Team on our regular monthly stream where we discuss all things Community, what we do, how you can get involved and answer your Chocolatey questions.
---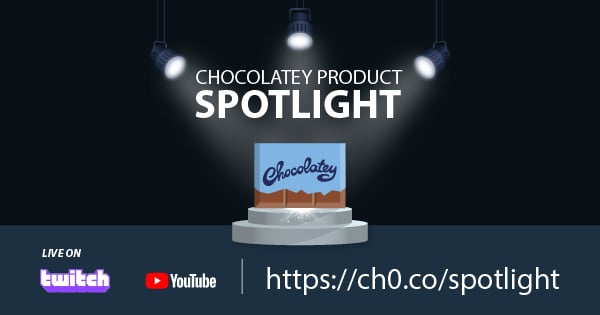 Join the Chocolatey Team on our regular monthly stream where we put a spotlight on the most recent Chocolatey product releases. You'll have a chance to have your questions answered in a live Ask Me Anything format.
---