Community Package Repository Notification
Your use of the packages on this site means you understand they are not supported or guaranteed in any way. Due to the nature of a public repository and unreliability due to distribution rights, these packages should not be used as is for organizational purposes either. Learn more.
Search for "tag:command" Returned 134 Packages
Displaying Results 1 - 30 of 134
---
Passing
Failing
Pending
Unknown / Exempted
A Spotify client for the terminal written in Rust.

---

Minimalist WEB-server for data transfer via HTTP

---

Artistic Style is a source code indenter, formatter, and beautifier for the C, C++, C++/CLI, Objective-C, C# and Java programming language... Keep Reading

---

A cross-platform console app with lots of handy tools.

---

A command line client for the Volley pastebin.

---

WuMgr (Update Manager for Windows) is a tool to manage updates of Microsoft products on the windows operating system. It uses the "Windows... Keep Reading

---

IsCommandLineApp is a little command-line tool that can be used to determine whether a specific executable is a command-line program.

---

SPIN is a state-of-the-art open-source software verification tool.

---

nuXmv is a new symbolic model checker for the analysis of synchronous finite-state and infinite-state systems.

---

1,302 Downloads

Unknown Status

CLI hash (checksum) utility.

---

---

1,950 Downloads

Unknown Status

Portable console emulator for Windows

---

Console2 is a Windows console window enhancement.

---

Intuitive find and replace CLI

---

A process timing utility for windows.

---

Get the read and write speed from your harddisks, cdrom devices and network servers in Kilobyte, Megabyte or even Gigabyte per Second.

---

---

---

Fast and handy freeware command line utility for file integrity verification

---

Cross platform checksum utility of 58 hashes

---

A cross-platform, efficient and practical CSV/TSV toolkit.

---

---

Groff (GNU troff) is a typesetting system that reads plain text mixed with formatting commands and produces formatted output.

---

mairix is a program for indexing and searching email messages stored in Maildir, MH, MMDF or mbox folders.

---

---

Windows port of the `flip` utility, which converts newline format between Unix LF and DOS/Windows CR-LF conventions.

---

Dualiza a model counter, model enumerator and SAT solver. It works with DIMACS and AIGER files as well as plain formulas.

---

cross-platform build script generator

---

Free, real-time strategy game engine supporting early Westwood classics

---

Commandline tool to extract user info from a domain or computer.

---
Resources
Watch videos, read documentation, and hear Chocolatey success stories from companies you trust.
View Resources
Events
Find past and upcoming webinars, workshops, and conferences. New events have recently been added!
View Events
Courses
Step-by-step guides for all things Chocolatey! Earn badges as you learn through interactive digital courses.
View Courses
---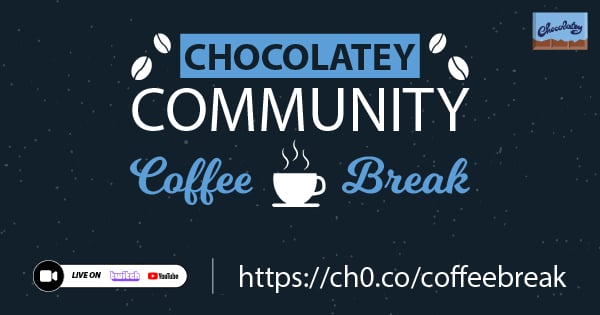 Join the Chocolatey Team on our regular monthly stream where we discuss all things Community, what we do, how you can get involved and answer your Chocolatey questions.
---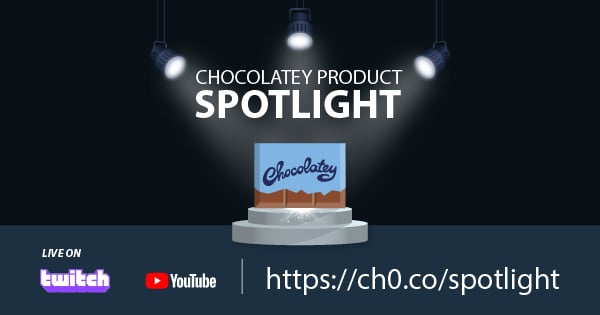 Join the Chocolatey Team on our regular monthly stream where we put a spotlight on the most recent Chocolatey product releases. You'll have a chance to have your questions answered in a live Ask Me Anything format.
---