B
U
I
L
D
E
R
Passing
Failing
Pending
Unknown / Exempted
Community Package Repository Notification
Your use of the packages on this site means you understand they are not supported or guaranteed in any way. Due to the nature of a public repository and unreliability due to distribution rights, these packages should not be used as is for organizational purposes either. Learn more.
Search for "tag:document" Returned 75 Packages
Displaying Results 31 - 60 of 75
---
The standard of standards

---

EpiData is a group of applications used in combination for creating documented data structures and analysis of quantitative data.

---

PDFTK Builder is a free graphical interface to the Windows version of PDFTK making it much easier to use.

---

Saves commands help in markdown format, using info from Get-Help, Get-Command, Test-ScriptFileInfo (if a script is specified) and Get-Modu... Keep Reading

---

A documentation generator for features written in the Gherkin language

---

A documentation generator for features written in the Gherkin language

---

Asciidoc FX is a book / document editor to build PDF, Epub, Mobi and HTML books, documents and slides.

---

4,549 Downloads

Unknown Status

gb.MongoDB (based on H. Alan Stevens' MongoDB 2.4.6 package)

---

Workbench Server contains BI xPress Server, DOC xPress Server, and LegiTest Server. Start with a 14-day free trial or enter your license ... Keep Reading

---

The Striata Reader enables you to view your secure Document that was emailed to you by your service provider

---

---

Citrix XenDesktop 5 Inventory Script

---

Tool to find metadata and hidden information in documents

---

A NoSQL Document Database that has been Fully Transactional for Over a Decade.

---

Documentation tool that creates HTML output that can be easily published on the Web or via CHM, PDF or MS Word files.

---

Microsoft HTML Help is the standard help system for the Windows platform. Authors can use HTML Help to create online help for a software a... Keep Reading

---

Project documentation with Markdown.

---

---

VMware vCenter Inventory Script

---

The Cosmos DB Data Migration tool is an open source solution that imports data to Cosmos DB from a variety of sources.

---

Sphinx is a tool that makes it easy to create intelligent and beautiful documentation for Python projects (or other documents consisting o... Keep Reading

---

Sandcastle Help File Builder (SHFB). A standalone GUI, Visual Studio integration package, and MSBuild tasks providing full configuration a... Keep Reading

---

Pragmatic Workbench includes BI xPress, DBA xPress, and DOC xPress. Start with a 14-day free trial or enter your license keys to access t... Keep Reading

---

---

---

Velocity gives your Windows desktop offline access to over 150 API documentation sets.

---

2,472 Downloads

Unknown Status

MongoDB (from "humongous") is a scalable, high-performance, open source NoSQL database written in C++. This package installs MongoDB into ... Keep Reading

---

A material design theme for MkDocs.

---

VueScan is an application for scanning documents, photos, film, and slides on Windows, macOS, and Linux. VueScan supports over 6000 scanne... Keep Reading

---

DocBook XML and XSL bundle

---
Resources
Watch videos, read documentation, and hear Chocolatey success stories from companies you trust.
View Resources
Events
Find past and upcoming webinars, workshops, and conferences. New events have recently been added!
View Events
Courses
Step-by-step guides for all things Chocolatey! Earn badges as you learn through interactive digital courses.
View Courses
---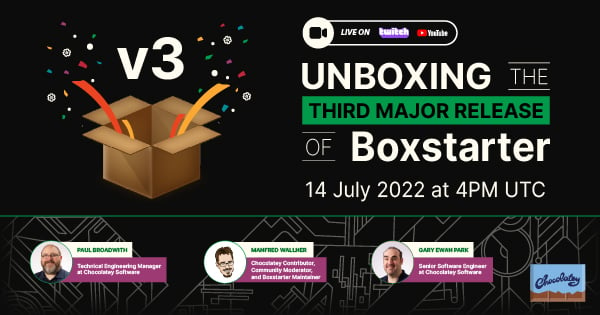 Boxstarter version 3.0 marks the beginning of a new era of Boxstarter and Chocolatey. Join Gary, Paul, and Manfred as they unbox the best features of Boxstarter live.
---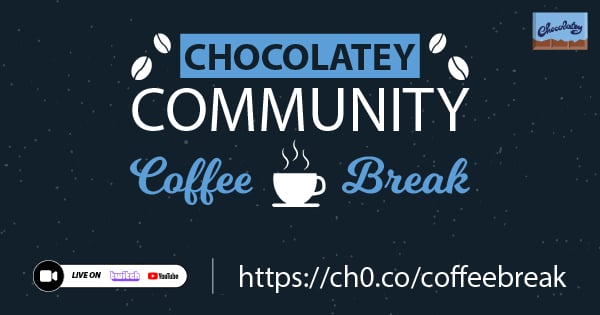 The Chocolatey Community is close to the hearts of the Chocolatey Team. Join us on Discord and meet the Chocolatey Team, find out more about the Chocolatey Community, what we do, and how you can get involved.
---