B
U
I
L
D
E
R
Passing
Failing
Pending
Unknown / Exempted
Community Package Repository Notification
Your use of the packages on this site means you understand they are not supported or guaranteed in any way. Due to the nature of a public repository and unreliability due to distribution rights, these packages should not be used as is for organizational purposes either. Learn more.
Search for "tag:forensic" Returned 32 Packages
Displaying Results 1 - 30 of 32
---
NetworkMiner (free edition)

---

Tool to find metadata and hidden information in documents

---

Network Forensic Extendable Analysis Tool

---

Timeline Explorer allows for viewing a wide range of CSV files such as plaso/log2timeline and fls/mactime generated timelines. It can also... Keep Reading

---

X-Ways Forensics Installation Manager

---

Windows Volume Shadow Copy mounting tool

---

TimeApp displays the current and UTC times with millisecond precision

---

ShellBags Explorer allows for visually viewing and interacting with shell bags found in usrclass.dat and ntuser.dat Registry hives

---

---

Windows Recycle Bin parser

---

---

---

lnk (Windows shortcut) parser

---

GUI jumplist parser with Windows 10 support

---

geolocate ip addresses in IIS logs

---

bstrings is a better strings utility

---

AppCompatCache aka shimcache parser

---

---

The Sleuth Kit® is a collection of command line tools and a C library that allows you to analyze disk images and recover files from them. ... Keep Reading

---

Registry Explorer is a Windows Registry analysis tool with a ton of functionality not found anywhere else

---

You can use Forensic7z to open and browse disk images created by specialized software for forensic analysis, such as Encase or FTK Imager

---

radare2 is a scriptable set of tools and libraries for reverse engineering and forensics.

---

Executes processes in a protected, isolated space, otherwise known as a "sandbox"

---

Executes processes in a protected, isolated space, otherwise known as a "sandbox"

---

Eraser is an advanced security tool for Windows which allows you to completely remove sensitive data from your hard drive by overwriting i... Keep Reading

---

Cutter is a free and open-source reverse engineering framework powered by rizin.

---

Fast, multi-threaded file hashing utility

---

Autopsy is a graphical interface to The Sleuth Kit and other open source digital forensics tools.

---

A single package that installs all my forensic tools

---

The Volatility Framework is a completely open collection of tools, implemented in Python under the GNU General Public License, for the ext... Keep Reading

---
Resources
Watch videos, read documentation, and hear Chocolatey success stories from companies you trust.
View Resources
Events
Find past and upcoming webinars, workshops, and conferences. New events have recently been added!
View Events
Courses
Step-by-step guides for all things Chocolatey! Earn badges as you learn through interactive digital courses.
View Courses
---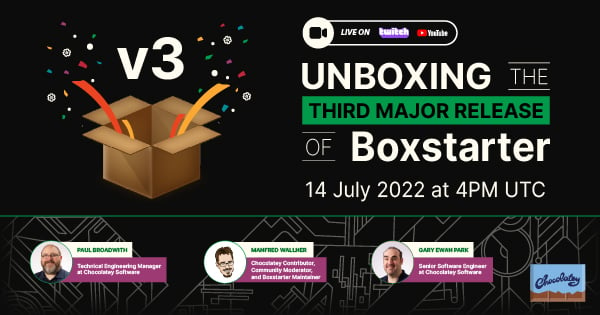 Boxstarter version 3.0 marks the beginning of a new era of Boxstarter and Chocolatey. Join Gary, Paul, and Manfred as they unbox the best features of Boxstarter live.
---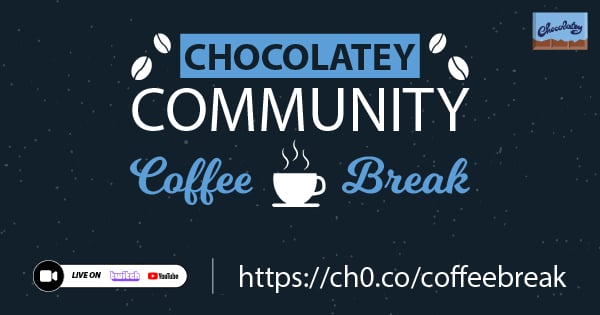 The Chocolatey Community is close to the hearts of the Chocolatey Team. Join us on Discord and meet the Chocolatey Team, find out more about the Chocolatey Community, what we do, and how you can get involved.
---