Community Package Repository Notification
Your use of the packages on this site means you understand they are not supported or guaranteed in any way. Due to the nature of a public repository and unreliability due to distribution rights, these packages should not be used as is for organizational purposes either. Learn more.
Search for "tag:log" Returned 131 Packages
Displaying Results 1 - 30 of 131
---
Passing
Failing
Pending
Unknown / Exempted
1,950 Downloads

Unknown Status

The tool analyzes IIS and Apache Web servers in comprehensive graphs and reports.

---

---

A tool which will generate a report with errors from your logic apps

---

Logitech Media Server software for Squeezeboxes and Squeezesoft

---

Need to set up or make changes to your Harmony remote?

---

---

---

List of all event log sources installed on your system

---

Skype Logs Reader/Viewer (.dbb and main.db files)

---

---

LogMeIn Hamachi is a hosted VPN service that lets you securely extend LAN-like networks to distributed teams, mobile workers and your game... Keep Reading

---

Stitches multiple logs together, interweaving entries to make them chronological

---

Self hosted installer for exceptionless.

---

---

---

Logstalgia is a website traffic visualization that replays or streams web-server access logs as a pong-like battle between the web server ... Keep Reading

---

---

Moose is an advanced Windows frontend client for controlling and providing information about units connected to Logitech's Squeezebox Serv... Keep Reading

---

A music manager used to manage music through either the Music Player Daemon or SlimDevices SqueezeCenter (Logitech Media Server).

---

A software implementation of the Squeezebox.

---

View and analyze your Log Files

---

Log connected/disconnect devices on your network

---

SnakeTail is a Windows tail program that can monitor growing log files.

---

Creates a log of Bluetooth devices activity around you

---

TextFilter is a GUI utility designed to make filtering text files more efficient by using either strings or regex patterns.

---

Self-contained daemon for reading local files and emitting remote syslog (without using local syslogd)

---

Log2Console - A Generic Log Viewer for Log4Net, NLog etc

---

Generic and quite versatile log reader.

---

ActiveExit is a system utility that can automatically log off users from their accounts after a period of inactivity.

---

Show users logged on to a system

---
Resources
Watch videos, read documentation, and hear Chocolatey success stories from companies you trust.
View Resources
Events
Find past and upcoming webinars, workshops, and conferences. New events have recently been added!
View Events
Courses
Step-by-step guides for all things Chocolatey! Earn badges as you learn through interactive digital courses.
View Courses
---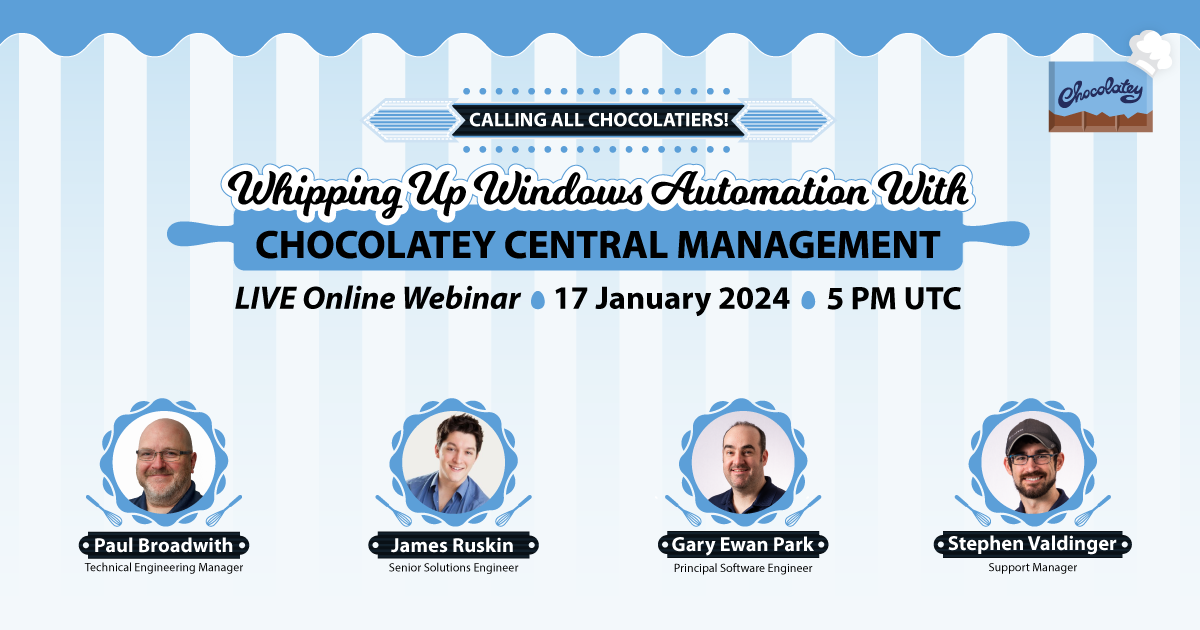 We are delighted to announce the release of Chocolatey Central Management v0.12.0, featuring seamless Deployment Plan creation, time-saving duplications, insightful Group Details, an upgraded Dashboard, bug fixes, user interface polishing, and refined documentation. As an added bonus we'll have members of our Solutions Engineering team on-hand to dive into some interesting ways you can leverage the new features available!
Learn More
Register Now
---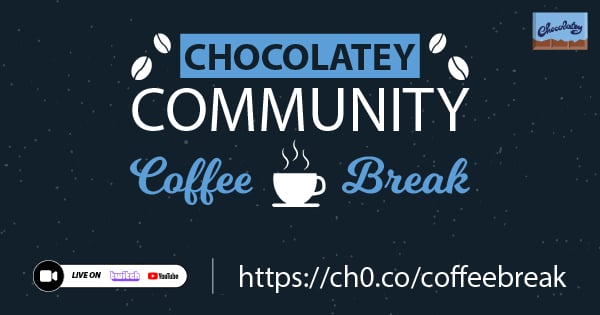 Join the Chocolatey Team on our regular monthly stream where we discuss all things Community, what we do, how you can get involved and answer your Chocolatey questions.
---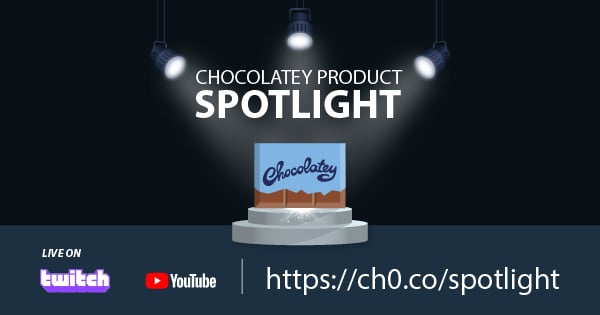 Join the Chocolatey Team on our regular monthly stream where we put a spotlight on the most recent Chocolatey product releases. You'll have a chance to have your questions answered in a live Ask Me Anything format.
---