B
U
I
L
D
E
R
Passing
Failing
Pending
Unknown / Exempted
Community Package Repository Notification
Your use of the packages on this site means you understand they are not supported or guaranteed in any way. Due to the nature of a public repository and unreliability due to distribution rights, these packages should not be used as is for organizational purposes either. Learn more.
Search for "tag:manager" Returned 55 Packages
Displaying Results 1 - 30 of 55
---
BatteryBar is a small but powerful battery meter for Windows. Very similar to Lenovo's battery gauge application.

---

python open source (Internet Download Manager) with multi-connections, high speed engine, based on python, LibCurl, and youtube_dl

---

A command-line interface for Hetzner Cloud.

---

Easily Switch Default Audio Devices on Windows

---

Considerable time and effort can be spent building and organizing your reference library, finding your references and notes when you need ... Keep Reading

---

WinFile is the predecessor to the Windows Explorer and now runs on modern Windows, including Windows 10.

---

Leiningen is for automating Clojure projects without setting your hair on fire.

---

Macrorit Partition Expert Free Edition is a powerful free partition program which allows you to extend, create and format partition, fix l... Keep Reading

---

Hierarchical task manager with native XML support for custom reporting

---

---

---

Directory Opus is an advanced file manager for Windows!

---

The slightly more awesome standard unix password manager for teams

---

Fudge is a PowerShell tool to help manage software packages via Chocolatey for specific development projects. Think NPM and Bower, but for... Keep Reading

---

Shell Extensions are in-process COM objects which extend the abilities of Windows operating system. Most shell extensions are automaticall... Keep Reading

---

Browse and open your files easily

---

A faster, better and more stable redis desktop manager [GUI client], compatible with Linux, Windows, Mac. What's more, it won't crash when... Keep Reading

---

The Nexus Mod Manager (NMM) is a free and open source piece of software that allows you to download, install, update and manage your mod f... Keep Reading

---

deprecated in favor of "0install" package

---

lf (as in "list files") is a terminal file manager written in Go.

---

TidyTabs is a tool that brings tabbed browsing to all of your programs.

---

Zotero [zoh-TAIR-oh] is a free, easy-to-use tool to help you collect, organize, cite, and share your research sources.

---

MYKI is an offline password manager that securely stores and syncs your sensitive data locally on your MYKI-enabled devices.

---

Vifm is a curses based vi[m] like file manager extended with some useful ideas from mutt.

---

If you want to use the AWS Command Line Interface (AWS CLI) to start and end sessions that connect you to your managed instances, you must... Keep Reading

---

Driver Fusion is the best solution for your PC to update, backup, clean and monitor your drivers & devices.

---

Installs the freeversion of Driver Easy. Could be upgrade to pro- or tech version with a licensekey.

---

A secure and free password manager for all of your devices.

---

Files is a file manager for Windows with a powerful yet intuitive design. It has features like multiple tabs, panes, columns, shell extens... Keep Reading

---

EMDB is an application to keep track of your movie and TV Series collection. Both physical discs and media files are fully supported.

---
Resources
Watch videos, read documentation, and hear Chocolatey success stories from companies you trust.
View Resources
Events
Find past and upcoming webinars, workshops, and conferences. New events have recently been added!
View Events
Courses
Step-by-step guides for all things Chocolatey! Earn badges as you learn through interactive digital courses.
View Courses
---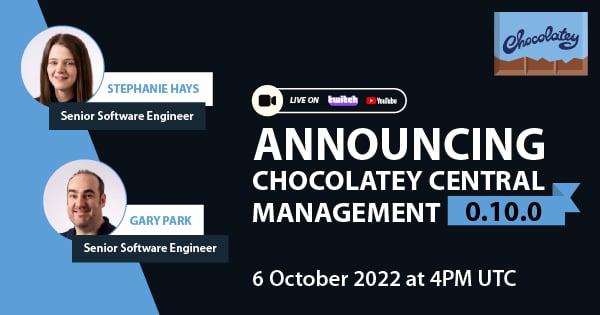 We recently released our largest update to Chocolatey Central Management so far. Join Gary and Steph to find out more about Chocolatey Central Management and the new features and fixes we've added to this release..
---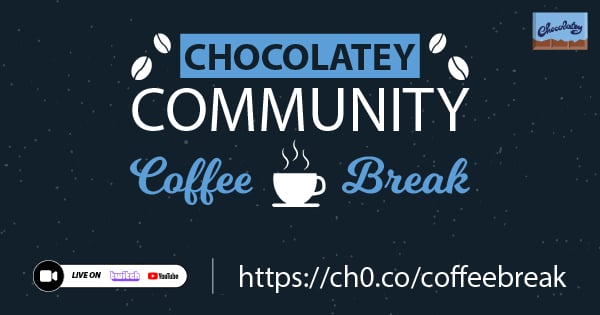 Join the Chocolatey Team on our regular monthly stream where we discuss all things Community, what we do, how you can get involved and answer your Chocolatey questions.
---