B
U
I
L
D
E
R
Passing
Failing
Pending
Unknown / Exempted
Community Package Repository Notification
Your use of the packages on this site means you understand they are not supported or guaranteed in any way. Due to the nature of a public repository and unreliability due to distribution rights, these packages should not be used as is for organizational purposes either. Learn more.
Search for "tag:pe" Returned 62 Packages
Displaying Results 1 - 30 of 62
---
Peercoin community wallet

---

NATS Streaming Server - the streaming server component of a central nervous system for modern, reliable, and scalable cloud and distribute... Keep Reading

---

DiskSpd is a storage load generator / performance test tool from the Microsoft Windows, Windows Server and Cloud Server Infrastructure Eng... Keep Reading

---

Mount the InterPlanetary File System as a mapped drive on Windows

---

berrybrew: the perlbrew for Windows Strawberry Perl!

---

The BEST Personal Finance Manager for FREE Users, full stop.

---

Influx Capacitor collects metrics from windows machines using Performance Counters.

---

---

Created by Daniel Pistelli, a freeware suite of tools including a PE editor called CFF Explorer and a process viewer. The PE editor has fu... Keep Reading

---

A desktop App which displays the periodic table

---

TMPGEnc KARMA... - A New Form of Video Management

---

Royal TS is an ideal tool for system engineers and other IT professionals who need remote access to systems with different protocols.

---

Performance Maintainer - open source tools for regular maintenance of Disk, Registry and Processes.

---

Multi-featured GUI for any Oracle database tasks

---

The Windows® Performance Toolkit consists of two independent tools: Windows® Performance Recorder (WPR) and Windows® Performance Analyzer ... Keep Reading

---

Apache Server for Windows.

---

Personal Backup is a program for saving personal data to any destination folder.

---

PerfView is a performance-analysis tool that helps isolate CPU- and memory-related performance issues.

---

Intel® Embree is a collection of high-performance ray tracing kernels, developed at Intel.

---

ack is a code-searching tool, similar to grep but optimized for programmers searching large trees of source code. It runs in pure Perl, is... Keep Reading

---

This packages installs Fedora Remix for Windows Subsystem for Linux (WSL).

---

Helix Visual Client from Perforce boosts productivity

---

A simple and friendly task manager written in Python.

---

Free editor for Zoom effects pedals

---

Apache Server for Windows.

---

HD Tune is a Hard Disk utility.

---

HeavyLoad - Benchmark tool for a stress test on your PC

---

Load generator command-line tool for testing websites and HTTP APIs

---

Free peer-to-peer (P2P) file sharing client

---

Load generator command-line tool for testing websites and HTTP APIs

---
Resources
Watch videos, read documentation, and hear Chocolatey success stories from companies you trust.
View Resources
Events
Find past and upcoming webinars, workshops, and conferences. New events have recently been added!
View Events
Courses
Step-by-step guides for all things Chocolatey! Earn badges as you learn through interactive digital courses.
View Courses
---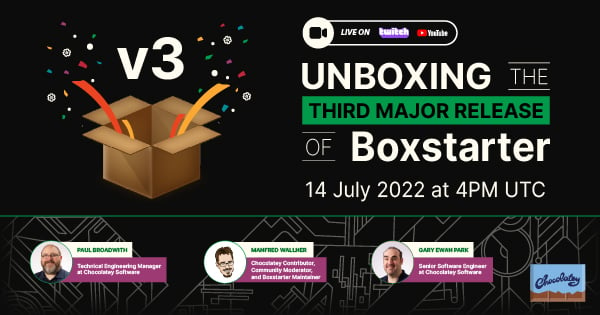 Boxstarter version 3.0 marks the beginning of a new era of Boxstarter and Chocolatey. Join Gary, Paul, and Manfred as they unbox the best features of Boxstarter live.
---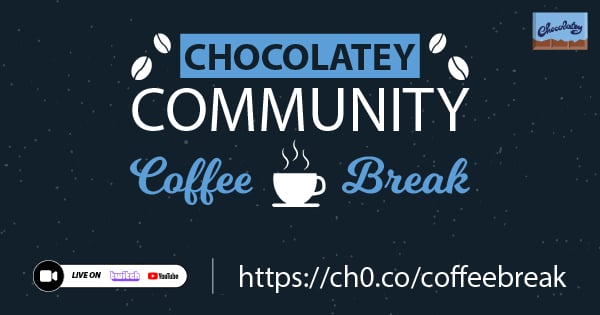 The Chocolatey Community is close to the hearts of the Chocolatey Team. Join us on Discord and meet the Chocolatey Team, find out more about the Chocolatey Community, what we do, and how you can get involved.
---