B
U
I
L
D
E
R
Passing
Failing
Pending
Unknown / Exempted
Community Package Repository Notification
Your use of the packages on this site means you understand they are not supported or guaranteed in any way. Due to the nature of a public repository and unreliability due to distribution rights, these packages should not be used as is for organizational purposes either. Learn more.
Search for "tag:xm" Returned 19 Packages
Displaying Results 1 - 19 of 19
---
20,752 Downloads

Unknown Status

Microsoft SQL Server 2008 R2 Feature Pack, October 2011 - 10.50.1600.1 The SQL Server Management Objects (SMO) is a .NET Framework ... Keep Reading

---

MSXML 6.0 Service Pack 1 (MSXML6.1) has improved reliability, security, conformance with the XML 1.0 and XML Schema 1.0 W3C Recommendation... Keep Reading

---

Command line XSLT processor

---

---

---

Microsoft SQL Server 2012 Feature Pack SP 1 The SQL Server Management Objects (SMO) is a .NET Framework object model that enables so... Keep Reading

---

Apache Ant is a Java library and command-line tool whose mission is to drive processes described in build files as targets and extension p... Keep Reading

---

---

Xidel is a command line tool to download and extract data from HTML/XML pages as well as JSON APIs .

---

The most powerful set of tools available to create your Windows installation experience. Free and Open Source since 2004!

---

SQL Server Management Objects (SMO)

---

---

---

Carbon is a PowerShell module for automating the configuration of Windows 7, 8, 2008, and 2012, Windows services, applications, and websit... Keep Reading

---

Apache Maven is a software project management and comprehension tool. Based on the concept of a project object model (POM), Maven can ma... Keep Reading

---

Commercial mind mapping software

---

Spring Boot Command Line Interface

---

---

>Full featured and easy to use Jabber/XMPP client

---
Resources
Watch videos, read documentation, and hear Chocolatey success stories from companies you trust.
View Resources
Events
Find past and upcoming webinars, workshops, and conferences. New events have recently been added!
View Events
Courses
Step-by-step guides for all things Chocolatey! Earn badges as you learn through interactive digital courses.
View Courses
---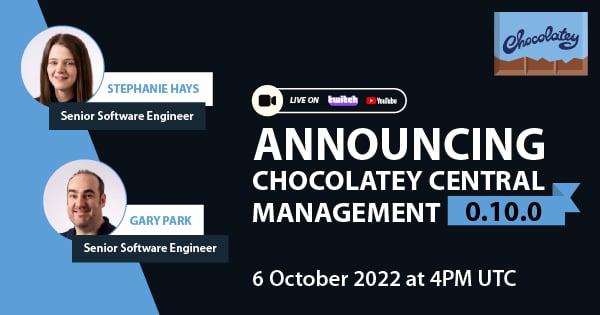 We recently released our largest update to Chocolatey Central Management so far. Join Gary to find out more about Chocolatey Central Management and the new features and fixes we've added to this release..
---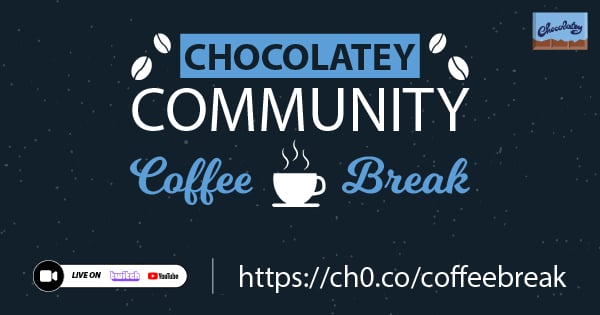 Join the Chocolatey Team on our regular monthly stream where we discuss all things Community, what we do, how you can get involved and answer your Chocolatey questions.
---