Community Package Repository Notification
Your use of the packages on this site means you understand they are not supported or guaranteed in any way. Due to the nature of a public repository and unreliability due to distribution rights, these packages should not be used as is for organizational purposes either. Learn more.
Search for "tag:DevOps" Returned 52 Packages
Displaying Results 1 - 30 of 52
---
Passing
Failing
Pending
Unknown / Exempted
Visual Docker Container Manager

---

Job scheduler and runbook automation. Enable self-service access to existing scripts and tools.

---

Minishift is a tool that helps you run OpenShift locally.

---

2,408 Downloads

Unknown Status

Automatic deployment for HoneyBee packages in AWS intances

---

3,405 Downloads

Unknown Status

Simple chocolatey nuget packager for web projects

---

An open source schema versioning and database migration engine for SqlServer, PostgreSql and others.

---

Builds release history notes from unreleased pull requests on GitHub, GitLab, Azure DevOps Services / Server, BitBucket Cloud and Bitbucke... Keep Reading

---

A tool to use AWS IAM credentials to authenticate to a Kubernetes cluster

---

---

kapp is a simple deployment tool focused on the concept of "Kubernetes application" — a set of resources with the same label.

---

Professional version of JFrog binary artifact repository including Nuget. (Requires paid/evaluation license key)

---

VSTS CLI is a command line interface for Visual Studio Team Services (VSTS) and Team Foundation Server (TFS)

---

An optional command line interface to be used with Flux

---

---

YAML templating tool that works on YAML structure instead of text.

---

kbld seamlessly incorporates image building and image pushing into your development and deployment workflows .

---

TfsCmdlets is a PowerShell module which provides many commands ("cmdlets" in PowerShell parlance) to simplify automated interaction with A... Keep Reading

---

Store application configuration files in Docker/OCI registries.

---

Azure Terrafy – A tool to bring your existing Azure resources under the management of Terraform

---

PowerShell tool to aide and simplify the creation, deployment and provisioning of infrastructure in Azure

---

Azure DevOps policy configurator

---

Fudge is a PowerShell tool to help manage software packages via Chocolatey for specific development projects. Think NPM and Bower, but for... Keep Reading

---

A CLI for opening browser tabs to different pages on the Azure Devops website relating to the repository at the current working dire... Keep Reading

---

---

---

The modern solution for automating fast database releases

---

Monitors Azure DevOps and TeamCity builds and uses that to control a Delcom USB LED light.

---

The Kafka CLI for humans.

---

Extensible auto-tagger for your IaC files

---

---
Resources
Watch videos, read documentation, and hear Chocolatey success stories from companies you trust.
View Resources
Events
Find past and upcoming webinars, workshops, and conferences. New events have recently been added!
View Events
Courses
Step-by-step guides for all things Chocolatey! Earn badges as you learn through interactive digital courses.
View Courses
---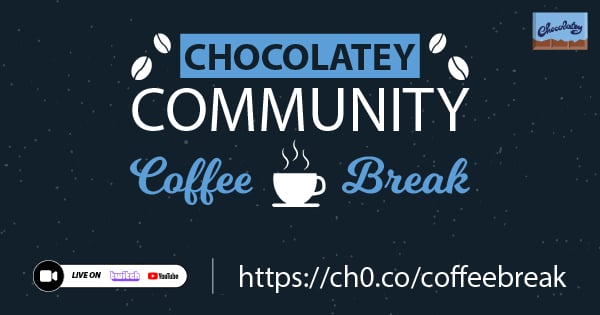 Join the Chocolatey Team on our regular monthly stream where we discuss all things Community, what we do, how you can get involved and answer your Chocolatey questions.
---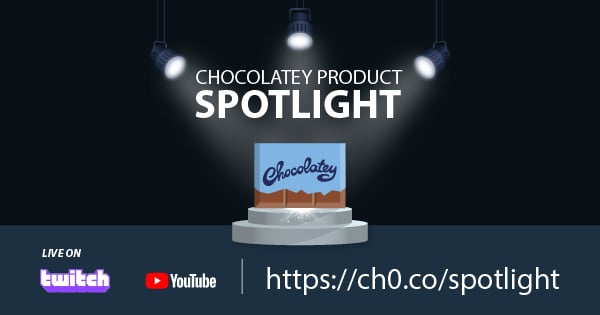 Join the Chocolatey Team on our regular monthly stream where we put a spotlight on the most recent Chocolatey product releases. You'll have a chance to have your questions answered in a live Ask Me Anything format.
---