B
U
I
L
D
E
R
Passing
Failing
Pending
Unknown / Exempted
Community Package Repository Notification
Your use of the packages on this site means you understand they are not supported or guaranteed in any way. Due to the nature of a public repository and unreliability due to distribution rights, these packages should not be used as is for organizational purposes either. Learn more.
Search for "tag:Game" Returned 62 Packages
Displaying Results 1 - 30 of 62
---
Fraps is a universal Windows application that can be used with games using DirectX or OpenGL graphic technology.

---

Game accelerator. Support Socks5, Shadowsocks, ShadowsocksR, V2Ray protocol. UDP NAT FullCone

---

This tool is used for modifying game profiles inside the internal driver database of the nvidia driver.

---

osu! is a free-to-play online rhythm game.

---

PJ Crossley's remake of the classic Pacman game.

---

Golly is an open source, cross-platform application for exploring Conway's Game of Life and many other types of cellular automata

---

A popular free, open-source and super fast client for Old School RuneScape

---

Pokémon Trading Card Game

---

OpenTTD is a transport simulation game based upon the popular game Transport Tycoon Deluxe, written by Chris Sawyer

---

Tux Typing is an educational typing program for children starring Tux, the Linux Penguin.

---

Bring your favorite communities, friends, and games together with Twitch.

---

RPG Tkool VX Ace(RPGツクールVX Ace) Runtime package for Japanese

---

Hedgewars is a turn based strategy, artillery, action and comedy game.

---

Open source NVidia Gamestream client.

---

Install, update and play indie games.

---

Nethack is a free, single-player dungeon exploration game

---

Create landscapes and cities ... then blow them up!

---

OpenAL is a cross-platform 3D audio API appropriate for use with gaming applications and many other types of audio applications.

---

PJ Crossley's remake of the classic Scramble game with two extra levels.

---

FlightGear is an open-source flight simulator. It supports a variety of popular platforms (Windows, Mac, Linux, etc.) and is developed by... Keep Reading

---

The Playstation 2 Emulator

---

The Playstation 2 Emulator

---

Browse and open your files easily

---

The new age Minecraft world editor and converter that supports every version since Java 1.12 and Bedrock 1.7

---

AssaultCube is an Open Source, multiplayer, first-person shooter game, based on the CUBE engine.

---

OpenMW - Open source Elder Scrolls III: Morrowind engine reimplementation

---

Unity Hub is a cross-platform management tool developed by Unity Technologies and used to to manage multiple installations of the Unity Ed... Keep Reading

---

Freeciv is a Free and Open Source empire-building strategy game inspired by the history of human civilization.

---

Engine for classic adventure and role-playing games.

---

Video Game Database Software - catalog your game collection

---
Resources
Watch videos, read documentation, and hear Chocolatey success stories from companies you trust.
View Resources
Events
Find past and upcoming webinars, workshops, and conferences. New events have recently been added!
View Events
Courses
Step-by-step guides for all things Chocolatey! Earn badges as you learn through interactive digital courses.
View Courses
---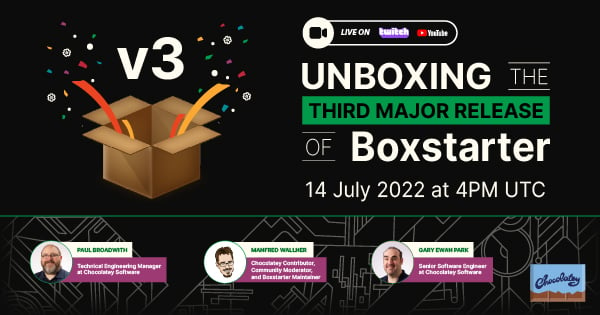 Boxstarter version 3.0 marks the beginning of a new era of Boxstarter and Chocolatey. Join Gary, Paul, and Manfred as they unbox the best features of Boxstarter live.
---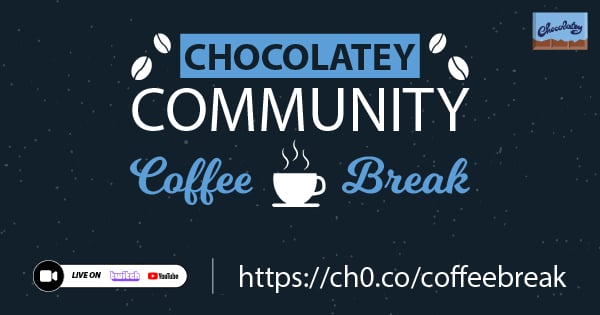 The Chocolatey Community is close to the hearts of the Chocolatey Team. Join us on Discord and meet the Chocolatey Team, find out more about the Chocolatey Community, what we do, and how you can get involved.
---