B
U
I
L
D
E
R
Passing
Failing
Pending
Unknown / Exempted
Community Package Repository Notification
Your use of the packages on this site means you understand they are not supported or guaranteed in any way. Due to the nature of a public repository and unreliability due to distribution rights, these packages should not be used as is for organizational purposes either. Learn more.
Search for "tag:PowerShell" Returned 187 Packages
Displaying Results 1 - 30 of 187
---
Posh-hg provides a custom prompt and tab expansion when using Mercurial from within a Windows Powershell command line.

---

A altered profile prompt function to allow Posh-HG and Posh-Git to function on the same machine.

---

2,146 Downloads

Unknown Status

Microsoft SQL Server 2008 Feature Pack, April 2009 The Microsoft Windows PowerShell Extensions for SQL Server includes a provider a... Keep Reading

---

PSHTML is a cross platform Powershell module to generate HTML markup language within a DSL on Windows and Linux.

---

---

---

2,843 Downloads

Unknown Status

Load Visual Studio command line tools into current shell environment

---

1,367 Downloads

Unknown Status

The PowerGUI Visual Studio Extension adds PowerShell IntelliSense support to Visual Studio.

---

Module to integrate PowerShell Pester into ISE

---

ConEmu configured with Base16 color scheme and sane defaults.

---

2,752 Downloads

Unknown Status

Batteries included web development tool stack for Windows.

---

A Powershell module that assists with bridging git to large TFS repositories

---

1,488 Downloads

Unknown Status

PowerShellExtension.SQL2012

---

1,285 Downloads

Unknown Status

A Provider for powershell that allows to administrate your BizTalk Server.

---

---

1,698 Downloads

Unknown Status

NOTE: This is an auto updated package

---

---

---

---

---

---

---

---

PowerShell module that provides command-line interaction for the GitHub v3 API

---

Multi-tabbed console with Windows shell, Powershell, and Bash.

---

---

---

---

---

---
Resources
Watch videos, read documentation, and hear Chocolatey success stories from companies you trust.
View Resources
Events
Find past and upcoming webinars, workshops, and conferences. New events have recently been added!
View Events
Courses
Step-by-step guides for all things Chocolatey! Earn badges as you learn through interactive digital courses.
View Courses
---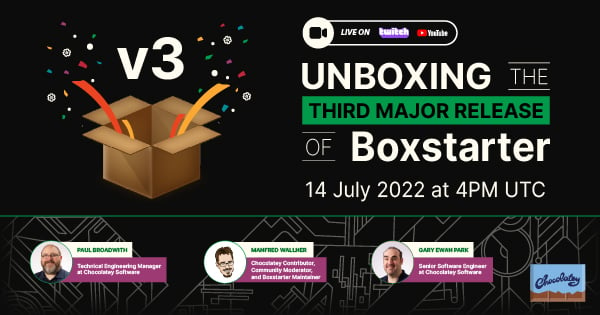 Boxstarter version 3.0 marks the beginning of a new era of Boxstarter and Chocolatey. Join Gary, Paul, and Manfred as they unbox the best features of Boxstarter live.
---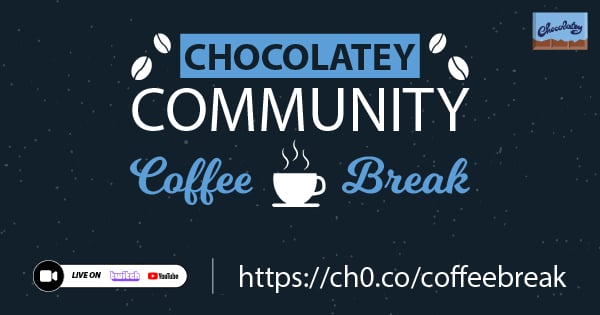 The Chocolatey Community is close to the hearts of the Chocolatey Team. Join us on Discord and meet the Chocolatey Team, find out more about the Chocolatey Community, what we do, and how you can get involved.
---