B
U
I
L
D
E
R
Passing
Failing
Pending
Unknown / Exempted
Community Package Repository Notification
Your use of the packages on this site means you understand they are not supported or guaranteed in any way. Due to the nature of a public repository and unreliability due to distribution rights, these packages should not be used as is for organizational purposes either. Learn more.
Search for "tag:Server" Returned 178 Packages
Displaying Results 31 - 60 of 178
---
5,019 Downloads

Unknown Status

Installs Microsoft SQL Server 2014 Express with tools.

---

Gitblit is an open-source, pure Java stack for managing, viewing, and serving Git repositories. It's designed primarily as a tool for smal... Keep Reading

---

---

SSMS add-in for scripting and Excel export.

---

No more patching headaches

---

Stand-alone Object Model Installer for Team Foundation Server 2013

---

Recover SQL Server Passwords

---

Simple ad-hoc file transfer Windows FTP server

---

ASPEED Graphics Windows WHQL Driver is a driver for ASPEED Graphics

---

---

---

Command line echo server and client for Windows.

---

One-click-solution for setting up your personal webserver.

---

Power Tools are a set of enhancements, tools, and command-line utilities that increase productivity of Team Foundation Server scenarios.

---

---

---

The Server JRE includes tools for JVM monitoring and tools commonly required for server applications, but does not include browser integra... Keep Reading

---

This update addresses product defects for SQL Server projects, database deployments, and database tools.

---

pyTivo lets you stream most videos from your PC to your unhacked TiVo.

---

pyTivo Desktop - Download shows from, and share music, photos and videos with, your TiVo© DVR

---

TeamSpeak is VoIP software designed with security in mind, featuring crystal clear voice quality, scalabilty up to thousands of simultaneo... Keep Reading

---

---

Control access to Counter Strike: Global Offensive Matchmaking servers by region

---

Use this application to upload images to the Active Directory attribute that Outlook 2010 pulls display pictures from.

---

Moose is an advanced Windows frontend client for controlling and providing information about units connected to Logitech's Squeezebox Serv... Keep Reading

---

A software implementation of the Squeezebox.

---

A music manager used to manage music through either the Music Player Daemon or SlimDevices SqueezeCenter (Logitech Media Server).

---

Create and manage any number of disposable email addresses for free using unique tags in Exchange.

---

pyTiVo lets you stream most videos from your PC to your unhacked TiVo.

---

Package Dependency on Windows Server 2016 creates a way for package maintainers to build in OS version as a dependency.

---
Resources
Watch videos, read documentation, and hear Chocolatey success stories from companies you trust.
View Resources
Events
Find past and upcoming webinars, workshops, and conferences. New events have recently been added!
View Events
Courses
Step-by-step guides for all things Chocolatey! Earn badges as you learn through interactive digital courses.
View Courses
---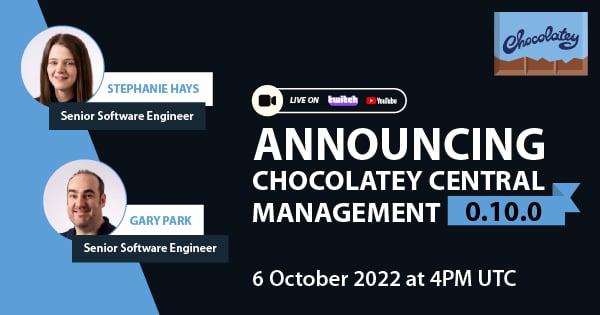 We recently released our largest update to Chocolatey Central Management so far. Join Gary to find out more about Chocolatey Central Management and the new features and fixes we've added to this release..
---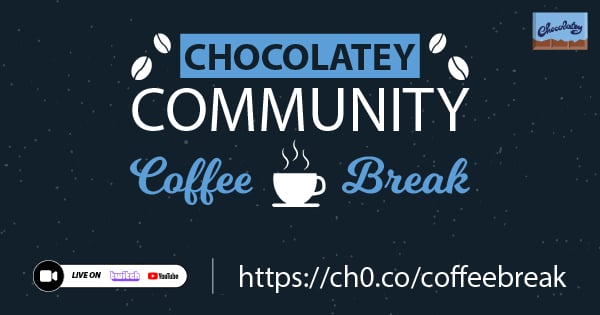 Join the Chocolatey Team on our regular monthly stream where we discuss all things Community, what we do, how you can get involved and answer your Chocolatey questions.
---