B
U
I
L
D
E
R
Passing
Failing
Pending
Unknown / Exempted
Community Package Repository Notification
Your use of the packages on this site means you understand they are not supported or guaranteed in any way. Due to the nature of a public repository and unreliability due to distribution rights, these packages should not be used as is for organizational purposes either. Learn more.
Search for "tag:TeX" Returned 138 Packages
Displaying Results 1 - 30 of 138
---
2,813 Downloads

Unknown Status

Dark Room is a full screen, distraction free, writing environment.

---

Executables for textrude CLI and textrudeInteractive GUI as well as library scripts and examples.

---

A text editor for programmers.

---

3,584 Downloads

Unknown Status

A Powershell 'subl' alias to easily launch Sublime Text 2 from the command line. Sublime Text 2 is a sophisticated text editor for code, ... Keep Reading

---

A full-featured package manager that helps discovering, installing, updating and removing packages for Sublime Text 2. It features an auto... Keep Reading

---

SiYuan is a local-first personal knowledge management system, support fine-grained block-level reference and Markdown instant-render editi... Keep Reading

---

8,036 Downloads

Unknown Status

A Markdown editor for Windows

---

A Text Expander for Windows - No more typing common phrases again!

---

synctex is a binary that supports syncing between PDF and source.

---

3,952 Downloads

Unknown Status

simple text editor

---

Large Text File Viewer was designed for viewing large (>1GB) text files (with either Unicode or regular ANSI character set)

---

The ultimate best NFO viewer, ever!

---

AwesomeBump is a free program written using Qt library designed to generate normal, height, specular or ambient occlusion textures from a ... Keep Reading

---

2,201 Downloads

Unknown Status

FocusWriter is a simple, distraction-free writing environment

---

---

Makes typesetting and publishing with LaTeX easier.

---

2,264 Downloads

Unknown Status

gpg4usb is a very easy to use portable-application, which combines a simple text-editor with a GnuPG-frontend to write, encrypt and decryp... Keep Reading

---

Compressonator is a set of tools to allow artists and developers to more easily create compressed texture assets or model mesh optimizatio... Keep Reading

---

Easily take screen captures, transfer files, and write TI basic programs for the TI-84 Plus family

---

The Writing App. Plain text. Full ownership. Total focus. The original iA Writer.

---

A simple text replication tool

---

Programmer's Notepad is a fast, lightweight text editor for Windows.

---

Programmer's Notepad is a fast, lightweight text editor for Windows.

---

---

Lightweight cross-platform application for notes managment with simple interface

---

Compare two lists (or join them, sort them, remove duplicates etc)

---

Convert HTML to text (Freeware)

---

Grab URL strings of Web sites from Internet Explorer

---

Powerful and versatile text editor with a strong predisposition towards the creation of LaTeX documents

---

Intuitive find and replace CLI

---
Resources
Watch videos, read documentation, and hear Chocolatey success stories from companies you trust.
View Resources
Events
Find past and upcoming webinars, workshops, and conferences. New events have recently been added!
View Events
Courses
Step-by-step guides for all things Chocolatey! Earn badges as you learn through interactive digital courses.
View Courses
---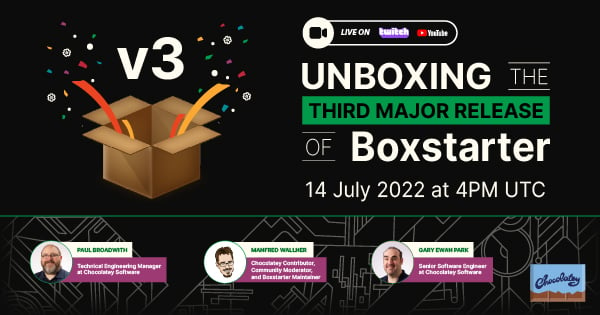 Boxstarter version 3.0 marks the beginning of a new era of Boxstarter and Chocolatey. Join Gary, Paul, and Manfred as they unbox the best features of Boxstarter live.
---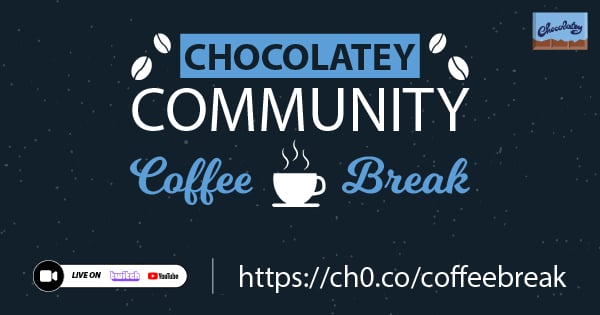 The Chocolatey Community is close to the hearts of the Chocolatey Team. Join us on Discord and meet the Chocolatey Team, find out more about the Chocolatey Community, what we do, and how you can get involved.
---