B
U
I
L
D
E
R
Passing
Failing
Pending
Unknown / Exempted
Community Package Repository Notification
Your use of the packages on this site means you understand they are not supported or guaranteed in any way. Due to the nature of a public repository and unreliability due to distribution rights, these packages should not be used as is for organizational purposes either. Learn more.
Search for "tag:active" Returned 35 Packages
Displaying Results 1 - 30 of 35
---
Automates the discovery and removal of lingering AD forest objects

---

IMAP, SMTP, POP3, ActiveSync, CalDAV, CardDAV server. A free 30 day trial is available. Keys can be requested by contacting [email protected] Keep Reading

---

2,089 Downloads

Unknown Status

MailboxLogParser works with Exchange ActiveSync mailbox logs to help identify issues.

---

2,689 Downloads

Unknown Status

ActivePerl-EqEmu-x86

---

Command-line tools to generate reports from Active Directory (AD).

---

Dahua Web Plugin is an ActiveX plugin for Dahua DVR/NVR

---

Microsoft Active Directory Inventory Script

---

An LDAP real-time monitoring tool aimed at troubleshooting Active Directory clients

---

Undelete Server 2003 Active Directory objects

---

---

CodeTwo Active Directory Photos - Add photos to Active Directory and manage them in an easy way

---

A tool with GUI used to create reports of access control lists (DACLs) and system access control lists (SACLs) in Active Directory .

---

Use this application to upload images to the Active Directory attribute that Outlook 2010 pulls display pictures from.

---

ActiveExit is a system utility that can automatically log off users from their accounts after a period of inactivity.

---

Bulk AD Users - A tool that allows bulk updates to Active Directory User Attributes

---

Bulk AD Users - A tool that allows bulk updates to Active Directory User Attributes

---

4,298 Downloads

Unknown Status

The LDAP Explorer is a small utility written in .Net (using c#) that allows you to navigate a LDAP Directory. It has been tested on Acti... Keep Reading

---

Veeam Backup & Replication explorer for Microsoft Active Directory

---

---

---

Get Peoples Pictures in Outlook, Sharepoint and Skype easily.

---

Pode is a Cross-Platform PowerShell framework for creating web servers to host REST APIs and Websites.

---

---

Apache ActiveMQ is a messaging and integration server. This package installs ActiveMQ as a windows service.

---

ActiveBackup for Business Agent

---

Identify and clean up inactive user and computer accounts in your Active Directory domain

---

Active Directory Explorer (AD Explorer) is an advanced Active Directory (AD) viewer and editor

---

---

Carbon is a PowerShell module for automating the configuration of Windows 7, 8, 2008, and 2012, Windows services, applications, and websit... Keep Reading

---

Disable/Enable ActiveX components on IE

---
Resources
Watch videos, read documentation, and hear Chocolatey success stories from companies you trust.
View Resources
Events
Find past and upcoming webinars, workshops, and conferences. New events have recently been added!
View Events
Courses
Step-by-step guides for all things Chocolatey! Earn badges as you learn through interactive digital courses.
View Courses
---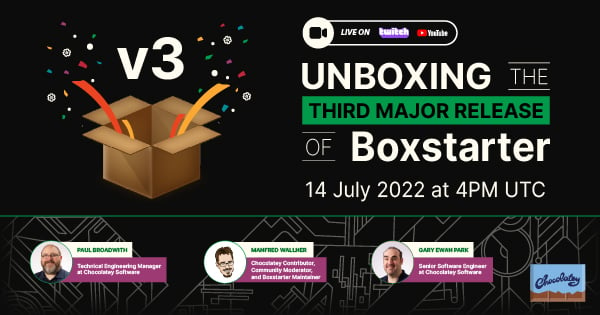 Boxstarter version 3.0 marks the beginning of a new era of Boxstarter and Chocolatey. Join Gary, Paul, and Manfred as they unbox the best features of Boxstarter live.
---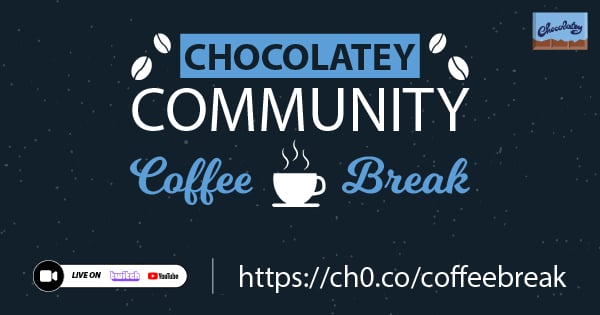 The Chocolatey Community is close to the hearts of the Chocolatey Team. Join us on Discord and meet the Chocolatey Team, find out more about the Chocolatey Community, what we do, and how you can get involved.
---