Community Package Repository Notification
Your use of the packages on this site means you understand they are not supported or guaranteed in any way. Due to the nature of a public repository and unreliability due to distribution rights, these packages should not be used as is for organizational purposes either. Learn more.
Search for "tag:bin" Returned 94 Packages
Displaying Results 1 - 30 of 94
---
Passing
Failing
Pending
Unknown / Exempted
2,832 Downloads

Unknown Status

Binary file editor for multibyte character.

---

Serva is an Automated PXE Server Solution Accelerator based on an all-in-one portable multi-server engine.

---

RocketDock is a smoothly animated, alpha blended application launcher.

---

For those of you with a dedicated computer for your TV, Plex Home Theater celebrates your personal videos, music and photos and gives them... Keep Reading

---

Future n0t Found Version 1.1

---

Minimus Regular TrueType font Version 1.0

---

Section 9 Regular 1.0 TrueType font

---

Airstream Futuropolis Regular 1.0 TrueType font

---

---

File editor/viewer/analyzer for executables

---

"Tux, of Math Command" is a math drill game starring Tux, the Linux Penguin.

---

Tux Typing is an educational typing program for children starring Tux, the Linux Penguin.

---

iimiolek eduActiv8 (formerly pySioGame) is a free cross-platform Open Source educational program for children.

---

The Chrome OS core fonts, also known as the Croscore fonts, are a collection of three TrueType font families: Arimo (sans-serif), Tinos (s... Keep Reading

---

Caladea is a Croscore extras font metriclly compatible with Cambria.

---

Carlito is a Croscore extras font metriclly compatible with Calibri.

---

7-Zip with Iso7z can quickly extract files from a disc image without mounting it

---

eDecoder is a plugin for the popular archiver 7-Zip. It enables 7-Zip to handle many different types of mailboxes

---

Hex-edit raw byte data in multiple files

---

StartupList shows you what processes start automatically on your computer.

---

Tiny PXE Server is a portable DHCP server - it does not need to be installed and can be run from a USB device.

---

AdvancedRun - configure and save settings for how programs run.

---

Right click an image to search for it on Google, Bing, Yandex, TinEye, and Baidu

---

commandline tool to search IIS sites and bindings

---

---

GCompris is a high quality educational software suite, including a large number of activities for children aged 2 to 10.

---

Chrometana lets your redirect Bing to the search engine of your choice.

---

Mr.Boom is an 8 players Bomberman clone for RetroArch/Libretro

---

MetaFox is a simple to use MKV video file converter

---

Strongest new and standard binary editor that combines ease of use and high functionality

---
Resources
Watch videos, read documentation, and hear Chocolatey success stories from companies you trust.
View Resources
Events
Find past and upcoming webinars, workshops, and conferences. New events have recently been added!
View Events
Courses
Step-by-step guides for all things Chocolatey! Earn badges as you learn through interactive digital courses.
View Courses
---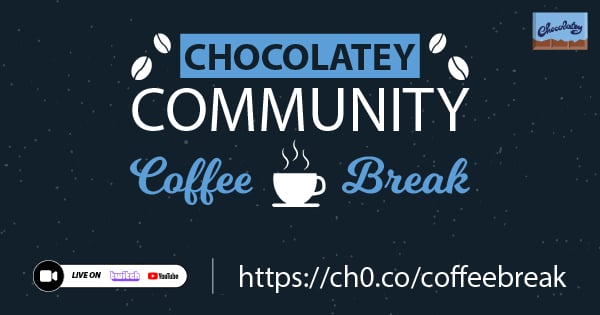 Join the Chocolatey Team on our regular monthly stream where we discuss all things Community, what we do, how you can get involved and answer your Chocolatey questions.
---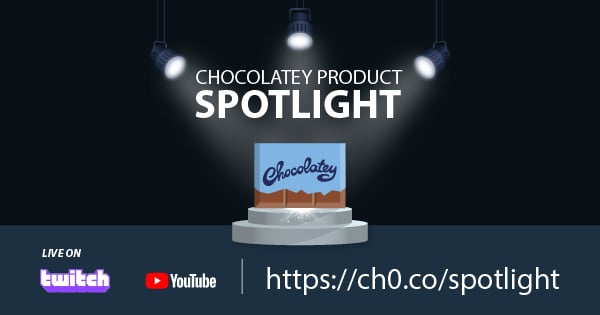 Join the Chocolatey Team on our regular monthly stream where we put a spotlight on the most recent Chocolatey product releases. You'll have a chance to have your questions answered in a live Ask Me Anything format.
---