B
U
I
L
D
E
R
Passing
Failing
Pending
Unknown / Exempted
Community Package Repository Notification
Your use of the packages on this site means you understand they are not supported or guaranteed in any way. Due to the nature of a public repository and unreliability due to distribution rights, these packages should not be used as is for organizational purposes either. Learn more.
Search for "tag:doc" Returned 63 Packages
Displaying Results 1 - 30 of 63
---
This package contains DoCash Vega counterfeit detector firmware

---

Integrated documentation environment (IDE) for LaTeX

---

RocketDock is a smoothly animated, alpha blended application launcher.

---

docker-machine-sakuracloud

---

OpenShift Origin is a distribution of Kubernetes optimized for continuous application development and multi-tenant deployment. OpenShift O... Keep Reading

---

A simple offline documentation browser

---

A simple offline documentation browser

---

Machine management for a container-centric world

---

Documentation tool that creates HTML output that can be easily published on the Web or via CHM, PDF or MS Word files.

---

a credential helper for the Docker daemon that makes it easier to use AWS ECR

---

Sandcastle Help File Builder (SHFB). A standalone GUI, Visual Studio integration package, and MSBuild tasks providing full configuration a... Keep Reading

---

Markdown Monster is an easy to use and extensible Markdown Editor and viewer and Weblog Publisher

---

k3d is a lightweight wrapper to run k3s

---

A NoSQL Document Database that has been Fully Transactional for Over a Decade.

---

A fast static site generator in a single binary with everything built-in

---

An optional command line interface to be used with Flux

---

A tool for automated creation of the database documentation

---

A material design theme for MkDocs.

---

Workbench Server contains BI xPress Server, DOC xPress Server, and LegiTest Server. Start with a 14-day free trial or enter your license ... Keep Reading

---

Citrix XenApp 6.5 Inventory Script

---

This package is replaced by `docker-desktop` following the official name change.

---

RavenDB Production Release

---

Kompose is a tool to help users who are familiar with docker-compose move to Kubernetes. kompose takes a Docker Compose file and translate... Keep Reading

---

Minishift is a tool that helps you run OpenShift locally.

---

Microsoft HTML Help is the standard help system for the Windows platform. Authors can use HTML Help to create online help for a software a... Keep Reading

---

---

Connect any display to any computer through USB

---

Shipyard is a tool for managing cloud native development environments

---

---

Free open source version of popular Nexus Repository for binary artifacts including first class Nuget support.

---
Resources
Watch videos, read documentation, and hear Chocolatey success stories from companies you trust.
View Resources
Events
Find past and upcoming webinars, workshops, and conferences. New events have recently been added!
View Events
Courses
Step-by-step guides for all things Chocolatey! Earn badges as you learn through interactive digital courses.
View Courses
---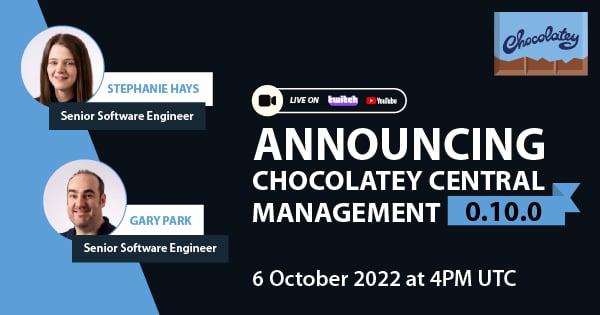 We recently released our largest update to Chocolatey Central Management so far. Join Gary and Steph to find out more about Chocolatey Central Management and the new features and fixes we've added to this release..
---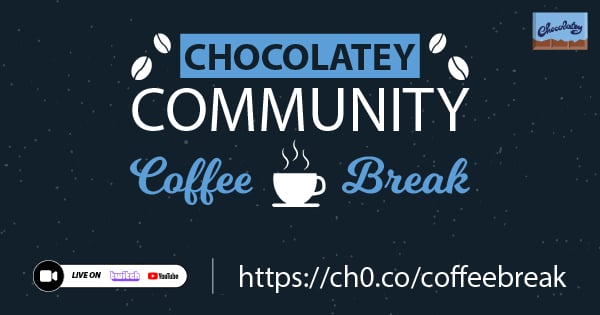 Join the Chocolatey Team on our regular monthly stream where we discuss all things Community, what we do, how you can get involved and answer your Chocolatey questions.
---