B
U
I
L
D
E
R
Passing
Failing
Pending
Unknown / Exempted
Community Package Repository Notification
Your use of the packages on this site means you understand they are not supported or guaranteed in any way. Due to the nature of a public repository and unreliability due to distribution rights, these packages should not be used as is for organizational purposes either. Learn more.
Search for "tag:foss" Returned 851 Packages
Displaying Results 1 - 30 of 851
---
Simple animated screen captures

---

Compressonator is a set of tools to allow artists and developers to more easily create compressed texture assets or model mesh optimizatio... Keep Reading

---

CLI tool for running Yeoman generators

---

AssaultCube is an Open Source, multiplayer, first-person shooter game, based on the CUBE engine.

---

---

A cross platform front-end GUI of the popular youtube-dl written in wxPython

---

openHAB - a vendor and technology agnostic open source automation software for your home

---

CellProfiler Analyst allows interactive exploration and analysis of data, particularly from high-throughput, image-based experiments. Incl... Keep Reading

---

Audio Encoder Front-End for LAME MP3, Ogg Vorbis, Opus, FLAC, MP4/AAC and many more

---

Nightcode is a simple IDE for Clojure and ClojureScript.

---

A stateless password management solution.

---

A stateless password management solution.

---

Crinkler is a compressing linker.

---

Total Commander plugin that extends Quick search funtionality

---

---

A command-line utility for counting words.

---

Visual Studio Code C# Extensions Extension

---

Visual Studio Code Ember CLI Extension

---

Visual Studio Code Ember Colorizer and Theme Extension

---

a 3D sculpting application

---

SparkleShare is an Open Source collaboration and sharing tool that is designed to keep things simple and to stay out of your way.

---

Chrome extension that improves the GitHub experience.

---

Decompress and extract files from installers or archives

---

OpenPHT is a community driven fork of Plex Home Theater

---

PyHoca-GUI is designed as a very minimal GUI that behaves very similar to GNOME's network manager applet (nm-applet). It appears as a smal... Keep Reading

---

Cantata is a graphical client for music player daemon (mpd)

---

Redshift adjusts the color temperature of your screen according to your surroundings. This may help your eyes hurt less if you are working... Keep Reading

---

Subversion® source control management client implemented as File Explorer shell extension

---

Disable Git Credential Manager

---

Real-time video mixing software for live performances

---
Resources
Watch videos, read documentation, and hear Chocolatey success stories from companies you trust.
View Resources
Events
Find past and upcoming webinars, workshops, and conferences. New events have recently been added!
View Events
Courses
Step-by-step guides for all things Chocolatey! Earn badges as you learn through interactive digital courses.
View Courses
---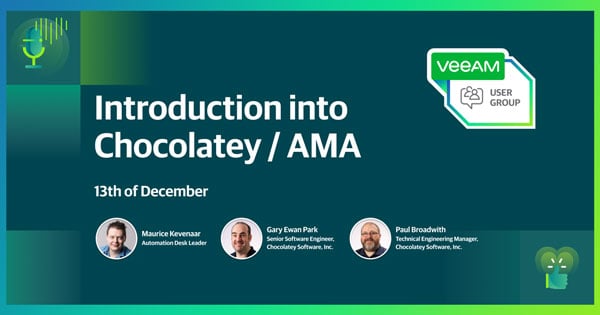 Join Gary, Paul, and Maurice as they introduce and demonstrate how to use Chocolatey! Questions will be answered live in an Ask Me Anything format.
Register Now
---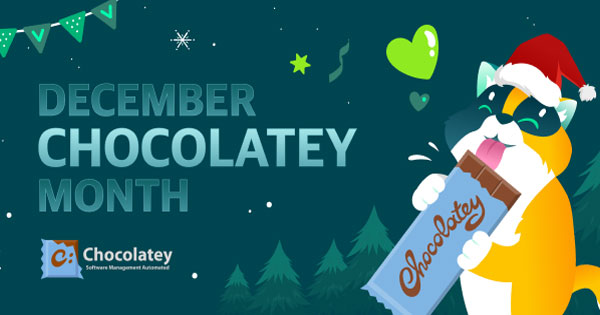 December 2022
Join Veeam and Chocolatey in the month of December in the Automation Desk group to answer questions, gain points, and win prizes.
Register Now
---