B
U
I
L
D
E
R
Passing
Failing
Pending
Unknown / Exempted
Community Package Repository Notification
Your use of the packages on this site means you understand they are not supported or guaranteed in any way. Due to the nature of a public repository and unreliability due to distribution rights, these packages should not be used as is for organizational purposes either. Learn more.
Search for "tag:gnu" Returned 51 Packages
Displaying Results 1 - 30 of 51
---
1,920 Downloads

Unknown Status

UnZip: list, test and extract compressed files in a ZIP archive.

---

1,690 Downloads

Unknown Status

SEd (stream editor) is a Unix utility that parses and transforms text.

---

8,580 Downloads

Unknown Status

mingw-get

---

2,266 Downloads

Unknown Status

gpg4usb is a very easy to use portable-application, which combines a simple text-editor with a GnuPG-frontend to write, encrypt and decryp... Keep Reading

---

---

High performance C++ OpenPGP tools, fully compliant to RFC 4880

---

---

GNU Prolog is a free Prolog compiler with constraint solving over finite domains.

---

GNU Prolog is a free Prolog compiler with constraint solving over finite domains.

---

---

A high-performance, cross-platform file reverse utility

---

Free, fast, accurate – Pick Any Three!

---

A command-line utility for counting words.

---

GNU Typist — a program to learn typing in several languages and for different keyboard layouts

---

---

---

Instant messaging application for the XMPP network

---

Instant messaging application for the XMPP network

---

Groff (GNU troff) is a typesetting system that reads plain text mixed with formatting commands and produces formatted output.

---

A sudo command for Windows Administrators.

---

A portable, multi-platform, command-line driven graphing utility.

---

GnuPG is a complete and free implementation of the OpenPGP standard as defined by RFC4880 (also known as PGP)

---

GNU Radio is a free and open-source software development toolkit that provides signal processing blocks to implement software radios.

---

A more intuitive version of du in rust

---

The official app for OnlyKey

---

A fully-free (as in freedom) fork of Mozilla Firefox ESR.

---

GLPK is intended for solving large-scale linear programming (LP), mixed integer programming (MIP), and other related problems.

---

---

1,843 Downloads

Unknown Status

Nano (as in: Nano is ANOther editor), an enhanced and free Pico text editor clone.

---

Ring is a free and universal communication platform which preserves the users' privacy and freedoms.

---
Resources
Watch videos, read documentation, and hear Chocolatey success stories from companies you trust.
View Resources
Events
Find past and upcoming webinars, workshops, and conferences. New events have recently been added!
View Events
Courses
Step-by-step guides for all things Chocolatey! Earn badges as you learn through interactive digital courses.
View Courses
---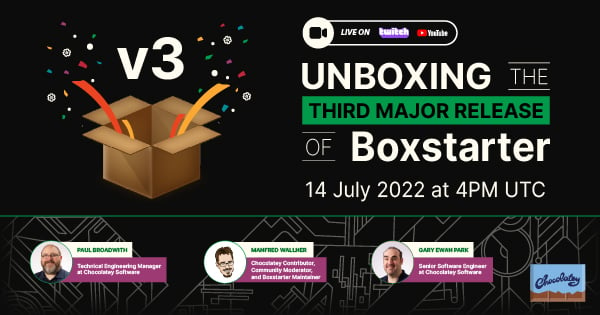 Boxstarter version 3.0 marks the beginning of a new era of Boxstarter and Chocolatey. Join Gary, Paul, and Manfred as they unbox the best features of Boxstarter live.
---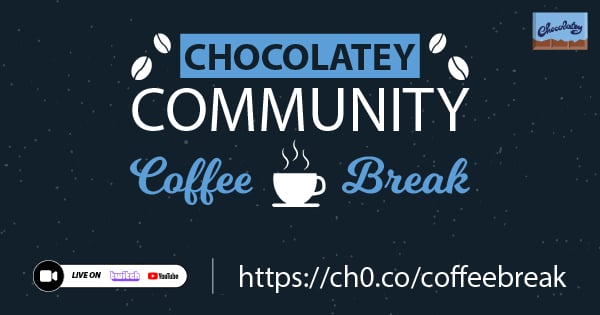 The Chocolatey Community is close to the hearts of the Chocolatey Team. Join us on Discord and meet the Chocolatey Team, find out more about the Chocolatey Community, what we do, and how you can get involved.
---