B
U
I
L
D
E
R
Passing
Failing
Pending
Unknown / Exempted
Community Package Repository Notification
Your use of the packages on this site means you understand they are not supported or guaranteed in any way. Due to the nature of a public repository and unreliability due to distribution rights, these packages should not be used as is for organizational purposes either. Learn more.
Search for "tag:AWS" Returned 40 Packages
Displaying Results 1 - 30 of 40
---
9,562 Downloads

Unknown Status

Installs the latest version of the AWS SDK Tools for .NET MSI package.

---

1,082 Downloads

Unknown Status

Amazon EBS Volume Snapshot Backup Tool for Windows By Cloudoman (http://cloudoman.com/).

---

2,176 Downloads

Unknown Status

aws-sdk-net

---

2,755 Downloads

Unknown Status

CLI for querying metrics in Amazon CloudWatch using a simple DSL.

---

1,486 Downloads

Unknown Status

S3 Build Publisher

---

---

Amazon no longer provides their monitoring scripts for Windows. Contains an updated AWS disk monitoring script for Windows and schedules... Keep Reading

---

SQS Mover moves messages from one AWS SQS queue to another.

---

unicreds is a CLI which manages secrets in AWS using DynamoDB and KMS. https://github.com/Versent/unicreds

---

CloudBerry Explorer for Amazon S3 is a freeware Amazon S3 and Amazon Glacier client designed to run in Windows environment.

---

FastGlacier is a freeware Windows Client for Amazon Glacier

---

---

AWS Multi-Factor Authentication manager

---

Continuous Delivery friendly CloudFormation deployment tool

---

CloudBerry Explorer for Amazon S3

---

Chocolatey Client application used to connect to virtual desktops from Windows desktop computers.

---

Chocolatey Server application used to enable connection to a Widnows virtual desktops from Windows, MacOS and Linux

---

CLI tool which enables you to login and retrieve AWS temporary credentials using a SAML IDP

---

The Amazon ECS Command Line Interface (CLI) is a command line tool for Amazon Elastic Container Service (Amazon ECS) that provides high-le... Keep Reading

---

gomplate is a template renderer which supports a growing list of datasources, such as JSON but not only.

---

The AWS Lambda Tools for Powershell allows PowerShell developers to publish PowerShell scripts with their dependent modules and have the s... Keep Reading

---

Amazon Chime est un service de communication qui vous permet de vous réunir et de discuter avec vos collaborateurs

---

NoSQL Workbench for Amazon DynamoDB is a cross-platform client-side application for modern database development and operations and is avai... Keep Reading

---

Makes working with Kubernetes feel like editing and debugging local code. Cloud Code from Google Cloud, tools for Cloud Native development... Keep Reading

---

Develop, deploy and debug Kubernetes applications

---

Pode is a Cross-Platform PowerShell framework for creating web servers to host REST APIs and Websites.

---

ODBC driver for Amazon Redshift

---

Your trusty tool for retrieving AWS credentials securely via SAML

---

A tool to securely store and access AWS credentials in a development environment

---

If you want to use the AWS Command Line Interface (AWS CLI) to start and end sessions that connect you to your managed instances, you must... Keep Reading

---
Resources
Watch videos, read documentation, and hear Chocolatey success stories from companies you trust.
View Resources
Events
Find past and upcoming webinars, workshops, and conferences. New events have recently been added!
View Events
Courses
Step-by-step guides for all things Chocolatey! Earn badges as you learn through interactive digital courses.
View Courses
---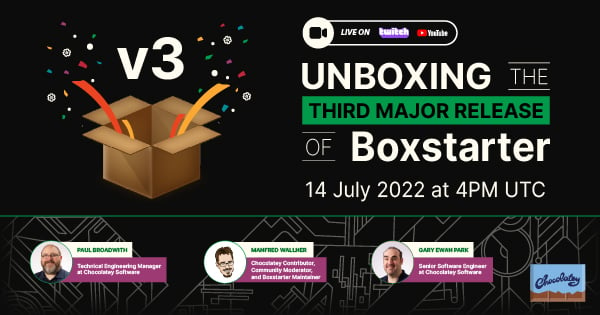 Boxstarter version 3.0 marks the beginning of a new era of Boxstarter and Chocolatey. Join Gary, Paul, and Manfred as they unbox the best features of Boxstarter live.
---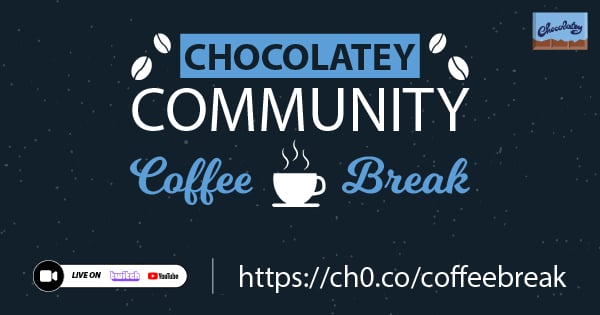 The Chocolatey Community is close to the hearts of the Chocolatey Team. Join us on Discord and meet the Chocolatey Team, find out more about the Chocolatey Community, what we do, and how you can get involved.
---